Red Bull have won the last two Zandvoort races. But which teams have the most previous experience at the circuit – and which teams didn't exist when F1 visited the Netherlands in the 1980s? Here's everything you need to know about each team's history at the Dutch Grand Prix!
RED BULL
WINS: 2, POLES: 2, PODIUMS: 2 | 2022 RESULT: VERSTAPPEN 1st, PEREZ 5th
Red Bull Racing started life as Stewart, who didn't appear on the grid until 1997 – twelve years after the end of the Dutch Grand Prix's first stint on the calendar. On their first appearance at Zandvoort, Red Bull took pole and the win thanks to home star Max Verstappen. Sergio Perez had a less successful weekend. He was eliminated in Q1 but fought back to eighth place over the course of the Grand Prix.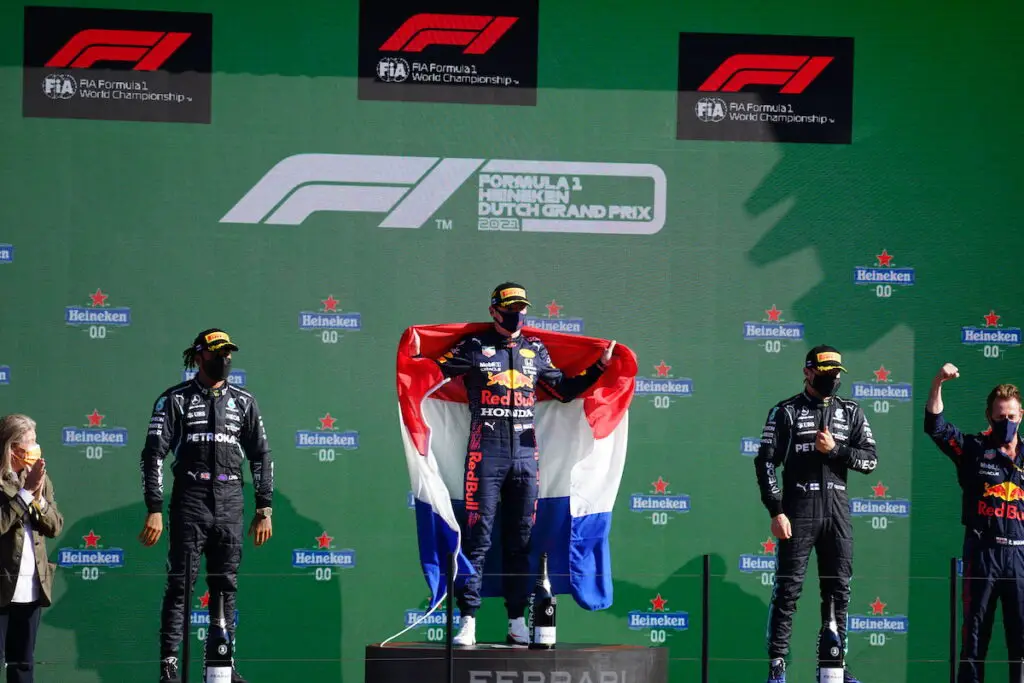 Red Bull won the Dutch Grand Prix once again in 2022 with Verstappen taking a second consecutive home victory from pole position. His team-mate was once again unable to join him on the podium, finishing where he started in fifth place.
FERRARI
WINS: 8, POLES: 7, PODIUMS: 25 | 2022 RESULT: LECLERC 3rd, SAINZ 8th
Ferrari have been present at every Dutch Grand Prix held so far, except the 1973 event. The team have had more Dutch Grand Prix wins than anyone else, with eight in total – five of those being 1-2 finishes. They also lead the way for podium finishes, with 24. Ferrari have had only five point-less visits to Zandvoort, two of those being in the last six races at the track, with double DNFs in 1981 and 1984.
In 2021, both Ferrari drivers qualified in the top six. That was despite a crash for Carlos Sainz in the final practice session. Both drivers went on to score. Charles Leclerc finished where he started in fifth place, while Sainz recorded six points with his seventh place finish.
In 2022, both Leclerc and Sainz qualified in the top three with Leclerc beating his team-mate to the front row by 0.071 seconds. Both drivers lost positions in the race. Leclerc took home a podium, finishing third, while Sainz finished one position lower than in 2021, coming home eighth.
MERCEDES
WINS: 1, POLES: 1, PODIUMS: 5 | 2022 RESULT: RUSSELL 2nd, HAMILTON 4th
If you trace the current Mercedes team's roots back through its various buyers over the years, you get to Tyrrell, who competed in Formula 1 from 1970 through to 1998, when the team became BAR. The Tyrrell team scored a 1-2 finish at the event in 1973, with Jackie Stewart leading home Francois Cevert. It's the only time the team had a podium finish at Zandvoort. They'd pick up points at the Dutch Grand Prix only three more times, with fifth place finishes in 1976 and 1980, and sixth for Michele Alboreto in 1983.
Mercedes themselves raced in the Dutch Grand Prix only once prior to 2021, in 1955. They scored a 1-2 finish on that day, with Juan Manuel Fangio leading home Stirling Moss. The Dutch Grand Prix was the first event since the 1955 Le Mans disaster, an event which led to Mercedes pulling out of Formula 1 and not returning as a factory team until 2010.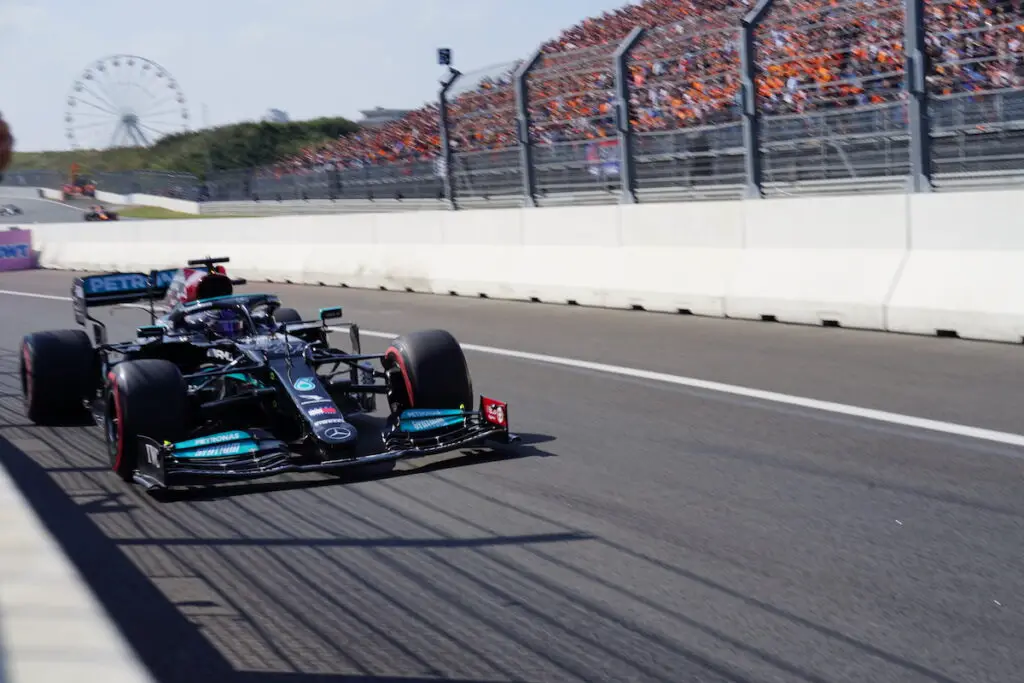 On their Dutch Grand Prix return in 2021, the Mercedes was not a match for Max Verstappen's Red Bull. Lewis Hamilton and Valtteri Bottas qualified in second and third respectively and went on to finish in the same positions. Hamilton stole the fastest lap of the race from his team-mate on the final lap.
Mercedes looked competitive in 2022 and could have had a chance of winning had the timing of Safety Car outings not gone against them. Hamilton qualified fourth for the race, while George Russell qualified two positions further back. Russell went on to finish as runner-up to Max Verstappen, while Hamilton finished just off the podium in fourth place.
ALPINE
WINS: 0, POLES: 0, PODIUMS: 0 | 2022 RESULT: ALONSO 6th, OCON 9th
The original Renault team were present in F1 for every Dutch Grand Prix since 1977. During that time they had 16 entries, with only three of those not resulting in a DNF. While Patrick Tambay finished sixth in the 1984 event, Renault's best days at the track came before then, with Rene Arnoux finishing as runner-up in 1980 and Alain Prost winning for the team at Zandvoort in 1981. It was Prost's second Grand Prix victory.
Also in F1 for the Dutch Grand Prix's final years were the Toleman team, the original name of the Enstone team which exists today. After failing to qualify for the race in 1981, they qualified with one car in the following year but failed to finish. Much like Renault, the team had a high DNF rate at the circuit, with their cars only ever seeing the chequered flag once. The only Toleman driver to finish the Dutch Grand Prix was Derek Warwick, who finished fourth in 1983.
Both Alpine drivers have scored in the last two Dutch Grands Prix, with Fernando Alonso finishing sixth and Esteban Ocon ninth in both races. Esteban Ocon out-qualified his team-mate in both seasons. Both reached Q3 in 2021, while both were eliminated in Q2 in 2022.
McLAREN
WINS: 3, POLES: 1, PODIUMS: 7 | 2022 RESULT: NORRIS 7th, RICCIARDO 17th
McLaren have competed in every running of the Dutch Grand Prix since 1966. They were the team in form at the end of the track's first stint on the F1 calendar, having taken 1-2 finishes in both the 1984 and 1985.
Alain Prost won for the team in 1984, while Niki Lauda took the final victory of his career in a McLaren at the 1985 Dutch Grand Prix. The team's first win at the track came in 1976, when James Hunt took the honours. McLaren had a further two podium finishes at the track – third places for Emerson Fittipaldi in 1974 and for John Watson in 1983.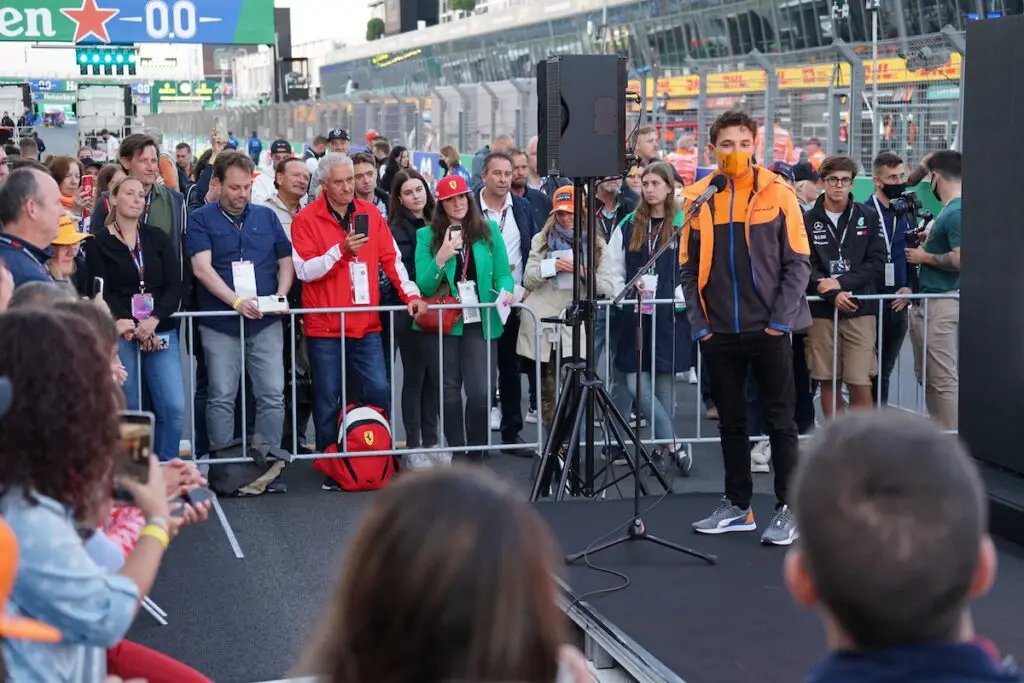 In 2021, Daniel Ricciardo reached Q3 while Lando Norris was eliminated in Q2. But it was Norris who would score McLaren's only point of the weekend, coming home in tenth place – one position ahead of his team-mate.
In 2022, it was Norris who reached Q3 while Ricciardo was out in Q1. It was a disappointing weekend for the Australian, who finished where he started in a lowly 17th, while Norris also finished where he started in seventh.
ALFA ROMEO
WINS: 0, POLES: 0, PODIUMS: 0 | 2022 RESULT: ZHOU 16th, BOTTAS DNF
The former Sauber team started life in Formula 1 in 1993, eight years after F1's last visit to Zandvoort. The Alfa Romeo name has previous experience at the Dutch Grand Prix, with the factory team entering the event when they returned as a constructor between 1980 and 1985. From their 12 starts, their cars reached the finish line only twice. Bruno Giacomelli finished 11th in 1982, while Mauro Baldi picked up the team's only points at the circuit with fifth place in 1983.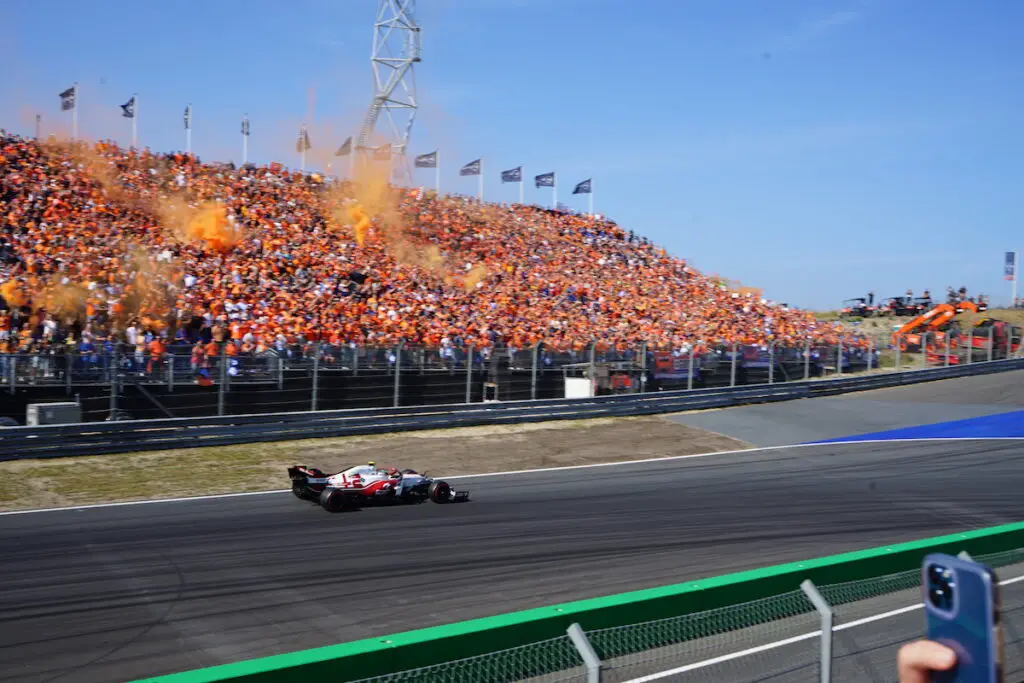 Kimi Raikkonen had to hand his seat to Robert Kubica at the 2021 Dutch Grand Prix following a positive coronavirus test. Antonio Giovinazzi impressed in qualifying, lining up seventh on the grid – his best qualifying result of the year. The Italian fell back in the race and finished only 14th. That was only one position ahead of substitute team-mate Kubica.
Zhou Guanyu was Alfa Romeo's best qualifier in 2022. He reached Q2, qualifying in 14th place, while team-mate Valtteri Bottas was out in Q1. Neither driver scored in the race. Bottas retired, while Zhou finished two positions down on where he started.
ASTON MARTIN
WINS: 0, POLES: 0, PODIUMS: 0 | 2022 RESULT: STROLL 10th, VETTEL 14th
The Silverstone-based team's former owner Eddie Jordan didn't sign his Jordan team up to the sport until 1991, six years after the 1985 Dutch Grand Prix. The Aston Martin name appeared at Zandvoort once before 2021, in 1959. That season, Carroll Shelby and Roy Salvadori qualified tenth and 13th respectively. Both drivers retired with engine issues before the race reached one third of its distance.
Sebastian Vettel encountered engine issues at the track on the team's return in 2021, though his were only in Free Practice. While Vettel was eliminated in Q1, Lance Stroll reached Q2 and qualified 12th. Neither driver scored in the race, with Stroll finishing where he started and Vettel making up positions to finish 13th.
In 2022, Stroll progressed to Q3 and qualified tenth while Vettel set the second slowest time and qualified only 19th after a mistake on his final qualifying attempt. Stroll scored the team's first point at the circuit, finishing tenth, while Vettel made up six positions over the course of the race – only to lose one at the end due to a five-second time penalty for ignoring blue flags.
HAAS
WINS: 0, POLES: 0, PODIUMS: 0 | 2022 RESULT: SCHUMACHER 13th, MAGNUSSEN 15th
The newest team on the grid joined the Formula 1 circus 31 years after the sport stopped visiting Zandvoort. The other team named Haas, which competed in Formula 1 in 1985 and 1986 and has no links to the current team, made its debut at the race immediately after the last Dutch Grand Prix.
As was their form in 2021, the two Haas drivers qualified on the back row for Zandvoort's comeback race. Nikita Mazepin was the first retirement, stopping just after the halfway point with hydraulic issues. Mick Schumacher finished the race only 18th.
The team are still yet to score here, with Schumacher recording the team's best result at the track to date in 2022 with 13th place. Kevin Magnussen finished 15th. Schumacher also recorded the team's first Q3 appearance at the venue, qualifying in eighth place.
ALPHATAURI
WINS: 0, POLES: 0, PODIUMS: 0 | 2022 RESULT: GASLY 11th, TSUNODA DNF
The Red Bull junior team (formerly Toro Rosso, now AlphaTauri) came into existence in 2006, after Red Bull bought the Minardi team. Minardi first raced in Formula 1 in 1985, so were present for the last running of the Dutch Grand Prix in its first stint on the calendar. They fielded just one car for that whole season, with Pierluigi Martini reaching the end of a race just three times from the season's 16 races. Martini qualified in 24th place for the race, but retired as the result of a first lap crash.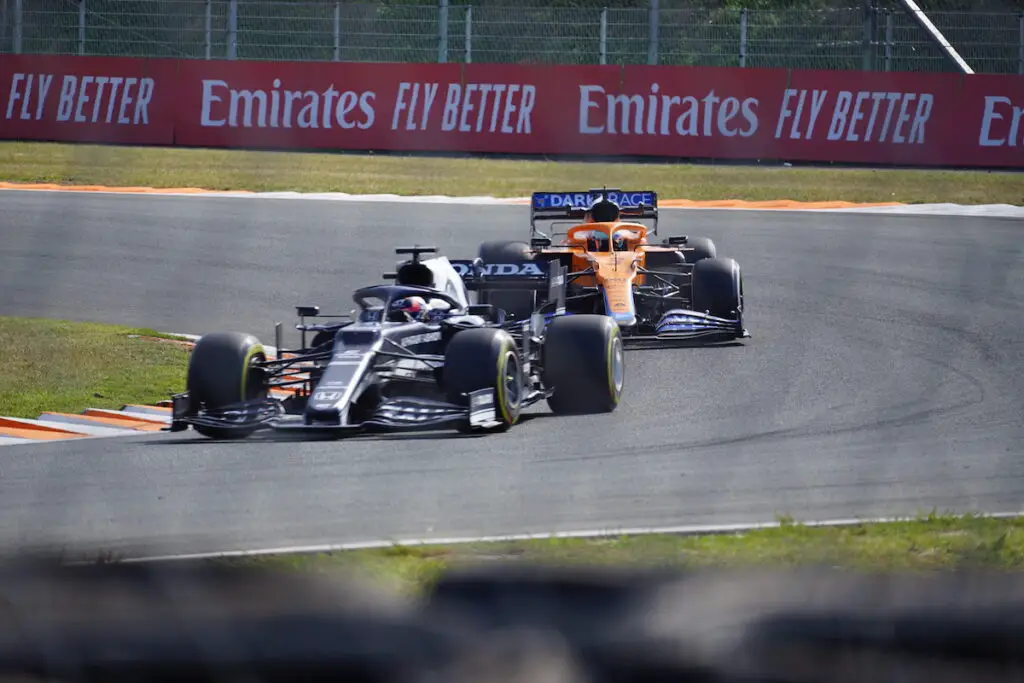 In 2021, Pierre Gasly had a strong weekend. After qualifying fourth, the Frenchman went on to finish where he started. It was less fruitful weekend for team-mate Yuki Tsunoda. After being eliminated in Q2, the Japanese driver retired from the race around 20 laps from the end with a power unit problem.
It was Tsunoda who reached Q3 in 2022, but he retired from the race once again in strange circumstances – which saw him receive a penalty for driving with loosened seatbelts. The team left the track point-less, with Gasly having finished where he started in 11th place.
WILLIAMS
WINS: 1, POLES: 0, PODIUMS: 3 | 2022 RESULT: ALBON 12th, LATIFI 18th
Williams have been present at every running of the Dutch Grand Prix since 1977 – though the Frank Williams Racing Cars team was present in 1975. In that race, the team's drivers were Ian Scheckter and Jacques Laffite. Laffite retired from the race, while Scheckter finished twelfth.
Williams Grand Prix Engineering first raced at the track in 1977, when sole driver Patrick Neve failed to qualify. The following year, Alan Jones did qualify, but failed to finish the event. In the following season, Jones took Williams' first, and so far only, Dutch Grand Prix win. The team had further podium finishes at the track with third places for Jones in 1981 and Keke Rosberg in his championship winning year, 1982.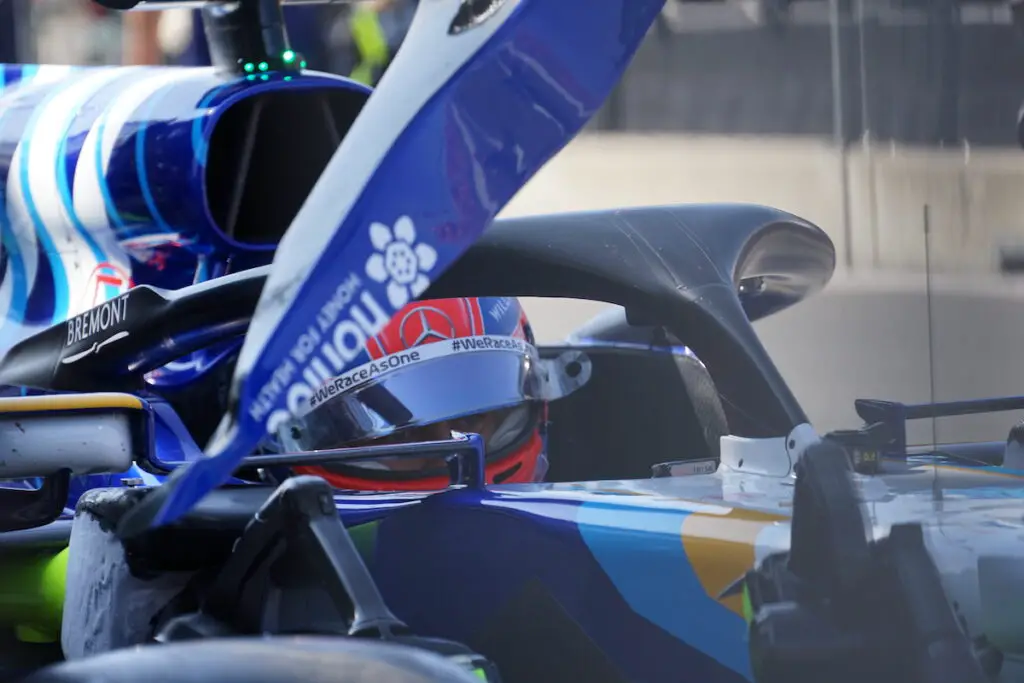 In 2021, both Williams drivers crashed out in Q2, with George Russell qualifying 11th despite his off and Nicholas Latifi 14th. Neither driver made progress in the race. Latifi finished 16th while Russell retired three laps from the end with gearbox troubles.
Alex Albon put in another Q2 appearance for Williams at Zandvoort in 2022, while Latifi set the slowest lap time and was out in Q1. Latifi finished the race 18th, a lap down, while Albon missed out on points with a 12th place finish.