Clear a space on your desk, F1 fans. I've found the perfect calendar for every Formula 1 fanatic – and we have three to give away! Introducing the 2023 Formula 1 calendar from BoxBoxBoxCo!
Christmas is just around the corner, and BoxBoxBoxCo have a great range of stocking-filling F1-themed treats on offer. Top of our list this year is their Grand Prix Calendar. The latest edition of their bespoke calendar focuses on Formula 1's greatest underdog performances.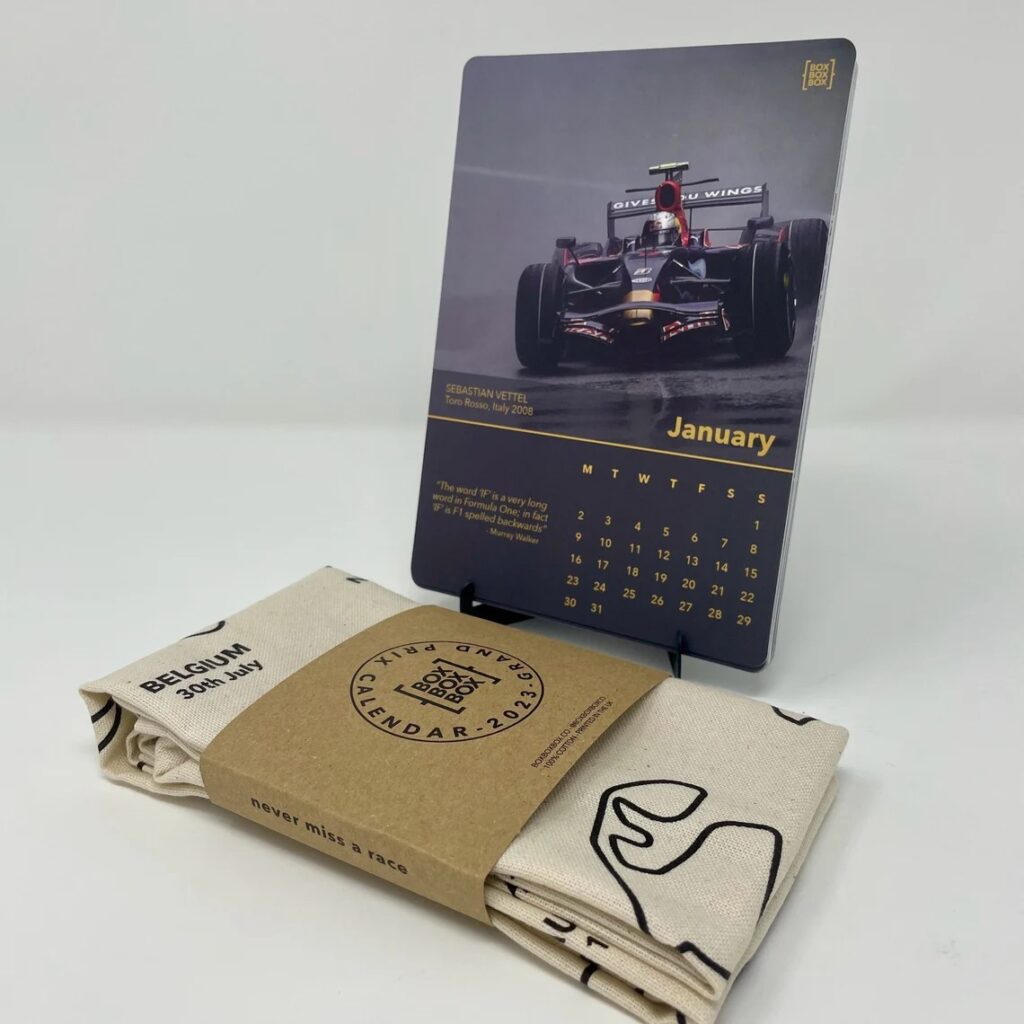 Twelve stunning images sourced from the world-renowned Cahier Archive capture some of Formula 1's greatest feel good moments – from Sebastian Vettel's memorable Monza win with Toro Rosso in 2008 to Ayrton Senna's incredible drive to second place with Toleman in the 1984 Monaco Grand Prix.
The calendar is beautifully produced on heavyweight premium card and has a soft-touch velvet finish and includes the dates for each race in the 2023 Formula 1 season.
F1's greatest underdog stories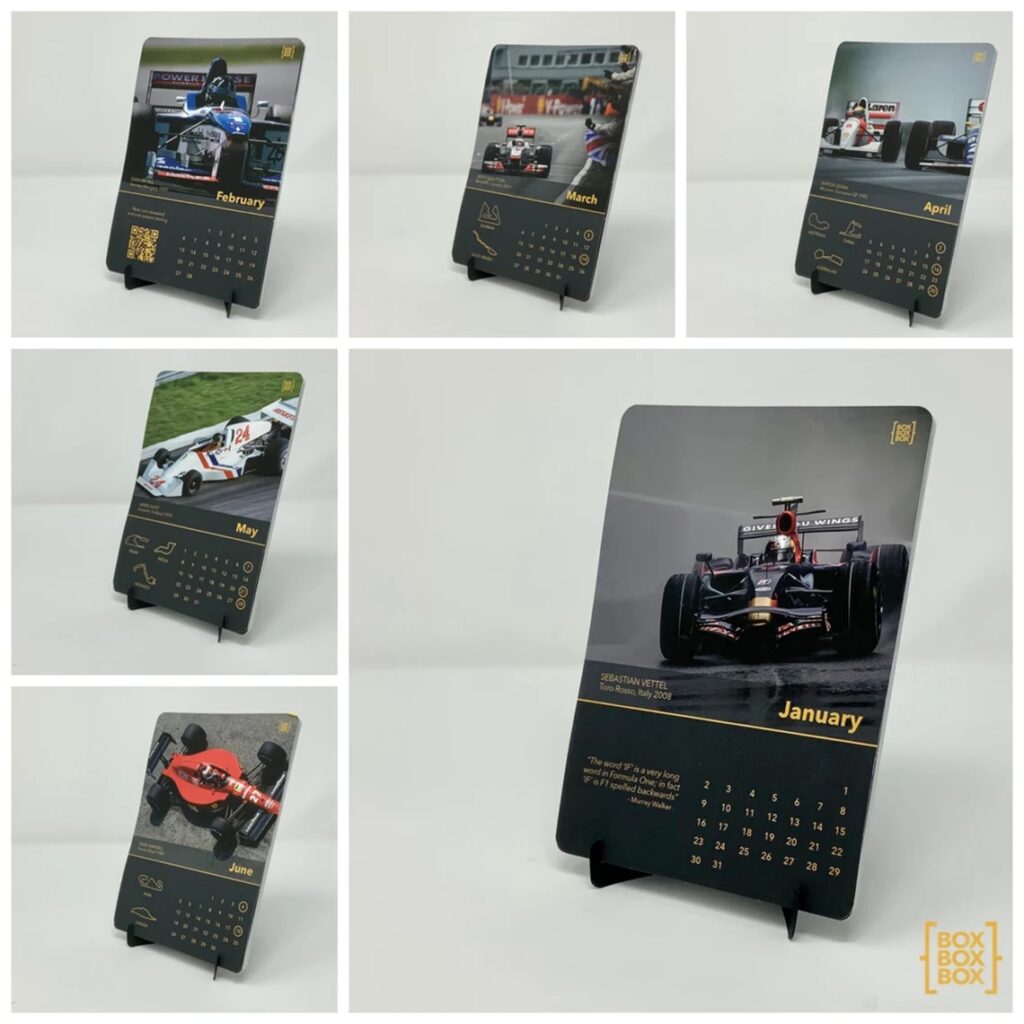 The calendar features some of Formula 1's most iconic races, including a personal favourite – Jenson Button's epic win at the 2011 Canadian Grand Prix. Button won the Montreal race – the longest ever in Formula 1's history – despite running only 15th just 25 laps from the end of the Grand Prix.
Also included are Damon Hill's magnificent podium finish with Arrows at the 1997 Hungarian Grand Prix, a race which he came painfully close to winning in an otherwise uncompetitive season, plus Jean Alesi's sole victory (on his birthday!) at the 1995 Canadian Grand Prix.
One of the best things about the calendar is that the reverse of each card features the full photo, meaning it can be re-used and framed when the year is over! The calendar is made entirely of FSC accredited paper and the product is fully recyclable. The packaging is also environmentally friendly.
Even more goodies available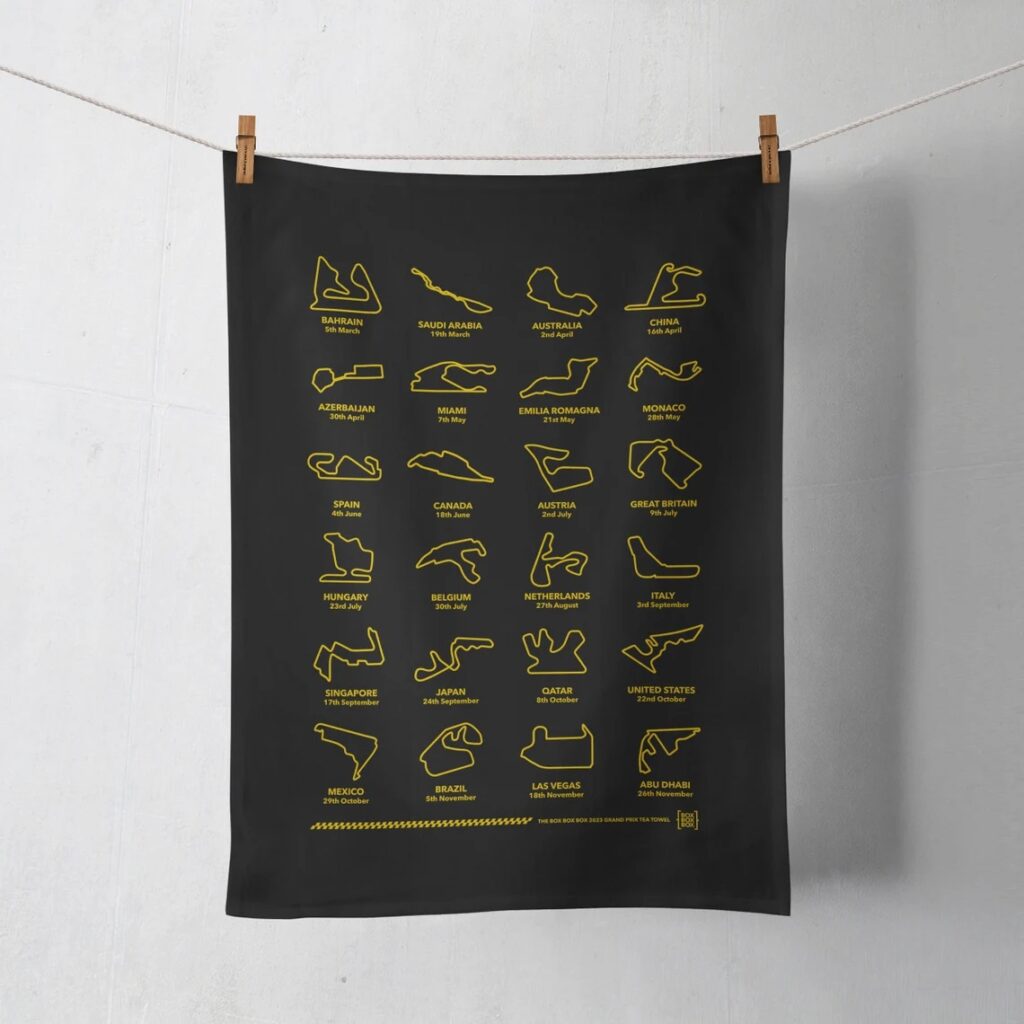 And that's not all! BoxBoxBoxCo also produce a range of F1-themed tea towels. One of their designs features every circuit from the 2023 calendar and helpfully includes all of next year's race dates. There are a range of other goodies to take a look at over on their website. The products make the perfect Christmas gift for any F1 fan!
3 calendars up for grabs
The great news is that we have three of BoxBoxBoxCo's 2023 Formula 1 calendars to give away. To be in with a chance of winning one, all you need to do is head over to our Twitter account and retweet our competition tweet. You'll need to be following @BoxBoxBoxCo too! Three winners will be selected at random on Friday December 9.