Monza has hosted more F1 races than any other track, while four circuits have hosted upwards of 50 World Championship events. Which other circuits have hosted the most Formula 1 races? We have the answers!
72 – Monza
No circuit has appeared on the Formula 1 calendar on more occasions than Monza. Just outside of Milan, Monza has been on the schedule in every single season except one. The exception was 1980, when renovation works at Monza saw the Italian Grand Prix move to Imola.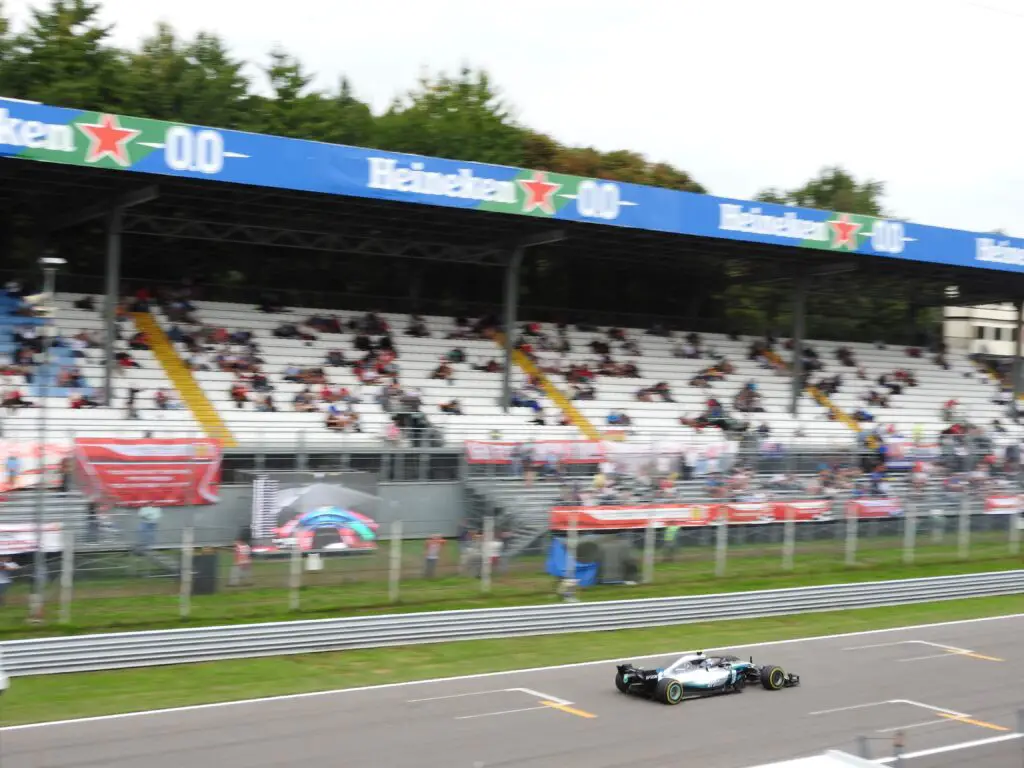 Monza has witnessed triumph and tragedy throughout its tenure on the calendar. In recent years, it has been the scene of two surprise wins for the Red Bull junior team (Sebastian Vettel in 2008 and Pierre Gasly in 2020) plus the venue at which McLaren took their first win in almost a decade in 2021.
With Monza having hosted 71 races so far and Imola on 30, Italy is the only country to have hosted over 100 World Championship F1 races. Pescara and Mugello have also hosted F1 races in the country.
68 – Monaco
Perhaps the world's most iconic street race, the Monaco Grand Prix has appeared on the Formula 1 calendar almost 70 times. The coronavirus pandemic saw the 2020 Monaco Grand Prix cancelled, ending a 65 year run of Circuit de Monaco appearing on the schedule in consecutive years. The future of the event was in doubt in 2022, with race organisers finally securing a three-year deal to keep the iconic track on the calendar until at least 2025.
57 – Silverstone
Silverstone hosted the very first World Championship Formula 1 race on May 13th 1950. It has since gone on to host the British Grand Prix on a further 54 occasions and hosted the one-off 70th Anniversary Grand Prix in 2020.
Between 1963 and 1968, Silverstone alternated British Grand Prix hosting duties with Brands Hatch, hence why its total number of races hosted is not as high as Monza or Monaco. Silverstone has been on the calendar in every year since 1987.
55 – Spa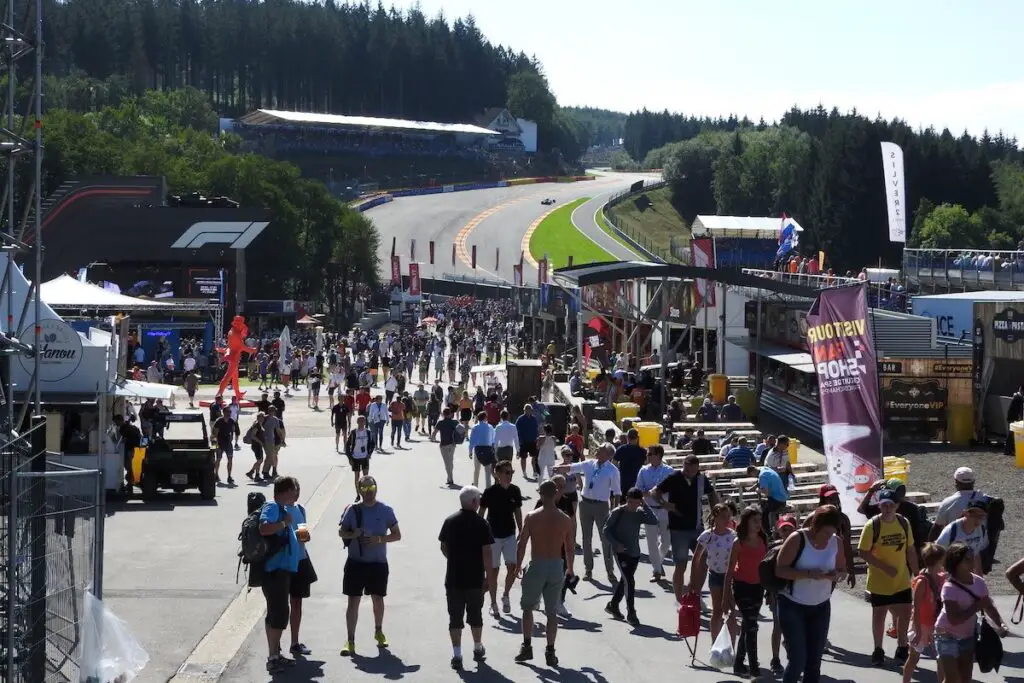 Another of F1's iconic venues sits fourth in the list. Like those above it in the list, Circuit de Spa-Francorchamps appeared on the first Formula 1 calendar in 1950 in a very different form to how it looks today. Originally a 14km track running through the local villages, the track was removed from the calendar over safety concerns in 1970. F1 would eventually return to Spa in 1983 on the layout that is still used today
41 – Nurburgring
Nicknamed the "Green Hell", the ferocious 22km Nordschleife circuit has earned its place in F1 folklore. In total, the Nurburgring has hosted 41 rounds of the World Championship, including races on the original layout and, from 1984 onwards, on the new version of the track.
The Nurburgring is the only circuit to have hosted Grands Prix with four different titles. In its history, it has held the German Grand Prix, the European Grand Prix and even the Luxembourg Grand Prix in 1997 & 1998! The track made a surprise return to the calendar amid the coronavirus pandemic to host the one-off Eifel Grand Prix. In that race, Lewis Hamilton equalled Michael Schumacher's record of 91 Grand Prix victories.
41 – Circuit Gilles Villeneuve
Circuit Gilles Villeneuve's enforced break from the calendar in 2020 and 2021 due to the coronavirus pandemic saw the Nurburgring move back ahead of it in the all time list. The Montreal venue – which first appeared on the calendar in 1978 – equalled the legendary German track for fifth in the list once more in 2022.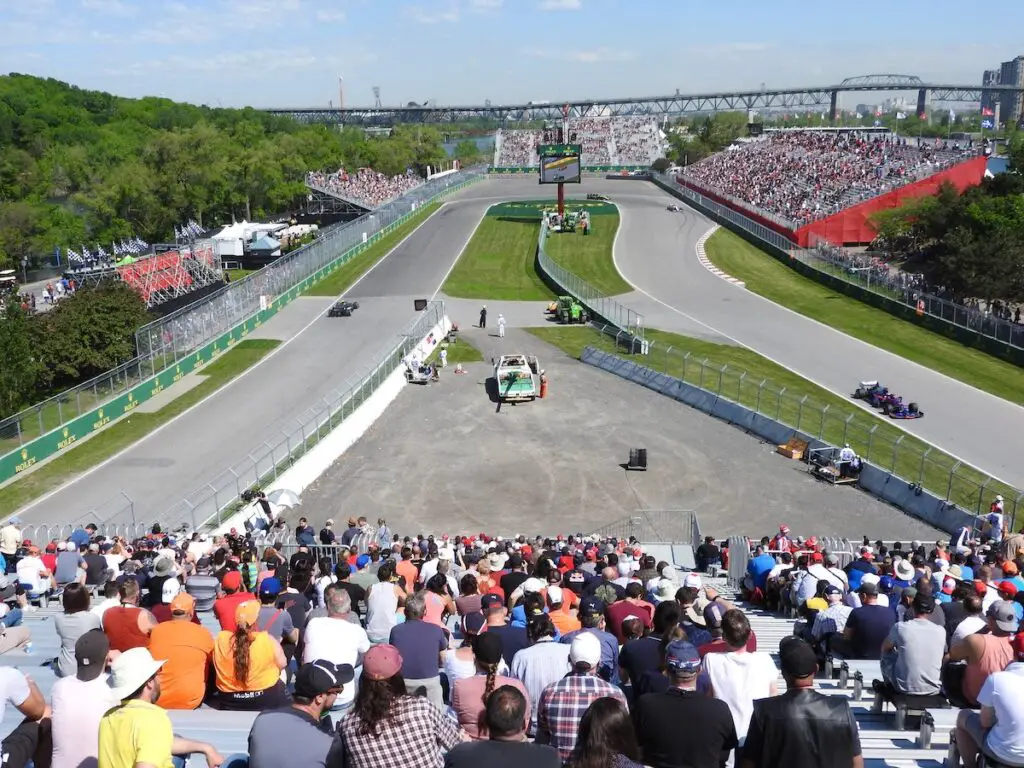 Circuit Gilles Villeneuve has been home to a number of maiden wins in its 40-race tenure on the F1 calendar. Its namesake took his first F1 victory in the inaugural race here in 1978, while Thierry Boutsen, Jean Alesi, Lewis Hamilton, Robert Kubica and Daniel Ricciardo have since added their names to the list of first time winners at the track.
The full list of circuits which have hosted Formula 1 races
The table below shows all circuits which have hosted a World Championship Formula 1 race, along with how many races it has hosted and when it first appeared on the calendar. Note that for 'Red Bull Ring', the number also includes races held at the Spielberg venue when it was called the Österreichring and the A1 Ring. This list was last updated after the 2022 Abu Dhabi Grand Prix.
Races
Circuit
Country
First hosted F1
72
Monza
Italy
1950
68
Monaco
Monaco
1950
57
Silverstone
United Kingdom
1950
55
Spa-Francorchamps
Belgium
1950
41
Nürburgring
Germany
1951
41
Circuit Gilles Villeneuve
Canada
1978
39
Interlagos
Brazil
1973
37
Hockenheimring
Germany
1970
37
Hungaroring
Hungary
1986
36
Red Bull Ring*
Austria
1970
32
Circuit de Barcelona-Catalunya
Spain
1991
32
Zandvoort
Netherlands
1952
32
Suzuka
Japan
1987
30
Imola
Italy
1980
25
Albert Park
Australia
1996
22
Autódromo Hermanos Rodríguez
Mexico
1963
20
Watkins Glen
USA
1961
20
Kyalami
South Africa
1967
20
Autodromo Juan y Oscar Gálvez
Argentina
1953
19
Indianapolis Motor Speedway
USA
1950
19
Sepang International Circuit
Malaysia
1999
19
Bahrain International Circuit
Bahrain
2004
18
Circuit de Nevers Magny-Cours
France
1991
18
Circuit Paul Ricard
France
1971
16
Shanghai International Circuit
China
2004
14
Brands Hatch Circuit
United Kingdom
1964
14
Yas Marina Circuit
United Arab Emirates
2009
13
Estoril
Portugal
1984
13
Marina Bay Street Circuit
Singapore
2008
11
Circuit de Reims-Gueux
France
1950
11
Adelaide Street Circuit
Australia
1985
10
Zolder
Belgium
1973
10
Jacarepagua
Brazil
1978
10
Circuit of the Americas
USA
2012
9
Jarama
Spain
1968
9
Istanbul Park
Turkey
2005
8
Mosport Park
Canada
1967
8
Long Beach Street Circuit
USA
1976
8
Sochi International Autodrom
Russia
2014
7
Detroit
USA
1982
7
Jerez de la Frontera
Spain
1986
6
Scandinavian Raceway
Sweden
1973
6
Dijon-Prenois
France
1974
6
Baku Street Circuit
Azerbaijan
2016
5
Bremgarten
Switzerland
1950
5
Circuit de Rouen-les-Essarts
France
1952
5
Aintree
United Kingdom
1955
5
Valencia Street Circuit
Spain
2008
4
Circuit de Charade
France
1965
4
Montjuïc Park
Spain
1969
4
Fuji International Speedway
Japan
1976
4
Korea International Circuit
South Korea
2010
3
Prince George Circuit
South Africa
1962
3
Phoenix Street Circuit
USA
1989
3
Buddh International Circuit
India
2011
2
Pedralbes
Spain
1951
2
Circuito da Boavista
Portugal
1958
2
Mont-Tremblant
Canada
1968
2
Nivelles
Belgium
1972
2
Caesars Palace
USA
1981
2
TI Circuit Aida
Japan
1994
2
Portimao
Portugal
2020
2
Jeddah Corniche Circuit
Saudi Arabia
2021
1
Pescara
Italy
1957
1
Ain-Diab
Morocco
1958
1
Sebring International Raceway
USA
1959
1
Circuito de Monsanto
Portugal
1959
1
AVUS
Germany
1959
1
Riverside International Raceway
USA
1960
1
Zeltweg
Austria
1964
1
Circuit Bugatti
France
1967
1
Dallas Fair Park
USA
1984
1
Donington Park
United Kingdom
1993
1
Mugello
Italy
2020
1
Losail International Circuit
Qatar
2021
1
Miami International Autodrome
USA
2022
This article was originally published in June 2022 and has since been updated.