Sebastian Vettel is calling time on his illustrious Formula 1 career at the end of 2022. Since 2007, Vettel has been a record-breaker in the sport, becoming the youngest-ever champion in 2010 and taking the most ever consecutive wins in 2013. We take a look at the Formula 1 records held by Sebastian Vettel!
Most consecutive wins
During 2013, Sebastian Vettel won all of the last nine races of the year. That's the longest-ever winning streak in Formula 1 history. No other driver has won more than seven races in a row. Vettel set a new record with his eighth consecutive victory at the 2013 United States Grand Prix, breaking the former record shared between Alberto Ascari and Michael Schumacher. Vettel went on to take a ninth win in a row at the 2013 Brazilian Grand Prix, which would turn out to be his final win with Red Bull.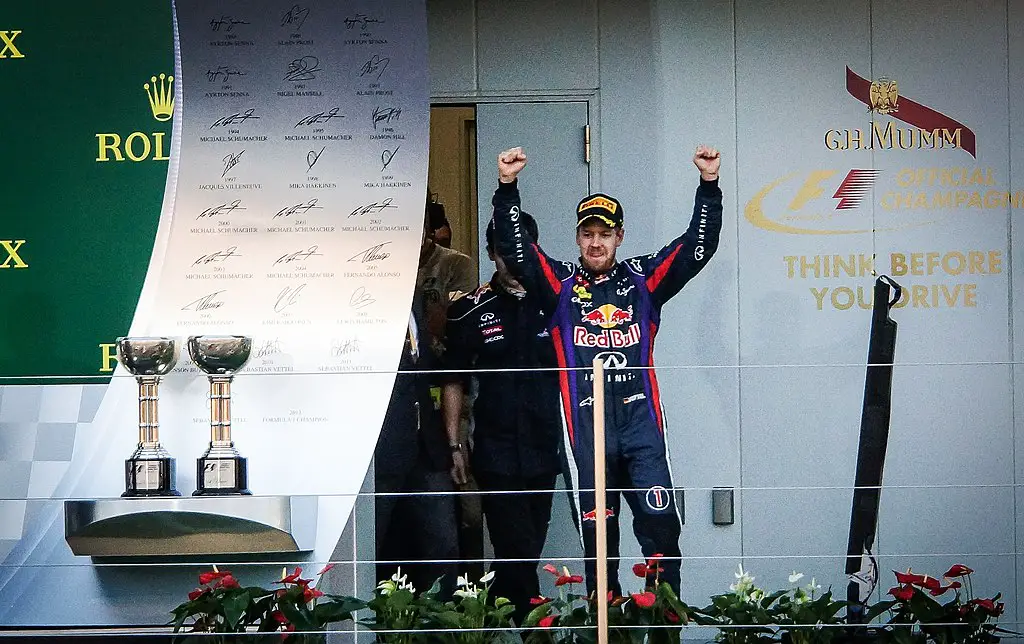 Since Vettel's nine-race winning streak, Nico Rosberg is the driver to have had the longest winning streak. He was victorious at seven races in a row between the 2015 Mexican Grand Prix and the 2016 Russian Grand Prix.
Youngest ever World Champion
Sebastian Vettel is the youngest ever Formula 1 World Champion. Vettel won his first title at the 2010 Abu Dhabi Grand Prix at the age of 23 years and 4 months. That's five months younger than former record holder Lewis Hamilton was when he won his first title at the 2008 Brazilian Grand Prix.
Vettel is also F1's youngest double, triple and quadruple title winner, being one of only five drivers to have won four World Championships. Vettel won his fourth title at the age of 26. By comparison, Juan Manuel Fangio was 45 when he won his fourth title in 1956, Alain Prost was 38 when he did so in 1993, Michael Schumacher was 33 when he achieved the feat in 2002 and Lewis Hamilton was 32 when he became a four-time champion in 2017. Vettel also became the youngest ever runner-up in the Drivers' Championship in 2009.
Youngest ever polesitter
At the 2008 Italian Grand Prix, Sebastian Vettel became Formula 1's youngest ever polesitter. He took the record from Fernando Alonso, who had broken the previous record at the 2003 Malaysian Grand Prix.
Vettel also took a number of other 'youngest' records early on in his career. The 2008 Italian Grand Prix made him the youngest winner and podium finisher, until his records were broken by Max Verstappen at the 2016 Spanish Grand Prix.
Scoring on debut at the 2007 United States Grand Prix at the age of 19, Vettel became the first driver to score a point in Formula 1 under the age of 20. His record of youngest points scorer stood until Daniil Kvyat's maiden points appearance at the 2014 Australian Grand Prix.
On only his sixth race start, at the 2007 Japanese Grand Prix, Vettel became the youngest driver to lead a race, a record which stood until Verstappen led for the first time at the 2016 Spanish Grand Prix.
Most poles in a single season
Sebastian Vettel was almost unstoppable on Saturdays during 2011. From that season's 19 races, Vettel secured 15 pole positions – the record for most poles in a single year. Vettel went on to win nine of those races, which is the record for most wins from pole in a single season.
While Vettel holds the record for most poles in a year, he does not hold the record for highest pole percentage in a season. That record belongs to Nigel Mansell, who secured pole at 14 of 1992's 16 races. Alain Prost and Ayrton Senna are the only other drivers to have a higher pole percentage in a single year than Vettel.
Until 2022, Vettel also shared the record for most wins in a single season with Michael Schumacher. They each recorded 13 wins in a single year – Vettel doing so in 2013. The record was broken by Max Verstappen in 2022. In 2013, Vettel had a winning percentage of 68.42% – the fourth highest winning percentage in a single year, after Alberto Ascari in 1952 (75%), Michael Schumacher in 2004 (72.22%) and Jim Clark in 1963 (70%).
Most laps led in a year
Sebastian Vettel led 739 laps during the 2011 season, meaning he was at the front of the pack for over 65% of the year. It's the highest ever number of laps led in a single year – 45 more than Nigel Mansell in 1992, who is second on the list.
Vettel also sits first and second on the list of most distance led in a single year, having led almost 3,800km in 2011 and over 3,600km in 2013. In 2013, Vettel led at least one lap in every race except the Monaco Grand Prix. Only Jackie Stewart can claim to have led at every race in a single season, having done so in 1969.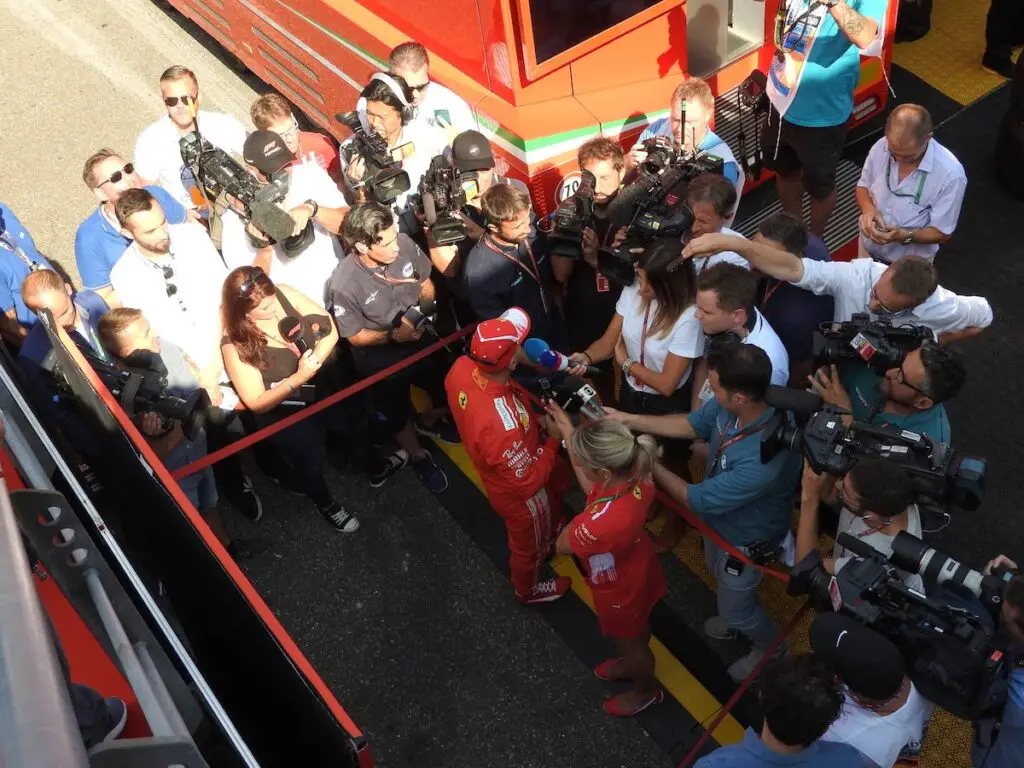 Most consecutive Grand Slams
Sebastian Vettel is one of only three drivers to have recorded a Grand Slam at two consecutive races. At the 2013 Singapore and Korean Grands Prix, Vettel took pole, set the fastest lap and won, having led every lap of the race. He was the first driver to achieve this feat at consecutive races since Jim Clark, fifty years previously, at the 1963 Dutch and French Grands Prix.
Largest ever points lead
After winning the final nine races of the 2013 season, Sebastian Vettel's points total was 155 points higher than that of his nearest competitor. It's the record for the largest points lead ever held in the World Championship. Vettel first took this record at the 2011 European Grand Prix, when he led the title hunt by 77 points.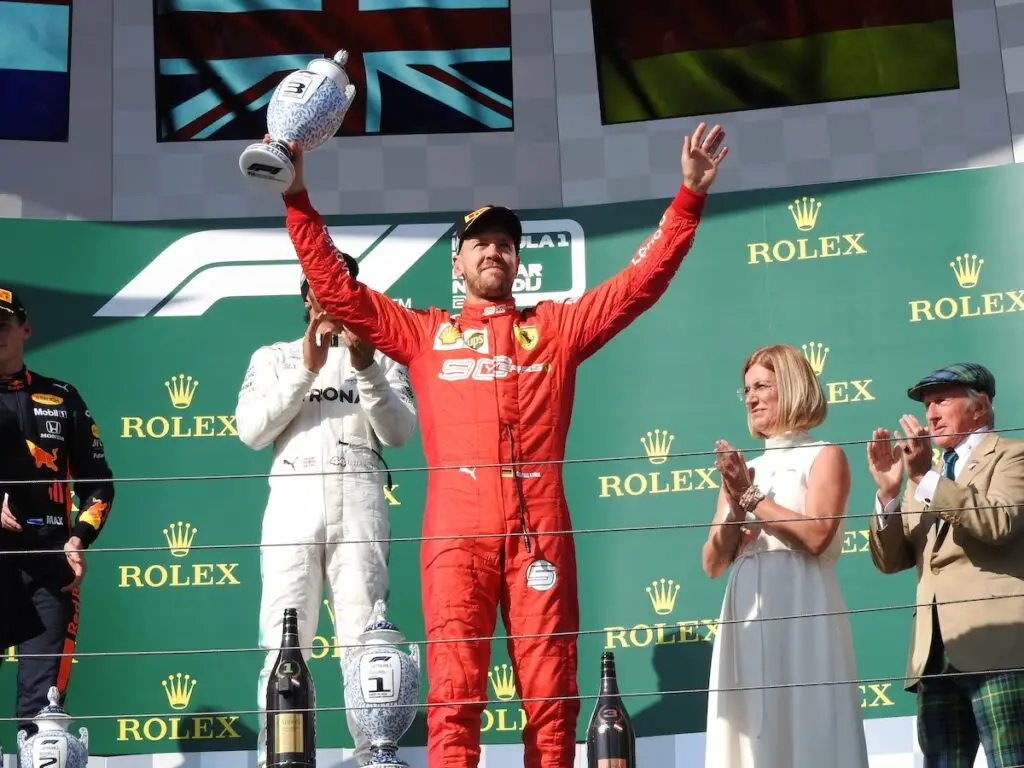 Only driver to win in India
Sebastian Vettel is the only driver to have won a Formula 1 race in India. F1 visited Buddh International Circuit three times between 2011 and 2013 and Vettel won all three races at the venue. He also took pole for all three events, too.
Buddh International Circuit is not the only venue at which Vettel holds a circuit record. Vettel holds the record for most wins at the Malaysian Grand Prix (4), the most wins at the Singapore Grand Prix (5) and the most wins at the South Korean Grand Prix (3). He also holds the record for most victories at Valencia Street Circuit (2).
Vettel holds the record for most poles in Valencia, Korea, Bahrain and Singapore, and the record for most fastest laps at COTA and Yas Marina Circuit.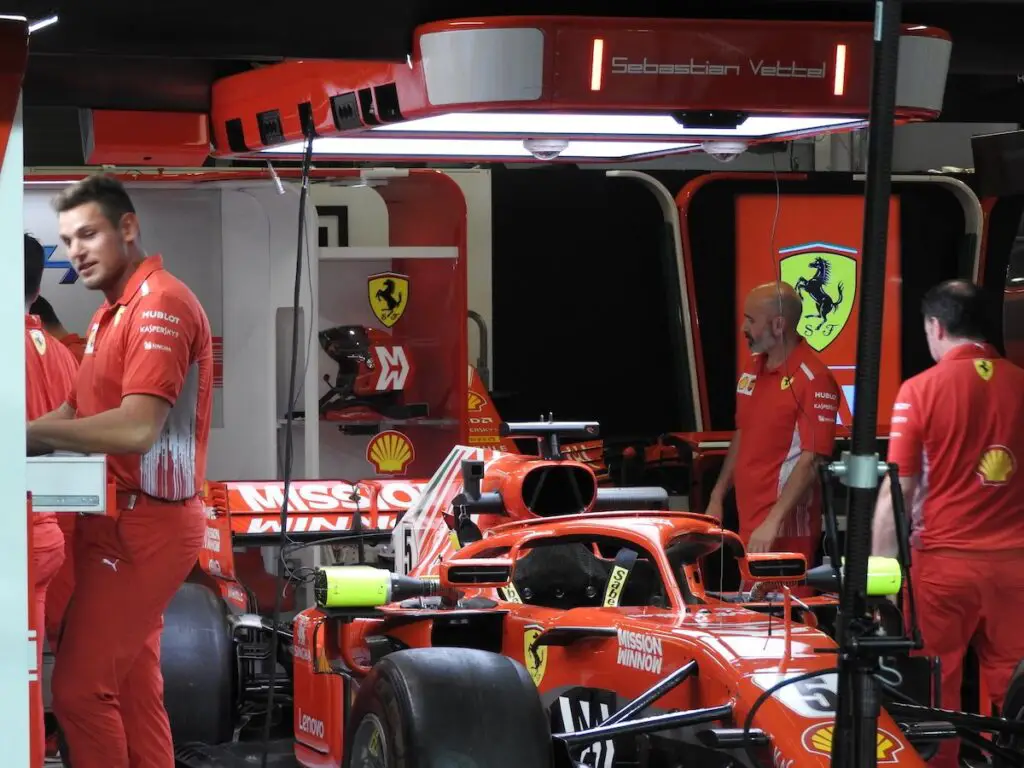 Shortest career before picking up a penalty
A more bizarre record held by Sebastian Vettel is the shortest career before picking up a penalty. Vettel made his F1 weekend debut at the 2006 Turkish Grand Prix, taking on Friday driver duties at BMW Sauber. Just six seconds after leaving the garage, Vettel picked up a $1,000 fine for speeding in the pit lane. Thankfully, he didn't just show his speed in the pit lane – he went on to set the fastest time in the second Free Practice session!
What's your favourite Sebastian Vettel moment? Leave a comment below!