On a weekend when Hamilton, Norris and Russell became the ninth, tenth and eleventh drivers to fail to win consecutive races on home soil, Red Bull and Mercedes shared a podium for the 32nd time and Schumacher's record of podium finishes was equalled. Here are some of the more obscure facts and statistics from the 70th Anniversary Grand Prix!
---
Comparing Schumacher and Hamilton at 155 podiums
At the 70th Anniversary Grand Prix, Lewis Hamilton recorded his 155th podium finish, equalling the record number of Formula 1 podium finishes recorded by Michael Schumacher. Schumacher took the record for most podium finishes with his 107th top three result at the 2002 British Grand Prix. He then extended that tally to 155 over the remainder of his career.
Comparing Hamilton and Schumacher's stats at 155 podiums, Schumacher had four more wins (91 compared to Hamilton's 87) and three more second places (43 compared to Hamilton's 40), while Hamilton has had seven more third places (28 compared to Schumacher's 21). A strange anomaly when comparing at this stage is that Hamilton falls way short of Schumacher's tally of Fastest Laps – Schumacher had recorded 76 by the time of his final podium, while Hamilton has 'only' 49, which is still good enough for second in the all-time list.
While Schumacher amassed his 155 podiums in 307 races, Hamilton has achieved his 155 podiums in 255 races. However, Schumacher reached 154 podiums in fewer races than Hamilton. This is because of Schumacher's comeback stint with Mercedes, in which he scored only one podium – his 155th – at the 2012 European Grand Prix. While Hamilton recorded his first 154 podiums in 254 races, Schumacher did so in 247 races – seven less than Hamilton.
Another of Schumacher's records also fell this weekend, with Kimi Raikkonen overtaking him as the driver to have completed the most Grand Prix laps in Formula 1. Read more: 70th Anniversary Grand Prix Post Race Statistics.
The first Red Bull win with a Mercedes 2-3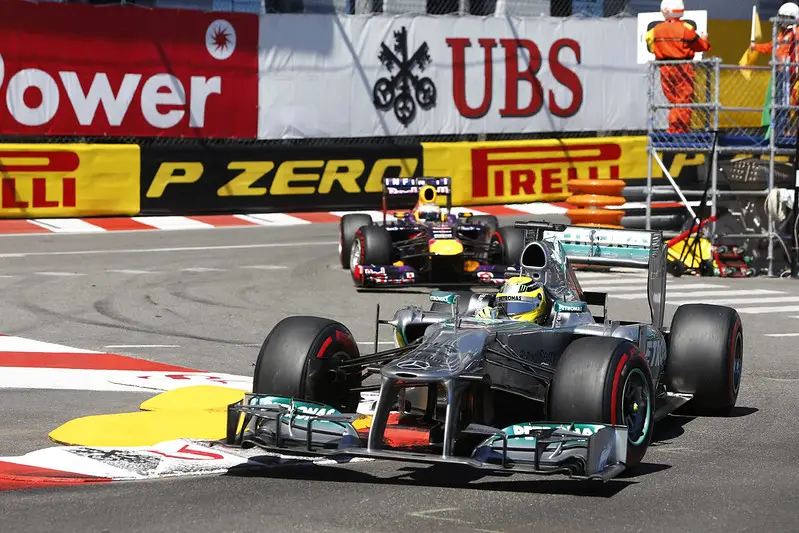 The 70th Anniversary Grand Prix marked the eighth time that Max Verstappen has finished on the podium alongside Lewis Hamilton and Valtteri Bottas. It's the third time that it has happened this year, after the Styrian and Hungarian Grands Prix. The result makes Verstappen, Hamilton and Bottas one of the top seven most common podium trios in Formula 1 history – the record being fourteen podiums featuring Hamilton, Nico Rosberg and Sebastian Vettel.
This was the eleventh time that Verstappen has featured alongside two Mercedes drivers on the podium and the 32nd time that the podium spots have been made up exclusively of Mercedes and Red Bull drivers. However, this was the very first time in Formula 1 that a Red Bull driver has won, with Mercedes finishing second and third. Of the 32 podiums which featured only Red Bull and Mercedes drivers, Red Bull have won six, with Mercedes taking the other 26 wins.
This was Mercedes' ninth 2-3 result in Formula 1. They scored their first 2-3 result at the 1955 British Grand Prix, held at Aintree. In total, it is the tenth time that Red Bull have won a race with another team scoring a 2-3 result. McLaren finished second and third when Red Bull won at the 2010 European Grand Prix, 2010 Abu Dhabi Grand Prix & 2011 Spanish Grand Prix, Lotus were second and third at the 2012 Bahrain Grand Prix, 2013 Bahrain Grand Prix, 2013 German Grand Prix & 2013 South Korean Grand Prix, and Ferrari completed the podium at the 2018 Austrian & Mexican Grands Prix.
A rare opportunity missed by Lewis Hamilton
Lewis Hamilton had the opportunity to make the 70th Anniversary Grand Prix only the third time that a driver has won in their own country twice in a single season. The only other times the achievement has been recorded was by Michael Schumacher in 1995 and 2004, when he won at both Hockenheim and the Nurburgring. With Max Verstappen beating Hamilton to the win, the British driver also missed the opportunity to make this only the seventh time that two consecutive races have been won by two home drivers.
Hamilton also had an incredibly rare opportunity to become the first driver to win consecutive rounds of the World Championship on home soil. This was only the seventh time that two consecutive races have been held in the same country in World Championship history. From the previous six times that it has happened, only four of the pairs of races featured home drivers.
Luigi Musso, Giorgio Scarlatti and Luigi Piotti were the three drivers who had the opportunity to take back-to-back home wins when F1 first held consecutive races in the same country, in Italy in 1957. Mario Andretti and Eddie Cheever had the chance to achieve the feat when F1 held consecutive races in America at the 1980 United States Grand Prix and the 1981 United States Grand Prix West. Cheever then had a further opportunity to do so in 1984, at the Detroit and Dallas Grands Prix. Before the two British races in 2020, the most recent time that home drivers had the chance to win back-to-back races was in 1995. Aguri Suzuki, Ukyo Katayama and Taki Inoue raced in Japan for two consecutive rounds at the 1995 Pacific and Japanese Grands Prix.
Along with Lewis Hamilton, Lando Norris and George Russell can be added to the list of drivers who failed to do so at the 2020 British and 70th Anniversary Grands Prix. The next driver who will have the opportunity to take back-to-back home wins is Antonio Giovinazzi, when Formula 1 races at Monza and Mugello on consecutive weekends in September.
Similarities to Red Bull's last Silverstone win
This weekend, Max Verstappen recorded Red Bull's first victory at Silverstone since Mark Webber won the British Grand Prix for the team in 2012. In both events, the driver scored their ninth career victory – with Webber's win being the last of his career. Before Verstappen equalled Webber's win tally on Sunday, Valtteri Bottas equalled the Australian's total of pole positions on Saturday. The 70th Anniversary Grand Prix was also the first F1 race at Silverstone since 2012 to not feature a Safety Car period.