Renault have unveiled their 2019 F1 car – the R.S.19.
---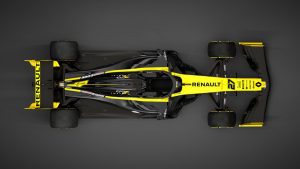 The Renault F1 team have revealed their 2019 F1 car. The livery was shown on their 2018 car in an event at their Enstone factory, with a new 2019 front wing, while online images showed the R.S.19 machinery in full.
The headline news for Renault in 2019 is that Daniel Ricciardo will be joining the team. Having raced with Red Bull for the past five seasons, the change of scenery will see the multiple Grand Prix winner pair up with Nico Hulkenberg, in what is expected to be one of the tightest team-mate battles this year. The Renault team improved to fourth in the Constructors' Championship in 2018; their best result since re-joining the sport as a works team in 2016. Renault will hope to bridge the gap to Formula 1's top tier this season, with their first podium since the 2011 Australian Grand Prix surely being high on their list of priorities.
---
Read more about Renault's F1 history in our Team Profile.