At the 2023 Italian Grand Prix, Max Verstappen became the first driver to record ten consecutive Grand Prix victories in Formula 1. Which other drivers have had lengthy winning streaks? We take a look at the drivers with the most consecutive F1 wins!
10 consecutive F1 wins – Max Verstappen, 2023
Red Bull and Max Verstappen have dominated the 2023 season so far. Verstappen has won all but two of this season's races to date, including victories at every race since the Miami Grand Prix. His latest win, at the 2023 Italian Grand Prix, saw him surpass Sebastian Vettel's consecutive winning record.
Red Bull now have the longest winning streak for a team in Formula 1, as the two races which Verstappen has not won this year have been won by his team-mate Sergio Perez.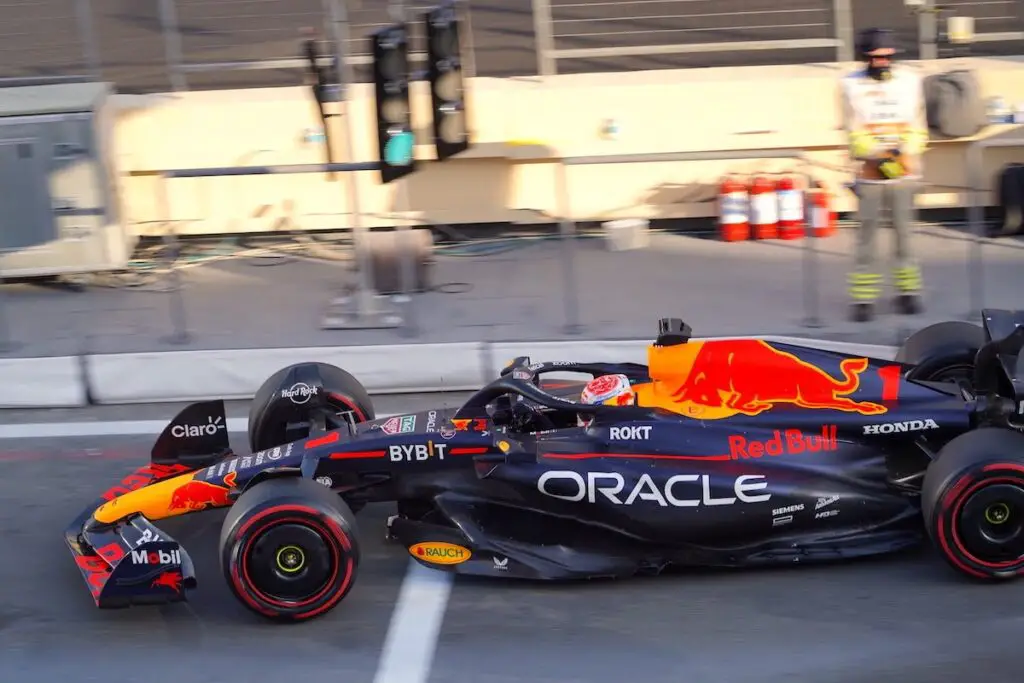 While eight of his last ten wins have come from the front row of the grid (all but two of those from pole), two have come from outside of the top five starting slots. Verstappen took victory at the 2023 Miami Grand Prix from ninth on the grid, before winning the Belgian Grand Prix from sixth on the grid. The latter win saw him equal Fernando Alonso as the driver who has won from the most different grid slots during their Formula 1 career.
Red Bull's winning ways show no signs of slowing any time soon. How much further will Verstappen's winning streak go?
9 consecutive F1 wins – Sebastian Vettel, 2013
Sebastian Vettel held the record for the longest winning streak in Formula 1 history for almost a decade. Vettel dominated the second half of his fourth and final title-winning year in 2013, winning all nine races after the summer break. From Belgium in August through to Brazil in November, nobody else stood on the top step of the podium.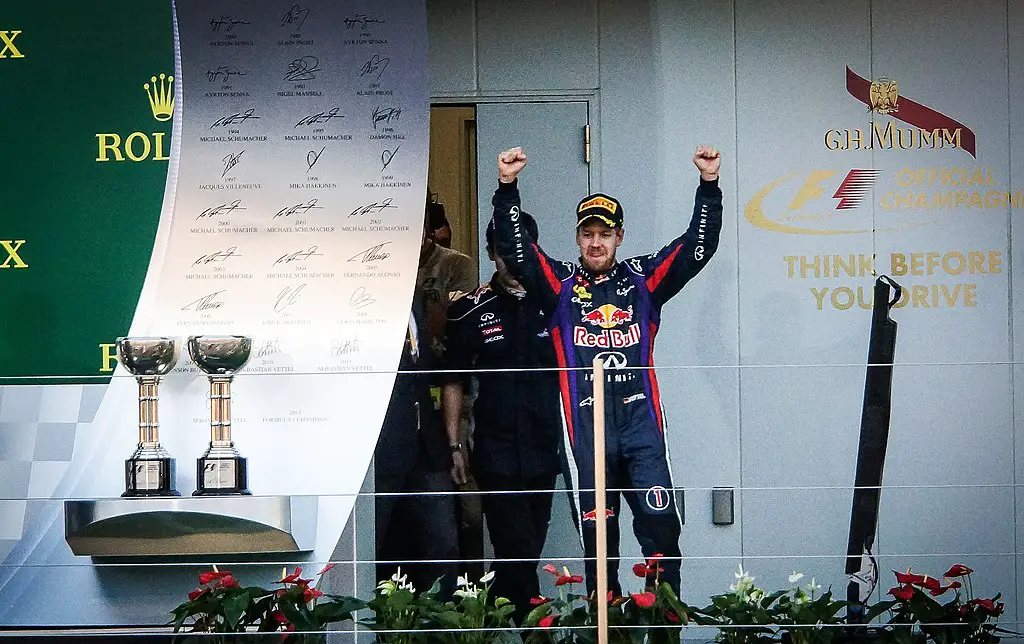 Vettel's winning streak saw him ease to a fourth consecutive title win, sealing the honours at the 2013 Indian Grand Prix with three races of the season remaining. Vettel broke the former record for most consecutive F1 wins two races later at the 2013 United States Grand Prix. He ended the season with a ninth win in a row, which would ultimately prove to be his final victory with Red Bull.
7 consecutive F1 wins – Alberto Ascari, 1952-53
Alberto Ascari's record of consecutive wins in Formula 1's formative seasons remained unbroken for over 60 years. Ascari secured his first World Championship title by winning all of the last six races of the eight-round 1952 season. The Ferrari driver went on to extend his winning streak to seven races at the season-opening 1963 Argentine Grand Prix.
Ascari's winning streak came to an end at the 1953 Indianapolis 500, the famous brickyard race being run as a round of the World Championship between 1950 and 1960 despite not being open to Formula 1 cars. Ascari did enter that year's Indianapolis 500 but never appeared at the event.
You could argue that Ascari's winning streak is, in fact, nine consecutive Grands Prix, as the Indianapolis 500 was never a 'Grand Prix' and Ascari went on to win the two folllowing races in the Netherlands and Belgium. And if you want to be super pedantic, you could argue that Ascari's streak does not count at all, as both the 1952 and 1953 Formula 1 seasons were run to Formula 2 regulations!
7 consecutive F1 wins – Michael Schumacher, 2004
Of the first 13 rounds of the 2004 Formula 1 season, the 2004 Monaco Grand Prix – in which he collided with Juan Pablo Montoya in the tunnel – was the only race which Michael Schumacher did not win. Following his scrape in Monaco, Schumacher went on to win all of the next seven races, beginning with the 2004 European Grand Prix and ending with the 2004 Hungarian Grand Prix. That saw him equal Alberto Ascari's then-51-year-old record of most consecutive F1 wins.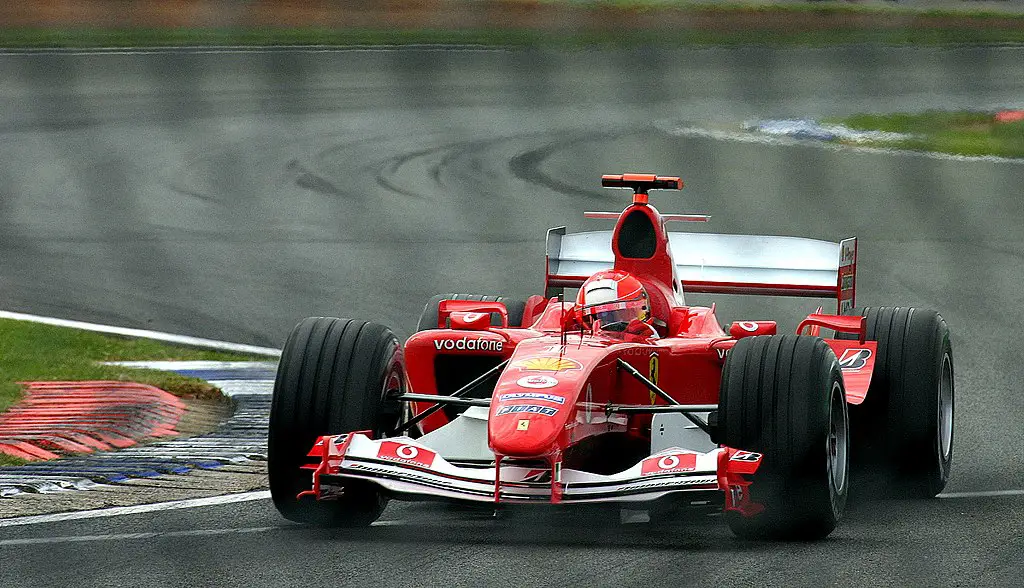 Even the race at which Schumacher's winnning streak ended cannot be considered a disaster. Though Kimi Raikkonen took an impressive win that day, second place for Schumacher – just three seconds behind Raikkonen – was enough to secure him his seventh and final title win.
7 consecutive F1 wins – Nico Rosberg, 2015-16
Strangely, the man who has the most Formula 1 wins does not feature among the top names in the list of most consecutive F1 wins. Lewis Hamilton's longest streak of victories is five, which he has achieved twice during his illustrious career.
Hamilton's former Mercedes team-mate Nico Rosberg, however, does feature towards the top of the list of consecutive F1 wins. After Hamilton sealed his third title at the 2015 United States Grand Prix, Rosberg won the final three races of the year. Bringing that winning confidence into the 2016 season, Rosberg opened his 2016 account with another four wins in a row, therefore tying with the second longest winning streak in F1.
Rosberg's winning streak came to an end at the 2016 Spanish Grand Prix, when he and team-mate Hamilton collided with one another on the opening lap. Their coming together paved the way for Max Verstappen to take his monumental maiden Formula 1 win. Despite winning only one of the next eight races, Rosberg would go on to be crowned World Champion in a nail-biting showdown with Hamilton at the Abu Dhabi Grand Prix.