Nico Rosberg raced only once at Baku City Circuit, in the 2016 European Grand Prix. Having led all 51 laps of the inaugural event at the track, Rosberg remains the driver to have led the most laps at the circuit.
Baku City Circuit has become renowned for producing action-packed and unpredictable races. There have been five different polesitters and five different winners from the five races here so far. The polesitter has won only twice and drivers starting outside of the top five have taken as many podium finishes as those starting inside the top three.
Such is the unpredictability of races here, Nico Rosberg – who competed only once in Azerbaijan – still holds the record for most laps led. In his championship winning year in 2016, Rosberg dominated the first race at the track, leading every lap. He is the only driver to have led a full race distance in Baku.
Eight different drivers have led a lap at Baku City Circuit. Of those eight, last year's winner – Sergio Perez – has led the fewest. Perez led only eight laps en route to the second victory of his Formula 1 career in 2021.
2017 winner Daniel Ricciardo, who won from tenth on the grid, led only 18 laps in that race. 2018 winner Lewis Hamilton sits third in the laps led list. His tally of laps led here stands at 43, with only three of those being in the race that he went on to win.
Will Rosberg's record be broken in 2022?
There's no guarantee that Rosberg's record will fall this year either. Valtteri Bottas is closest to bettering Rosberg's total of laps led in Baku, being just three away from doing so. In their more competitive machinery, Max Verstappen, Charles Leclerc and Sergio Perez are perhaps better placed to surpass the German's tally. Verstappen would need to lead 23 laps of the 51 lap race to do so, Leclerc needs 32 and Perez needs 44.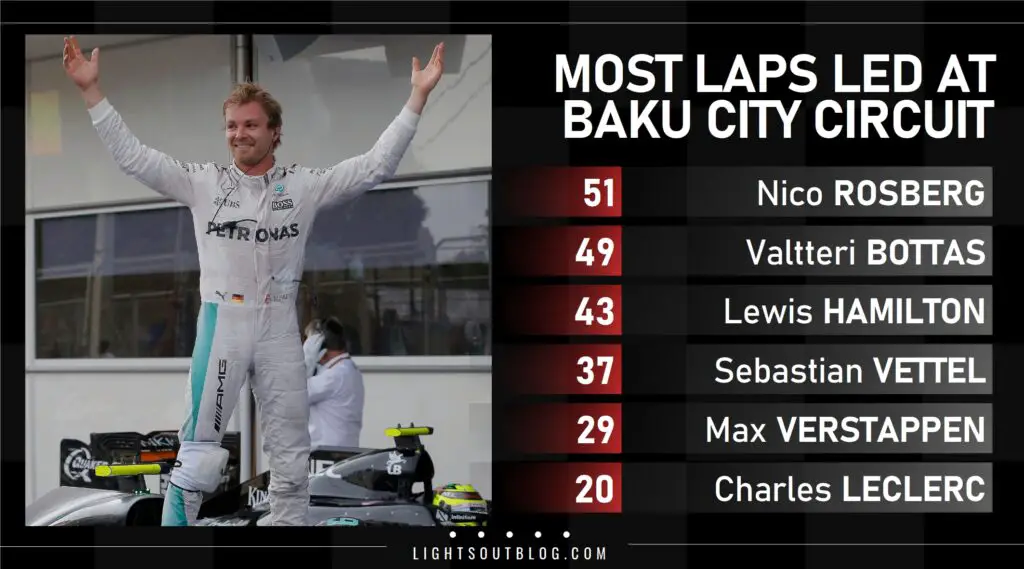 Sebastian Vettel also has a chance of breaking Rosberg's record. This year's Aston Martin car may not be the most competitive, but Vettel has never failed to finish in the top four in Azerbaijan. He led four laps of last year's race en route to second place. In total, Vettel has led 37 laps here – meaning he'd need to lead 15 laps of Sunday's race to break the record.
Lewis Hamilton and Daniel Ricciardo could also mathematically break Rosberg's record. Hamilton has led laps in every race at the track except the one which Rosberg won. He needs to lead nine laps on Sunday to surpass his former team-mate's total. Ricciardo is 34 laps away from becoming the record holder.
Having not yet led any laps here, the other 13 drivers on the grid are unable to break Rosberg's record but one driver could equal the record if they lead the 2022 Azerbaijan Grand Prix from start to end.
Header image: Morio, Wikimedia Commons, CC BY-SA 4.0