Despite going off on his final timed lap, Valtteri Bottas secured pole position in a close fight with his Mercedes team-mate at the 2020 Austrian Grand Prix. Here's all the data and analysis from qualifying!
---
Mercedes have dominated the 2020 Austrian Grand Prix so far. The reigning champions have set the fastest sector times in every session, with Q1 being the only session that they have not topped. Max Verstappen was fastest in Q1, and Red Bull appear to be their closest competitors. Behind them, it appears we have a new order. McLaren and Racing Point fought for the next spots on the grid, with Ferrari further down the order.
While Mercedes have dominated, there has been little to choose between Valtteri Bottas and Lewis Hamilton. Hamilton still had the edge on Bottas in the first sector, but the Finn was able to gain time in the final two sectors. Bottas took the twelfth pole position of his career by a margin of only 0.012s – the same margin by which he took pole position at the 2019 United States Grand Prix just three races ago. Bottas' pole lap was a new Track Record at the Red Bull Ring and was the fifth shortest pole lap time in Formula 1's history. Bottas may have improved his time further, but he ran wide and through gravel on his final qualifying attempt. The Finn's incident caused a yellow flag which prevented other drivers from setting faster times. Hamilton was investigated by race stewards for failing to slow for the yellow flags, with the six-time champion claiming dust prevented him from seeing the warning lights. No penalty was awarded.
---
It's difficult to choose the major surprise of the qualifying session, but perhaps the biggest shock so far this weekend is Ferrari's lack of pace. Neither Charles Leclerc, who qualified seventh, nor Sebastian Vettel, who didn't even reach Q3, bettered their times from qualifying last year. And the same can be said of most of the other Ferrari runners. Of the six Ferrari-powered cars, only Romain Grosjean's Haas recorded a better sector time than in 2019, with the Frenchman two tenths up on his 2019 Sector 1 time.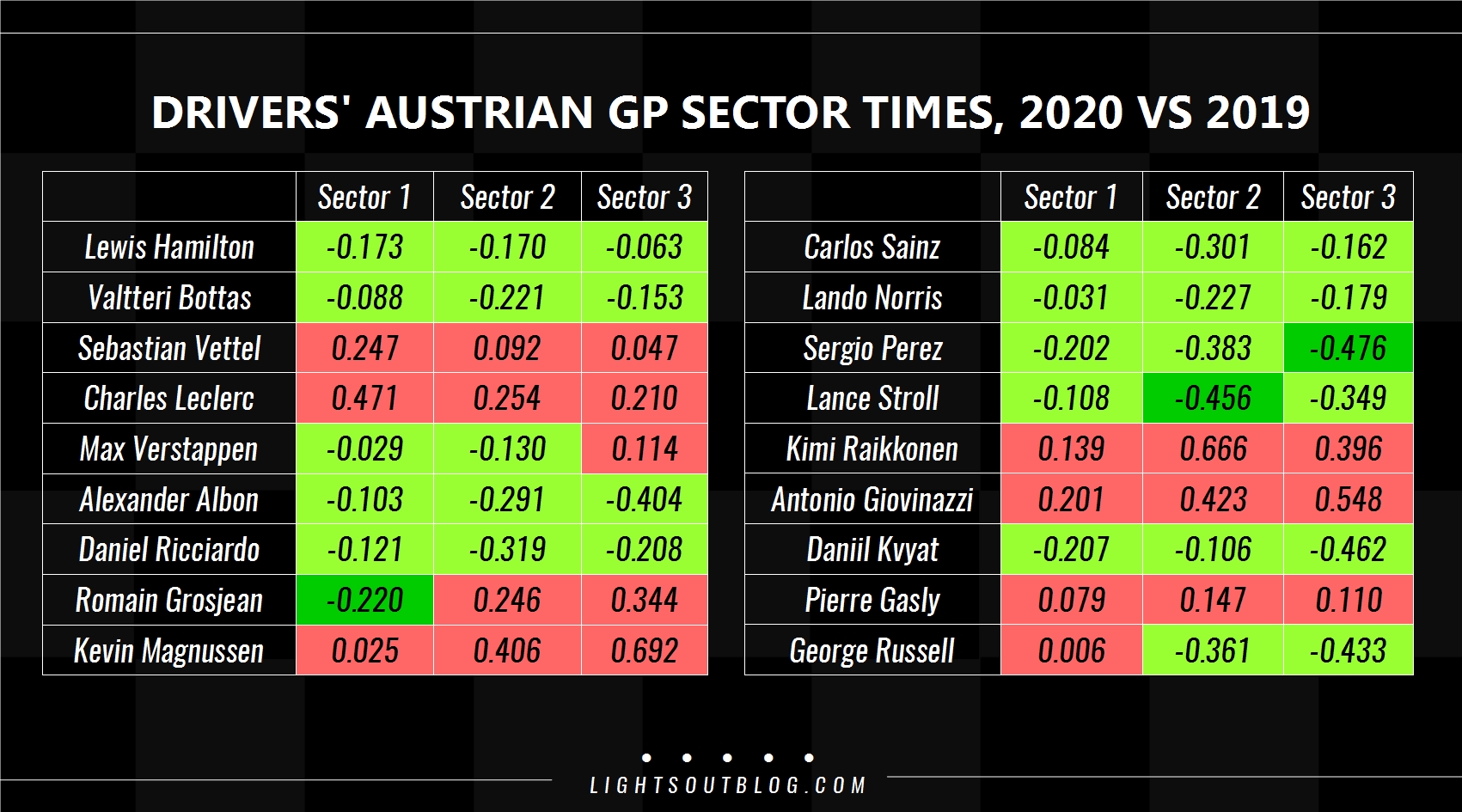 The other big gainers in the first qualifying session of 2020 were Racing Point – a team whose best three sector times equated to a time a whole second faster than in 2019. While Sergio Perez qualified sixth, Lance Stroll reached Q3 for only the sixth time in his career and lines up ninth on the grid. After Free Practice, it had been expected that Racing Point would be third in the competitive order – but McLaren's Lando Norris was able to split the two Red Bull drivers with the fourth quickest time. 2020 marks the first time that both McLaren cars have reached Q3 at the Red Bull Ring. Norris' fourth place is a career-best result, as well as McLaren's best qualifying result at the Styrian circuit since Kimi Raikkonen lined up on the front row in 2003.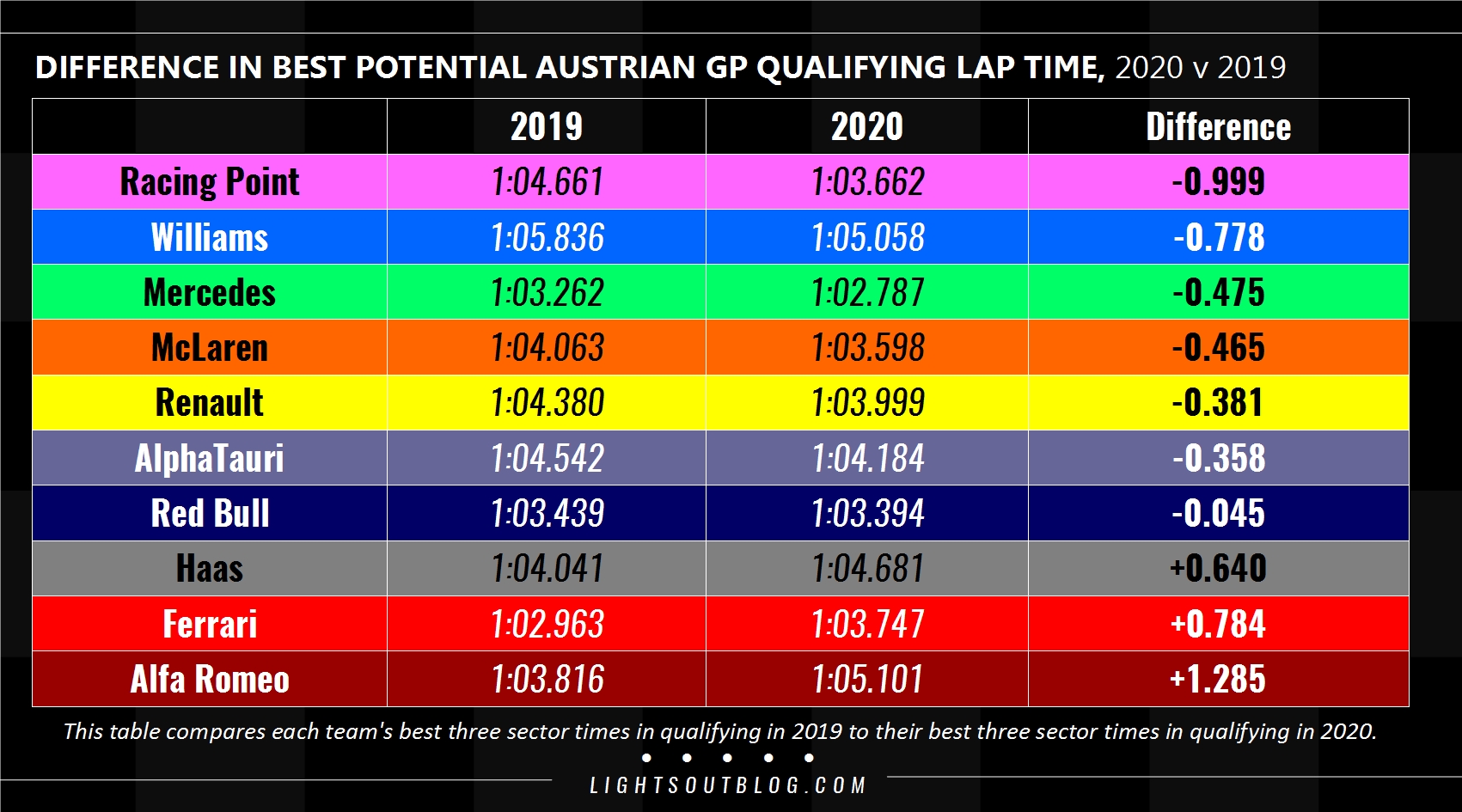 ---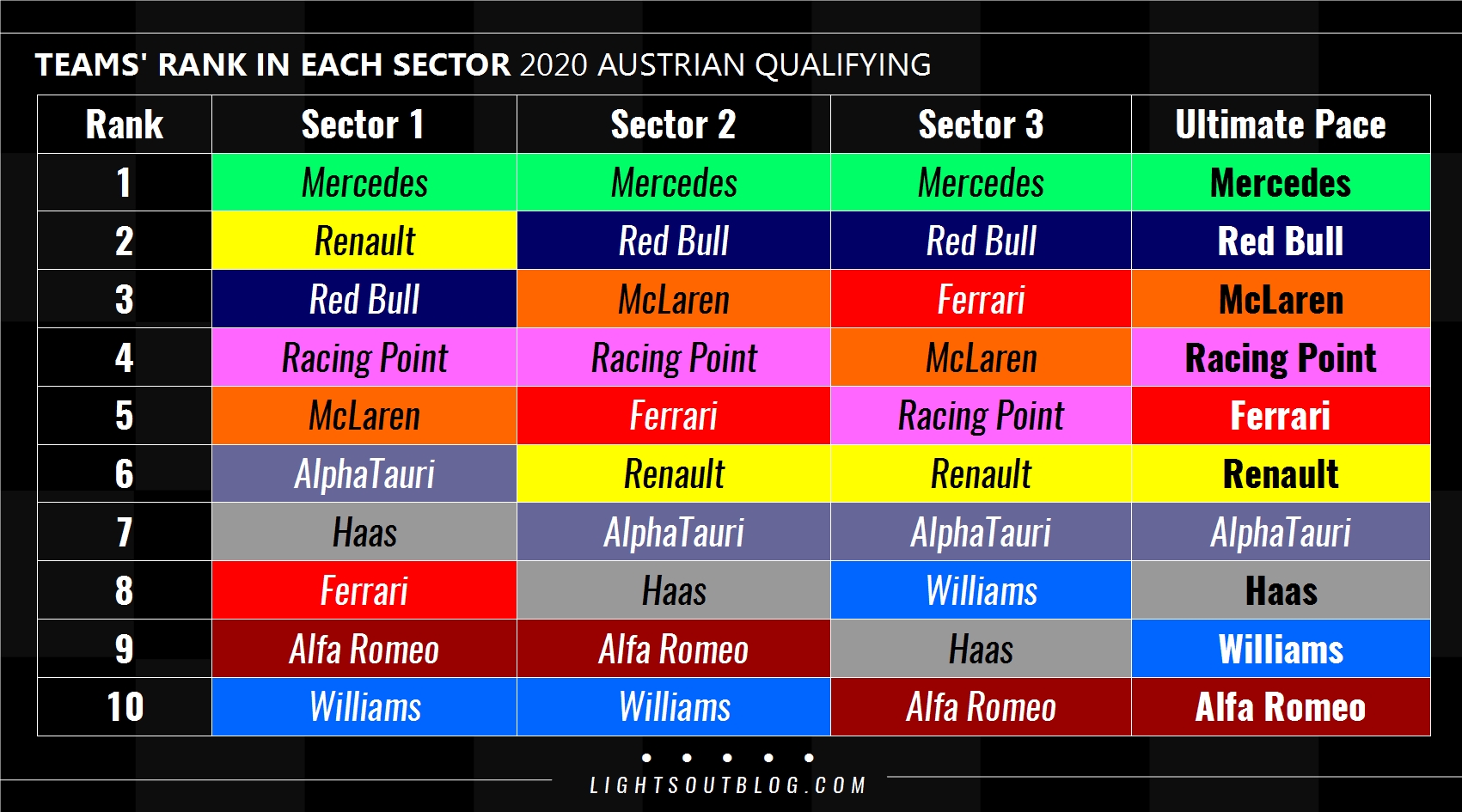 TEAM AND DRIVER SECTOR RANKINGS
Ferrari's major weakness is in the first sector, which comprises of two long straights. Ferrari ranked only eighth in Sector 1 today. To put that in context, of last year's 63 sectors, Ferrari ranked outside of the top four only once (sixth in Sector 3 at the Monaco Grand Prix). 
All three Ferrari-powered teams were well down the order in Sector 1 times, with only Williams slower. Daniel Ricciardo put in a speedy first sector to put Renault second fastest in the first sector, around two tenths down on Mercedes' pace in the same sector. Renault were consistently sixth fastest in the other two sectors. 
Perhaps surprisingly, Williams were not the slowest team today. Instead, it was Alfa Romeo who were overall slower. Though the Swiss team were faster than Williams in both Sectors 1 and 2, George Russell set the fifteenth fastest Sector 3 time and qualified ahead of both Alfa Romeo drivers.
Ferrari's lack of pace in the first sector is highlighted by Leclerc recording only the eighteenth fastest time in that section of track. Only Kevin Magnussen, who was eliminated in Q1, and rookie Nicholas Latifi were slower. The Ferrari was more promising in the last sector, where Leclerc ranked fourth and Vettel ranked eighth. Max Verstappen, Daniel Ricciardo, Lando Norris and Sergio Perez all made appearances in the top five sector rankings around the Red Bull Ring.
Of the twenty drivers, only four achieved their ultimate potential by setting their three best sector times on their fastest lap of the qualifying session: Nicholas Latifi, Kevin Magnussen, Lando Norris and Antonio Giovinazzi. Latifi failed to challenge anyone else in the timings, with his best time half a second away from nineteenth place driver Kimi Raikkonen. Daniil Kvyat was furthest away from his best three sector times. Had the Russian driver set his best three sector times on the same lap, he could have lined up eleventh on the grid – ahead of Sebastian Vettel.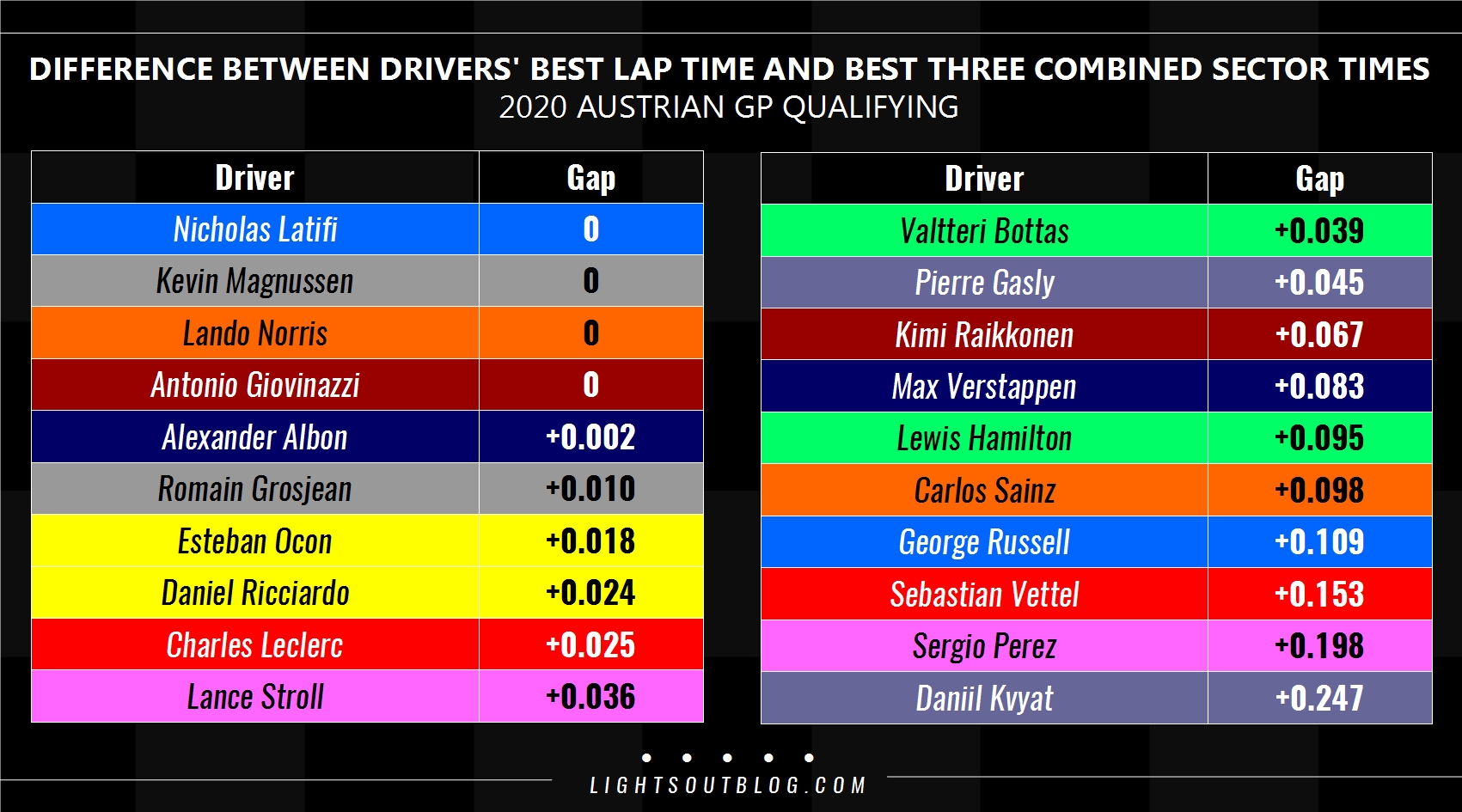 ---
Who will win the 2020 Austrian Grand Prix? Follow Lights Out on Twitter for live updates throughout the race.