Haas had the worst year of their short history, scoring points on only a handful of occasions. Here are all the facts and statistics from their 2019 season.
---
Haas endured their worst season to date in 2019. While the opening race of the season gave hope for another strong campaign for Haas, with both cars reaching Q3 and Kevin Magnussen finishing sixth, that turned out to be their best result of the year. While the drivers reached Q3 at all but one of the first five races of the season, they were unable to convert these into points-scoring races.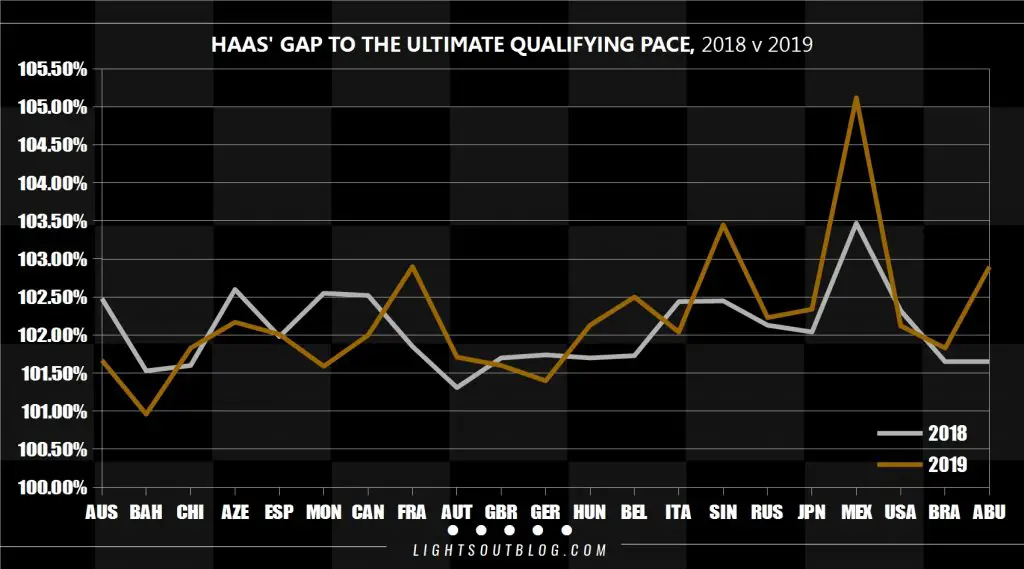 The Spanish and German Grands Prix were the only times that both cars finished inside the top ten, with Grosjean's tenth place in Monaco and Magnussen's ninth in Russia being their only other points scoring appearances. Magnussen's ninth in Russia was the only time they scored in the second half of the season as they slipped down to ninth in the championship and scored a total of only 28 points – one less than they scored in their maiden season.
Magnussen says that their problems were clear from the second race of the season, but the team never got on top of them for the rest of the year. A switch between multiple specifications complicated matters as Haas searched for a solution to their largely unpredictable problems. And it didn't help that their line-up kept crashing with each other during the mid-season. That coupled with their ongoing off-track shenanigans with off-and-on-and-off again title sponsor made it a rather unenjoyable season for the American squad. Things can't get much worse in 2020.
---
[one_half]
RACE STATISTICS
Championship Position: 9th
Total Points: 28
Points Scoring Races: 5
Double Points Finishes: 1
Best finish: 6th (Australia)
Number of DNFs: 10
Laps Led: 0
Laps Complete: 2230 (10th)
% of Laps Complete: 88.35%
Distance Covered: 11128.056km
[/one_half][one_half_last]
QUALIFYING STATISTICS
Both cars in Q3: 5
Q3 Appearances: 18
Q2 Exits: 15
Q1 Exits: 9
Best Qualifying Position: 5th
Worst Qualifying Position: 19th
Average Gap to Ultimate Pace: 1.83%
[/one_half_last]
---
A STATISTIC FOR EVERY GRAND PRIX
Australia: At the 2019 Australian Grand Prix, Haas recorded their first double Q3 appearance since the 2018 Russian Grand Prix. In the race, Kevin Magnussen finished sixth, marking only the second time a Haas car has crossed the finish line at the circuit. The last time was on debut in 2016, when Romain Grosjean also finished sixth.
Bahrain: With sixth on the grid at the 2019 Bahrain Grand Prix, Kevin Magnussen recorded Haas' best qualifying result so far at the Bahrain International Circuit.
China: The 2019 Chinese Grand Prix marked the first time that Haas have seen both cars reach Q3 in Shanghai.
Azerbaijan: Both Haas drivers failed to reach Q3 for the first time in 2019 at the Azerbaijan Grand Prix. It was the first time since last year's Mexico Grand Prix that neither driver reached the top ten. The team recorded the exact same result at the circuit in 2019 as they did in 2018, with Romain Grosjean retiring and Kevin Magnussen finishing thirteenth. A Haas driver has finished in thirteenth in all four Azerbaijan races so far.
Spain: With both drivers finishing in the top ten, 2019 marks Haas' first visit to the Spanish Grand Prix where both cars have scored points.
Monaco: There was a bizarre incident in Free Practice 1 for the 2019 Monaco Grand Prix, which saw both Haas drivers black-flagged due to radio communication problems. It was the first time drivers have been shown the black flag in an F1 session since Felipe Massa and Giancarlo Fisichella were disqualified from the 2007 Canadian Grand Prix.
Canada: Kevin Magnussen and his Haas team made their first Q3 appearance at the Circuit Gilles Villeneueve in 2019, but were not able to compete in the top ten shootout following Kevin Magnussen's Q2 crash. Magnussen went on to finish in seventeenth place, recording Haas' worst finishing position so far at the Canadian Grand Prix.
France: Haas equalled Maserati's number of Grand Prix appearances at the 2019 French Grand Prix. The 70th and final appearance for a Maserati was at the 1960 United States Grand Prix.
Austria: Haas endured their first point-less visit to the Austrian Grand Prix in 2019. Over the weekend, the team equalled Copersucar's number of Grand Prix appearances.
Britain: After adding a total of only fifteen laps to their 2019 lap tally at the British Grand Prix, Haas became the team to have covered the least distance of any team up to that point in the season. The team recorded their third double non-finish after the 2017 and 2018 Australian Grands Prix. You can also add the 2018 Italian Grand Prix to the list of double non-classified results for the team (Kevin Magnussen retired while Romain Grosjean was disqualified).
Germany: With their 73rd race appearance at the 2019 German Grand Prix, Haas equalled Marussia's tally of Grand Prix appearances.
Hungary: For a third time in four appearances at the Hungarian Grand Prix, a Haas driver finished in thirteenth. The team scored the same result as they did in 2017, with Kevin Magnussen finishing thirteenth and Romain Grosjean failing to finish.
Belgium: Haas maintained their 100% finish record at the Belgian Grand Prix in 2019, but failed to score. Their drivers finished twelfth and thirteenth, just as they did in 2016.
Italy: With Kevin Magnussen retiring from the 2019 Italian Grand Prix retirement, Haas recorded their first DNF at the Monza circuit. With Romain Grosjean finishing only sixteenth, Haas are still yet to score a point at Monza.
Singapore: Kevin Magnussen recorded the Fastest Lap of the 2019 Singapore Grand Prix. It was Haas' second Fastest Lap, making them one of 33 outfits to have set multiple Fastest Laps in Grands Prix.
Russia: Haas equalled Dallara's total of Grand Prix appearances at the 2019 Russian Grand Prix. Dallara competed in 78 races, making their last appearance at the 1992 Australian Grand Prix.
Japan: For the first time since their debut season, Haas failed to score at the Japanese Grand Prix in 2019.
Mexico: With Kevin Magnussen qualifying 17th and Romain Grosjean 18th for the 2019 event, Haas are still yet to progress past Q1 at the Mexico Grand Prix in all of their four appearances.
United States: Haas failed to score at their home race in 2019 for a third consecutive season, meaning that Romain Grosjean's tenth place in 2016 remains the only time a Haas car has scored in the United States Grand Prix.
Brazil: At the 2019 Brazilian Grand Prix, Haas recorded their first double Q3 appearance since the Spanish Grand Prix. It was also the first time both of their cars have qualified in the top ten at the Brazilian Grand Prix.
Abu Dhabi: Haas had their fifth consecutive point-less race at the 2019 Abu Dhabi Grand Prix. Should they fail to score at the 2020 Australian Grand Prix, they would match their worst streak of results, when they failed to score for six consecutive races between the 2016 British and Singapore Grands Prix.