?? 

THE 2019 RUSSIAN GRAND PRIX

 
ROUND 16. 27th-29th September.
1013TH F1 GRAND PRIX | 8TH RUSSIAN GRAND PRIX | 6TH GRAND PRIX AT SOCHI AUTODROM
2018 POLESITTER: VALTTERI BOTTAS | 2018 WINNER: LEWIS HAMILTON
---
  WEEKEND SCHEDULE
Friday 27th September

Free Practice 1 (11am Local Time/ 9am UK Time)
Free Practice 2 (3pm Local Time/ 1pm UK Time)
Saturday 28th September

Free Practice 3 (12pm Local Time/ 10am UK Time)
Qualifying (3pm Local Time/ 1pm UK Time)
Sunday 29th September

The 2019 Russian Grand Prix (2:10pm Local Time/ 12:10pm UK Time)
---
?? WEEKEND MILESTONES AND RECORDS
Haas will equal Dallara's total of Grand Prix appearance this weekend.
This will be the 130th F1 race to have been held in the month of September.
Mercedes have won every running of the Russian Grand Prix since it joined the calendar. In fact, Benz won the two Russian Grands Prix held in 1913 and 1914, so technically Mercedes have never been beaten at a Grand Prix in the country. Any other team winning would therefore be the only other team than Mercedes to win the Russian Grand Prix.
Valtteri Bottas and Sebastian Vettel could each equal Lewis Hamilton's record tally of four podium finishes at the Russian Grand Prix this weekend. Meanwhile, Hamilton himself could extend the record to five top three finishes.
Should Daniil Kvyat reach the end of the race but finish outside of the points, he'll equal Marcus Ericsson's tally of four finishes outside of the points at the Russian Grand Prix.
You can find more information about the records which could be beaten this weekend in our Milestones and Records to Beat post.
---
ALL THE INFO
Click the links below to see all the stats and circuit history you could need ahead of the 2019 race!
Track Stats (Coming Soon)

Team Form (Coming Soon)

Driver Form (Coming Soon)

Lucky and Unlucky Grid Positions (Coming Soon)
---
2018 RACE RECAP
Controversy loomed in Sochi in 2018. Valtteri Bottas took pole but moved out of the way for his team-mate Lewis Hamilton, who took victory to aid his championship charge.
Penalties at Red Bull and Toro Rosso led to a Q2 session in which they, and the two Renault drivers, didn't bother setting lap times. Renault's strategy gave them free tyre choice for Sunday's Grand Prix. Valtteri Bottas took his second pole of the season, lapping 0.141 seconds faster than his team-mate, who made an error on his final fast lap. Sebastian Vettel made a better start than Lewis Hamilton, but Mercedes remained in the lead at the first turn. Both Toro Rosso drivers were out on the first lap with similar braking issues. Elsewhere, Max Verstappen, who started in nineteenth was putting on a show on his 21st birthday, making up fourteen places in the first eight laps. At the first round of pit-stops, Vettel pitted first and Hamilton emerged alongside the Ferrari after the Mercedes driver's stop, with Vettel taking the position. Hamilton closed back in on Vettel, and Vettel aggressively blocked an overtaking attempt by Hamilton, who would eventually get past him at the next turn. On Lap 25, Bottas allowed Hamilton to pass him as Mercedes informed the Finn that Hamilton had blistering on his rear tyres and Vettel was becoming a threat. Meanwhile, with ten laps to go, Verstappen finally pitted after leading much of the race. He'd finish fifth. Hamilton took the victory, though celebrations were muted, with Bottas finishing second and Vettel third.
---
---
  PRESS CONFERENCE SCHEDULES
The world's media will have the opportunity to talk to the drivers on the Thursday before the race. Appearing in the Drivers' Press Conference for this race weekend will be:
Kimi Räikkönen (Alfa Romeo)
Kevin Magnussen (Haas)
Valtteri Bottas (Mercedes)
Lance Stroll (Racing Point)
Daniil Kvyat (Toro Rosso)
The media also be talking to prominent members of Formula 1's teams on Friday. Appearing in the Teams' Press Conference for this race weekend will be:
Laurent Mekies (Ferrari)
James Allison (Mercedes)
Mario Isola (Pirelli)
Paul Monaghan (Red Bull)
---
  DRIVER STEWARD
Each weekend a former Formula 1 driver, or a driver from another prominent series of motorsport, joins the stewards to help judge any incidents from a drivers' perspective. The Driver Steward this weekend will be Emanuele Pirro.
---
  WEATHER FORECAST
The weather forecast for the week ahead at the circuit currently looks like this:
[wpc-weather id="4440″/]
---
  FASTEST EVER LAP
1:31.387
The fastest ever lap of the circuit was set by Valtteri Bottas in 2018. Will it be beaten over the race weekend?
---
  TYRE CHOICES
Each weekend, the tyres will be known as Soft (red), Medium (yellow) and Hard (white), but the actual compounds will change each race weekend.
Pirelli will supply the C2, C3 and C4 tyres for this race weekend. Each driver's selection of tyres can be found below: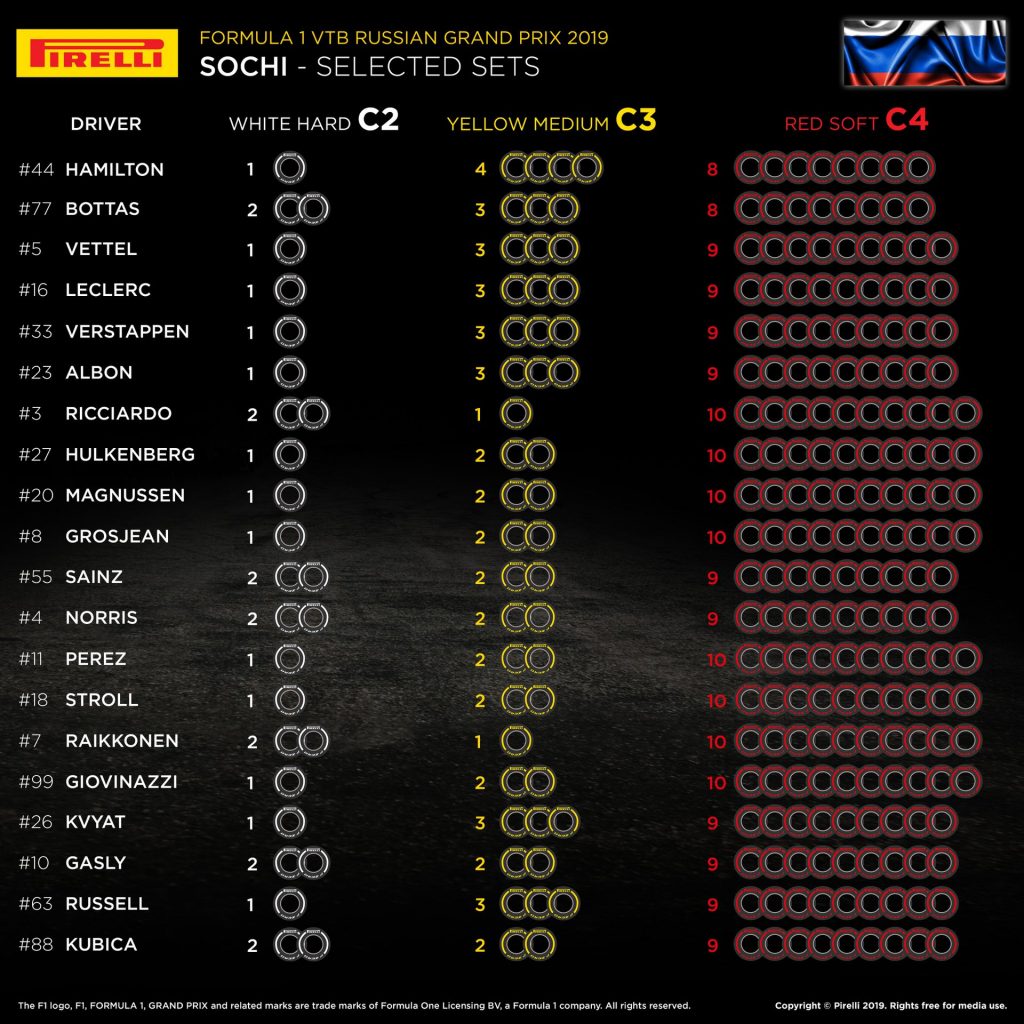 ---
  2018 FASTEST LAP IN EACH SESSION
| | |
| --- | --- |
| Free Practice 1 | 1:34.488 (Sebastian Vettel) |
| Free Practice 2 | 1:33.385 (Lewis Hamilton) |
| Free Practice 3 | 1:33.067 (Lewis Hamilton) |
| Qualifying | 1:31.387 (Valtteri Bottas) |
| Grand Prix | 1:35.861 (Valtteri Bottas) |
---
ON THIS DAY
The 2019 Russian Grand Prix will be the third F1 race to be held on 29th September. The very first race at the Circuit de Barcelona-Catalunya took place on this date in 1991, while the 2002 US Grand Prix, which saw the second-closest finish in F1 history also took place on this day.
Both races on this date were won from second on the grid, with Nigel Mansell taking victory at the 1991 Spanish Grand Prix and Rubens Barrichello winning the 2002 US Grand Prix by 0.011 seconds. Michael Schumacher slowed just before the line for a photo finish between the two Ferrari team-mates, only he mistimed it and Barrichello crossed the line first. It's believed that this was done on purpose, to give the Brazilian a win in place of the 2002 Austrian Grand Prix, in which Barrichello famously handed victory to his team-mate on the final corner.
In more similarities between the two previous 29th September races, both featured a Ferrari driver finishing second, both had 16 cars finish the race and both had a British driver finish on the podium.
---