??

THE 2019 MONACO GRAND PRIX

 
ROUND 6. 23rd – 26th May.
1003rd F1 GRAND PRIX | 77TH MONACO GRAND PRIX | 77TH GRAND PRIX AT CIRCUIT DE MONACO
2018 POLESITTER: DANIEL RICCIARDO | 2018 WINNER: DANIEL RICCIARDO
---
  WEEKEND SCHEDULE
Thursday 23rd May

Free Practice 1 (11am Local Time/ 10am UK Time)
Free Practice 2 (3pm Local Time/ 2pm UK Time)
Saturday 25th May

Free Practice 3 (12pm Local Time/ 11am UK Time)
Qualifying (3pm Local Time/ 2pm UK Time)
Sunday 26th May

The 2019 Monaco Grand Prix (3:10pm Local Time/ 2:10pm UK Time)
---
?? WEEKEND MILESTONES AND RECORDS
If Ferrari take pole, it'll be their eleventh at the track, equalling McLaren's record tally of Monaco pole positions.
If Lewis Hamilton leads 33 laps of the race, he'll become only the eighth driver to have led 200 laps of the Monaco Grand Prix
If a Mercedes-powered car leads 63 laps, they'll over take Ford Cosworth as the engine manufacturer to have led the most kilometres of the Monaco Grand Prix.
Should Daniel Ricciardo take pole this weekend, he'll be only the eleventh driver to have taken pole at Monaco in consecutive seasons, He'd be only the third driver, after Alain Prost and Fernando Alonso, to take pole position here in consecutive years for different teams. If he wins the race, the Australian will become only the ninth driver to take back-to-back wins in Monaco and the only other driver than Alonso to take back-to-back wins at the circuit for different teams. Meanwhile, if Ricciardo scores 17 points, he'll become only the fifth driver to have scored 100 points at the Monaco Grand Prix. The other drivers to have done so are Sebastian Vettel, Lewis Hamilton, Nico Rosberg and Fernando Alonso.
With Lando Norris, Alexander Albon, Antonio Giovinazzi and George Russell joining the grid for 2019, the number of drivers to have competed in a Monaco Grand Prix weekend will surpass 400, though only 321 of those drivers have actually started a race here.
You can find more information about the records which could be beaten this weekend in our Milestones and Records to Beat post.
---
ALL THE INFO
Click the links below to see all the stats and circuit history you could need ahead of the 2019 race!
Track Stats (Coming Soon)

Team Form (Coming Soon)

Driver Form (Coming Soon)

Lucky and Unlucky Grid Positions (Coming Soon)
---
2018 RACE RECAP
Daniel Ricciardo gained redemption for his 2016 Monaco loss as he dominated the weekend in the Principality, nursing his wounded car to victory.
Red Bull's Daniel Ricciardo was fastest in all of the first three practice sessions, while team-mate Max Verstappen crashed at the end of the final hour of practice, leaving him unable to compete in Qualifying. Ricciardo went on to take a second pole in Monaco, with Sebastian Vettel starting alongside him on the front row. Ricciardo stayed ahead on the run to turn one and pitted at the end of the sixteenth lap, never losing the lead. The Australian's hopes began to falter before lap thirty, though, as he declared he was losing engine power. While Fernando Alonso was sidelined with gearbox issues, Verstappen was charging through the field, eventually finishing the race in ninth place with a sense of missed opportunity. Charles Leclerc became the first Monegasque driver to compete at home in over twenty years, but his weekend ended in a collision with Brendon Hartley due to a brake failure. Despite the power unit problems, Ricciardo was able to hold on to the lead, eventually finishing just under eight seconds ahead of Vettel. With Lewis Hamilton coming home third, the top three finished in the same order they had qualified.
---
---
  PRESS CONFERENCE SCHEDULES
The world's media will have the opportunity to talk to the drivers on the Wednesday before the race. Appearing in the Drivers' Press Conference for this race weekend will be:
Charles Leclerc
Lewis Hamilton
Max Verstappen
Daniel Ricciardo
Robert Kubica
The media also be talking to prominent members of Formula 1's teams on Friday. Appearing in the Teams' Press Conference for this race weekend will be:
Zak Brown
Otmar Szafnauer
Christian Horner
Cyril Abiteboul
Claire Williams
---
  DRIVER STEWARD
Each weekend a former Formula 1 driver, or a driver from another prominent series of motorsport, joins the stewards to help judge any incidents from a drivers' perspective. The Driver Steward this weekend will be Mika Salo.
---
  WEATHER FORECAST
The weather forecast for the week ahead at the circuit currently looks like this:
[wpc-weather id="4293″/]
---
  FASTEST EVER LAP
1:10.810
The fastest ever lap of the circuit was set by Daniel Ricciardo in 2018. Will it be beaten over the race weekend?
---
  TYRE CHOICES
Each weekend, the tyres will be known as Soft (red), Medium (yellow) and Hard (white), but the actual compounds will change each race weekend.
Pirelli's softest three compounds – C3, C4 and C5 – will be available for this race weekend. Each driver's selection of tyres can be found below: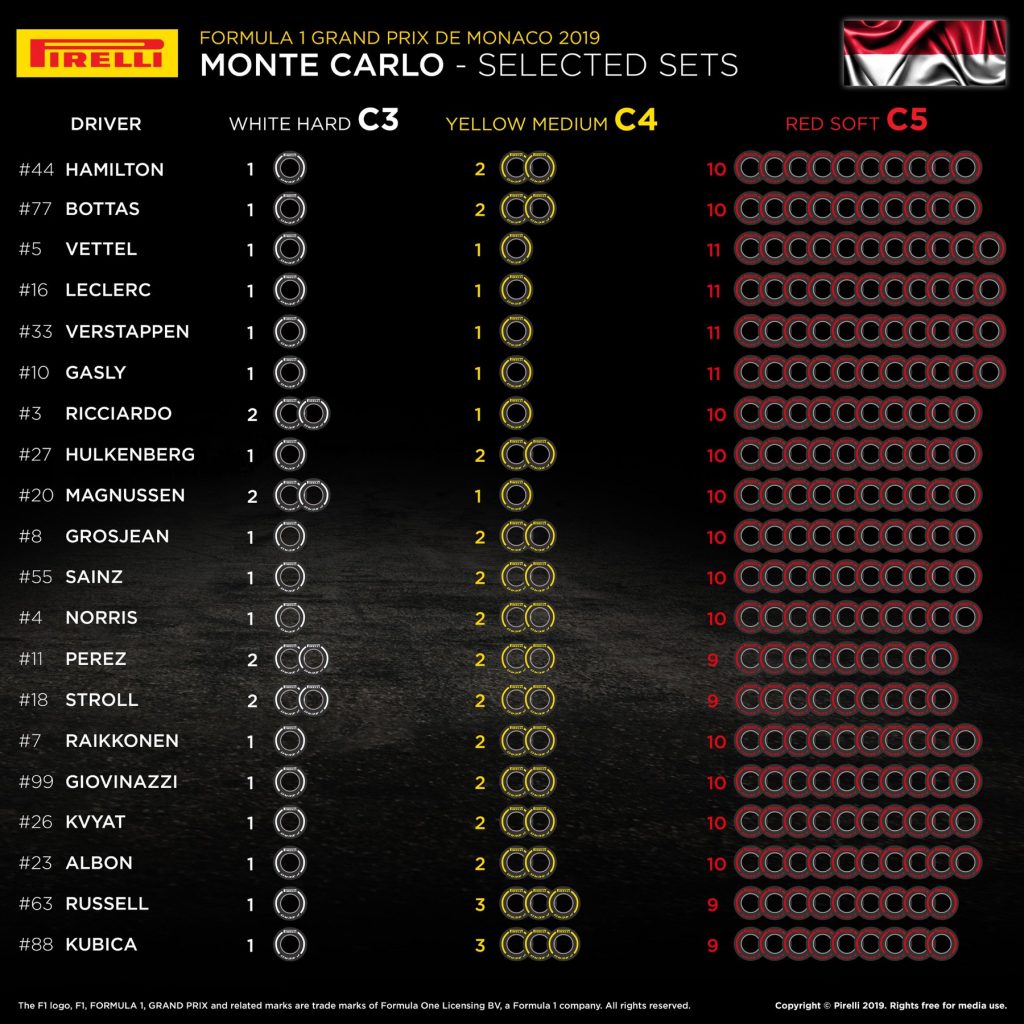 ---
  2018 FASTEST LAP IN EACH SESSION
| | |
| --- | --- |
| Free Practice 1 | 1:12.126 (Daniel Ricciardo) |
| Free Practice 2 | 1:11.841 (Daniel Ricciardo) |
| Free Practice 3 | 1:11.786 (Daniel Ricciardo) |
| Qualifying | 1:10.810 (Daniel Ricciardo) |
| Grand Prix | 1:14.260 (Max Verstappen) |
---
ON THIS DAY
Six F1 Grands Prix have been held on 26th May. The 1958 Dutch Grand Prix at Zandvoort was the first to take place on this date, while five Monaco Grands Prix have also taken place on this date in 1963, 1968, 1974, 2002 and 2013. Lotus are the only team to have won multiple Grands Prix held on this date, having won in Monaco in 1968 and 1974; though Mercedes and McLaren could change that in 2019. The polesitter has gone on to have only two results in races on this day – taking wins in 1968 and 2013 or a DNF in 1958, 1963, 1974 and 2002.
---