?? 

THE 2019 JAPANESE GRAND PRIX

 
ROUND 17. 11th-13th October.
1014TH F1 GRAND PRIX | 45TH JAPANESE GRAND PRIX | 31st GRAND PRIX AT SUZUKA
2018 POLESITTER: LEWIS HAMILTON | 2018 WINNER: LEWIS HAMILTON
---
  WEEKEND SCHEDULE
Friday 11th October

Free Practice 1 (10am Local Time/ 2am UK Time)
Free Practice 2 (2pm Local Time/ 6am UK Time)
Saturday 12th October

Free Practice 3 (12pm Local Time/ 4am UK Time)
Qualifying (3pm Local Time/ 7am UK Time)
Sunday 13th October

The 2019 Japanese Grand Prix (2:10pm Local Time/ 6:10am UK Time)
---
?? WEEKEND MILESTONES AND RECORDS
The 40th lap of the Japanese Grand Prix will be the 1000th racing lap of the 2019 season.
While Lewis Hamilton can't match Michael Schuamcher's tally of six wins at Suzuka this weekend, he can match his total of six Japanese Grand Prix victories.
If Lewis Hamilton wins this weekend, he'll become only the second driver to have taken three consecutive victories at Suzuka. Michael Schumacher is the only other driver to have won three in a row here, having done so in 2000, 2001 and 2002.
A pole for Lewis Hamilton would see him become the fifth driver to have taken three consecutive poles at Suzuka. The other drivers to have done so are Ayrton Senna, Michael Schumacher, Sebastian Vettel and Nico Rosberg.
Ferrari and McLaren are currently tied for the most victories at Suzuka, with seven wins each. A win for either team would see them set an outright record of eight wins at the track.
A top ten finish for Kimi Raikkonen this weekend will see him match Michael Schumacher's record of thirteen points-scoring appearances at the Suzuka circuit.
You can find more information about the records which could be beaten this weekend in our Milestones and Records to Beat post.
---
ALL THE INFO
Click the links below to see all the stats and circuit history you could need ahead of the 2019 race!
Track Stats (Coming Soon)

Team Form (Coming Soon)

Driver Form (Coming Soon)

Lucky and Unlucky Grid Positions (Coming Soon)
---
2018 RACE RECAP
Lewis Hamilton took pole and the win and strengthened his grip on a fifth title as Ferrari had another blunder-filled weekend.
A crash for Marcus Ericsson in Q1 saw him starting from the back of the grid, while Toro Rosso impressed with sixth and seventh on the grid. Daniel Ricciardo was eliminated in Q2 with power unit issues, and Q3 saw Lewis Hamilton take his 70th pole position. The final qualifying session saw rain fall half way through the session, voiding the drivers' final qualifying attempts. The top positions remained unchanged for most of the first lap. Vettel, who had qualified down in ninth, had made his way up to fifth. An error at the chicane from Max Verstappen in third, allowed Kimi Raikkonen to get alongside him. Verstappen cut the corner and forced Raikkonen off the track when rejoining. Vettel capitalised on Verstappen's manoeuvre and took fourth place from his team-mate. Verstappen was handed a five second penalty for the incident. Charles Leclerc gave Kevin Magnussen a puncture on the main straight, as a result of the Haas driver's aggressive defensive moves. Vettel attempted an overtake on Verstappen for third heading into the Spoon corner, but it ended in calamity as Vettel spun and dropped near enough to the back of the field. Verstappen closed in on Valtteri Bottas in the closing stages for the runner-up spot, but the Red Bull driver couldn't find a way past. Nobody could stop Lewis Hamilton from taking a fourth victory in a row as he tightened his grip on the 2018 title. Vettel fought back to fifth throughout the race, while Daniel Ricciardo took Driver of the Day honours, finishing in fourth having started fifteenth.
---
---
  PRESS CONFERENCE SCHEDULES
The world's media will have the opportunity to talk to the drivers on the Thursday before the race. Appearing in the Drivers' Press Conference for this race weekend will be:
Charles Leclerc (Ferrari)
Carlos Sainz (McLaren)
Max Verstappen (Red Bull)
Nico Hülkenberg (Renault)
George Russell (Williams)
The media also be talking to prominent members of Formula 1's teams on Friday. Appearing in the Teams' Press Conference for this race weekend will be:
Frédéric Vasseur (Alfa Romeo)
Mattia Binotto (Ferrari)
Guenther Steiner (Haas)
Toyoharu Tanabe (Honda)
Cyril Abiteboul (Renault)
---
  DRIVER STEWARD
Each weekend a former Formula 1 driver, or a driver from another prominent series of motorsport, joins the stewards to help judge any incidents from a drivers' perspective. The Driver Steward this weekend will be Tom Kristensen.
---
  WEATHER FORECAST
The weather forecast for the week ahead at the circuit currently looks like this:
[wpc-weather id="4449″/]
---
  FASTEST EVER LAP
1:27.319
The fastest ever lap of the circuit was set by Lewis Hamilton in 2017. Will it be beaten over the race weekend?
---
  TYRE CHOICES
Each weekend, the tyres will be known as Soft (red), Medium (yellow) and Hard (white), but the actual compounds will change each race weekend.
Pirelli will supply the C1, C2 and C3 tyre compounds for this race weekend. Each driver's selection of tyres can be found below: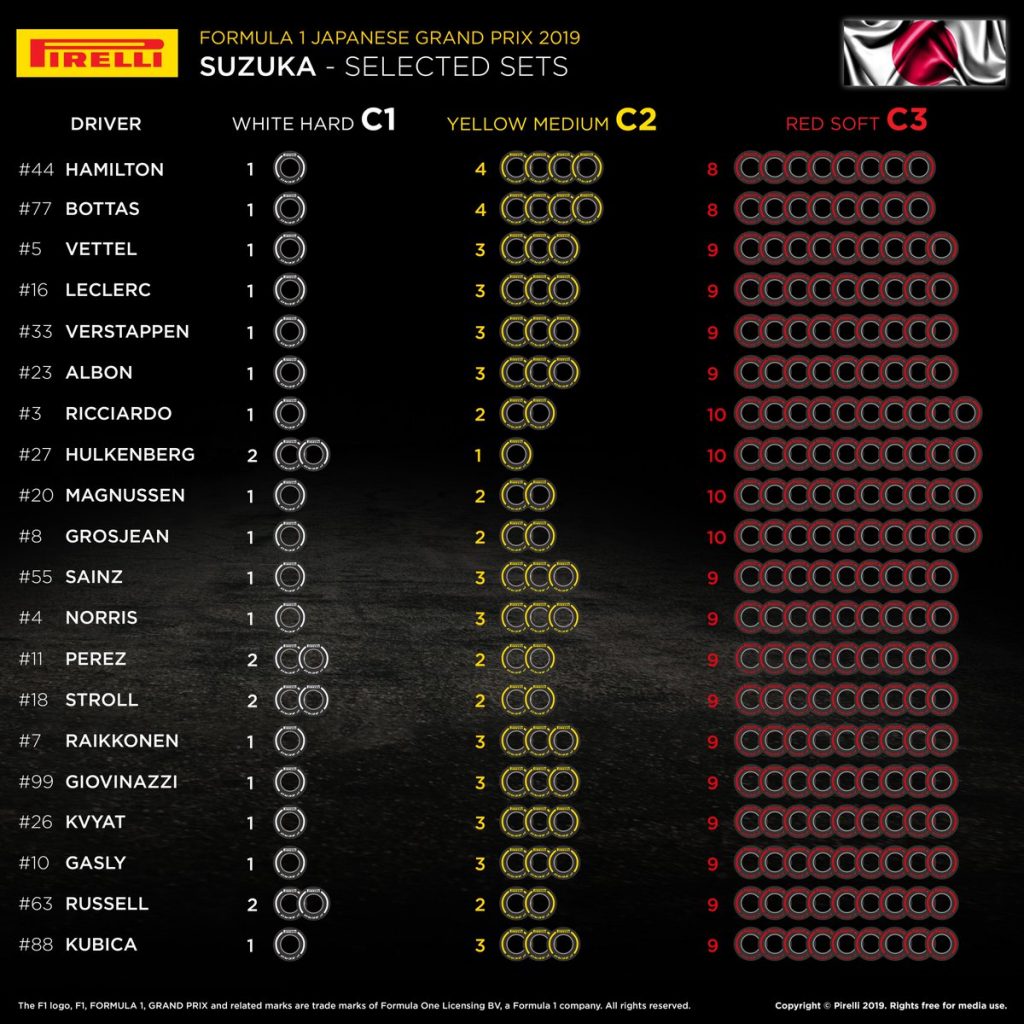 ---
  2018 FASTEST LAP IN EACH SESSION
| | |
| --- | --- |
| Free Practice 1 | 1:28.691 (Lewis Hamilton) |
| Free Practice 2 | 1:28.217 (Lewis Hamilton) |
| Free Practice 3 | 1:29.599 (Lewis Hamilton) |
| Qualifying | 1:27.760 (Lewis Hamilton) |
| Grand Prix | 1:32.318 (Sebastian Vettel) |
---
ON THIS DAY
Three previous F1 races have been held on 13th October, all at the Suzuka circuit. The 1996, 2002 and 2013 Japanese Grands Prix all took place on this date, with the 1996 event resulting in Damon Hill's title victory.
Michael Schumacher is the only driver to have started from pole and won a race on this date, having done so in 2002. Both 1996 and 2002's races were decided by small margins – 1.883 seconds in 1996 and 0.506 seconds in 2002. Jacques Villeneuve's retirement from the 1996 event is the only time a polesitter has failed to finish a race on this date, while all three wins have come from the front row of the grid.
---