?? 

THE 2019 ITALIAN GRAND PRIX

 
ROUND 14. 6th-8th September.
1011TH F1 GRAND PRIX | 89TH ITALIAN GRAND PRIX | 69TH GRAND PRIX AT MONZA
2018 POLESITTER: KIMI RAIKKONEN | 2018 WINNER: LEWIS HAMILTON
---
  WEEKEND SCHEDULE
Friday 6th September

Free Practice 1 (11am Local Time/ 10am UK Time)
Free Practice 2 (3pm Local Time/ 2pm UK Time)
Saturday 7th September

Free Practice 3 (12pm Local Time/ 11am UK Time)
Qualifying (3pm Local Time/ 2pm UK Time)
Sunday 8th September

The 2019 Italian Grand Prix (3:10pm Local Time/ 2:10pm UK Time)
---
?? WEEKEND MILESTONES AND RECORDS
The 49th lap of the 2019 Italian Grand Prix will be the 4,000th racing lap of the Monza circuit since F1 first visited the track in 1950.
Kimi Raikkonen will equal Jenson Button's tally of F1 starts this weekend.
Lewis Hamilton is currently tied with Michael Schumacher for the highest number of victories at the Italian Grand Prix. Each have won the event five times. Should Hamilton win this weekend, it'll be a record-breaking sixth win for the Englishman. Meanwhile, if Sebastian Vettel wins, he'll become only the fourth driver to have taken four wins at the event.
If Lewis Hamilton wins this weekend, he'll become only the second driver after Juan Manuel Fangio to have taken three consecutive victories at Monza. Fangio scored three wins in a row in 1953, 1954 and 1955.
A point for McLaren this weekend would see them become only the second team to have scored 300 points at the Italian Grand Prix, after Ferrari. But Mercedes could beat them to that record. They need 34 points to get to the 300 milestone, which they could achieve with a 1-2, 1-3 or 1-4 finish.
You can find more information about the records which could be beaten this weekend in our Milestones and Records to Beat post.
---
ALL THE INFO
Click the links below to see all the stats and circuit history you could need ahead of the 2019 race!
Track Stats (Coming Soon)

Team Form (Coming Soon)

Driver Form (Coming Soon)

Lucky and Unlucky Grid Positions (Coming Soon)
---
2018 RACE RECAP
Kimi Raikkonen took a surprise pole position with the fastest lap in Formula One history, but Mercedes reigned on Ferrari's home ground on Sunday as Lewis Hamilton took the win in a tight strategic battle.
Marcus Ericsson suffered a large crash on Friday afternoon as a result of his DRS remaining open at the end of the main straight. Saturday's qualifying session saw a close fight between Ferrari and Mercedes, with the lap record being beaten several times in quick succession. It was Kimi Raikkonen who set the ultimate pace, with less than two tenths separating the top three on the grid. Meanwhile, Kevin Magnussen and Fernando Alonso decided to race each other in Q2, ruining both of their qualifying attempts. Raikkonen led away at the start, but there was drama behind as Sebastian Vettel defended from Lewis Hamilton, with the Ferrari driver spinning and ending up at the back of the field. Brendon Hartley failed to make it to the first turn as he got squeezed off the start line. Hamilton soon dispatched Raikkonen for the lead, but the Finn quickly took the position back just a few corners later. Hamilton pitted after Raikkonen, but remained behind the Finn, while Mercedes tactically kept Valtteri Bottas out in order to halt his compatriot's charge. Bottas was later forced off the track by Max Verstappen, the latter of whom was unimpressed at being handed a penalty for the incident. With eight laps to go, Hamilton took the lead and remained there until the end. Raikkonen finished second to take his 100th podium finish and, although Verstappen finished ahead of Bottas on track, Bottas took third place as a result of the Dutchman's five second penalty.
---
---
  PRESS CONFERENCE SCHEDULES
The world's media will have the opportunity to talk to the drivers on the Thursday before the race. Appearing in the Drivers' Press Conference for this race weekend will be:
Antonio Giovinazzi (Alfa Romeo)
Charles Leclerc (Ferrari)
Sebastian Vettel (Ferrari)
Nico Hülkenberg (Renault)
Pierre Gasly (Toro Rosso)
The media also be talking to prominent members of Formula 1's teams on Friday. Appearing in the Teams' Press Conference for this race weekend will be:
Mattia Binotto (Ferrari)
Aldo Costa (Mercedes)
Mario Isola (Pirelli)
Franz Tost (Toro Rosso)
Claire Williams (Williams)
---
  DRIVER STEWARD
Each weekend a former Formula 1 driver, or a driver from another prominent series of motorsport, joins the stewards to help judge any incidents from a drivers' perspective. The Driver Steward this weekend will be Derek Warwick.
---
  WEATHER FORECAST
The weather forecast for the week ahead at the circuit currently looks like this:
[wpc-weather id="4425″/]
---
  FASTEST EVER LAP
1:19.119
The fastest ever lap of the circuit was set by Kimi Raikkonen in 2018. Will it be beaten over the race weekend?
---
  TYRE CHOICES
Each weekend, the tyres will be known as Soft (red), Medium (yellow) and Hard (white), but the actual compounds will change each race weekend.
Pirelli will supply the C2, C3 and C4 compounds for this race weekend. Each driver's selection of tyres can be found below.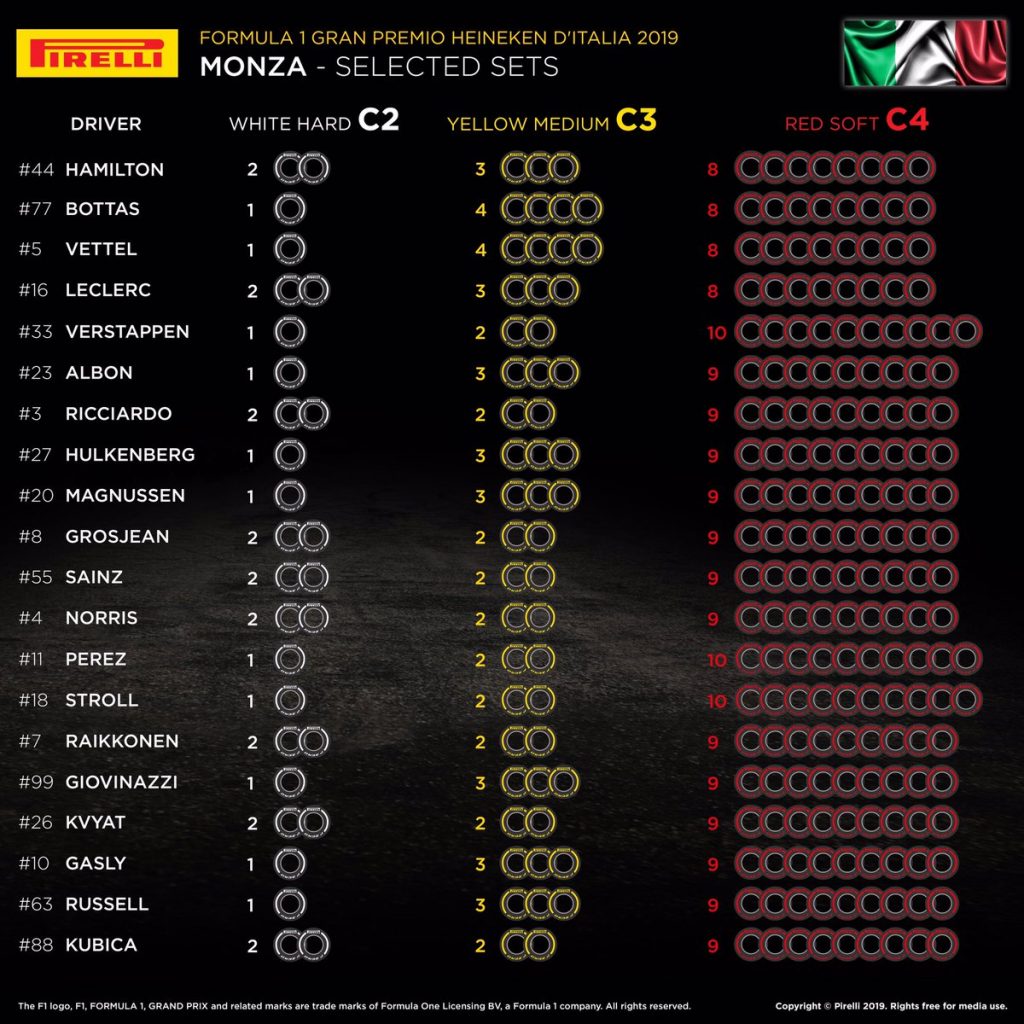 ---
  2018 FASTEST LAP IN EACH SESSION
| | |
| --- | --- |
| Free Practice 1 | 1:34.000 (Sergio Perez) |
| Free Practice 2 | 1:21.105 (Sebastian Vettel) |
| Free Practice 3 | 1:20.509 (Sebastian Vettel) |
| Qualifying | 1:19.119 (Kimi Raikkonen) |
| Grand Prix | 1:22.497 (Lewis Hamilton) |
---
ON THIS DAY
The ninth race to be held on this date will see 8th September become the day to have hosted the third-most F1 races. All of the previous races held on this date have been at Monza, in 1957, 1963, 1968, 1974, 1985, 1991, 1996 and 2013. German drivers have won both of the last two races held on this date, Michael Schumacher won for Ferrari, much to the delight of the tifosi, in 1996, while Sebastian Vettel took victory for Red Bull in 2013. Jim Clark and the Lotus team were crowned champions as a result of the Scotsman's win at Monza in 1963.
Vettel's win at Monza in 2013 is the only time the polesitter has won a Grand Prix on this date, and one of only three occasions where the polesitter has reached the end of the race. Ferrari are the only team to have started from pole more than once on this date, having done so with John Surtees in 1963 and Niki Lauda in 1974. Clay Regazzoni in 1974 is the only driver who has led the championship after a race on 8th September and has failed to go on to win that championship.
If the history books are anything to go by, today could be a good day for drivers starting further back on the grid. Of the 24 podium finishes on this date, only a third of them have come from the top three positions on the grid. Two winners on this date, Denny Hulme in 1968 and Ronnie Peterson in 1974, have come from seventh on the grid.
---