?? 

THE 2019 FRENCH GRAND PRIX

 
ROUND 8. 21st-23rd JUNE.
1005TH F1 GRAND PRIX | 88TH FRENCH GRAND PRIX | 16TH GRAND PRIX AT CIRCUIT
2018 POLESITTER: LEWIS HAMILTON | 2018 WINNER: LEWIS HAMILTON
---
  WEEKEND SCHEDULE
Friday 21st June

Free Practice 1 (12pm Local Time/ 11am UK Time)
Free Practice 2 (4pm Local Time/ 3pm UK Time)
Saturday 22nd June

Free Practice 3 (1pm Local Time/ 12pm UK Time)
Qualifying (4pm Local Time/ 3pm UK Time)
Sunday 23rd June

The 2019 French Grand Prix (3:10pm Local Time/ 2:10pm UK Time)
---
?? WEEKEND MILESTONES AND RECORDS
This weekend marks Kimi Raikkonen's 300th Grand Prix appearance and McLaren's 850th Grand Prix appearance. Mercedes will equal the number of races entered by the BRM and March teams this weekend.
Haas will equal Maserati's number of Grand Prix appearances this weekend.
If Lewis Hamilton wins this weekend, he'll join Alain Prost and Nigel Mansell as the only drivers to have scored multiple wins at the Paul Ricard circuit. If Hamilton leads 48 laps of the race, he'll become the third driver, after Prost and Mansell, to have led 100 laps of Grands Prix at the Paul Ricard track.
If Ferrari win, they'll join Williams and McLaren as the most successful team here on three wins.
If anyone other than Lewis Hamilton or Kimi Raikkonen leads a lap of the 2019 French Grand Prix, they'll become the 20th different driver to have led a lap of an F1 race at this track.
You can find more information about the records which could be beaten this weekend in our Milestones and Records to Beat post.
---
ALL THE INFO
Click the links below to see all the stats and circuit history you could need ahead of the 2019 race!
Track Stats (Coming Soon)

Team Form (Coming Soon)

Driver Form (Coming Soon)

Lucky and Unlucky Grid Positions (Coming Soon)
---
2018 RACE RECAP
As Formula One returned to France for the first time in a decade, Lewis Hamilton took the victory while Sebastian Vettel crashed into the other Mercedes.
Rain in the final practice session saw Charles Leclerc top the order for the first time in his career, but the track dried out in time for Qualifying, where Lewis Hamilton was largely unchallenged for pole. Leclerc's pace would impress again, as he made it through to Q3 for the first time. Romain Grosjean had another misdemeanour in qualifying when his car came into contact with a barrier. Come race day, there was first lap drama as Sebastian Vettel collided with Valtteri Bottas at the first turn and a few corners later, two of the French drivers – Esteban Ocon and Pierre Gasly – were eliminated from proceedings. Vettel would pick up a five second penalty as both he and the Mercedes driver's races were all but ruined – Vettel eventually recovering to fifth, Bottas seventh. The rest of the race passed without any major incident, aside from the Virtual Safety Car being called after a tyre blowout for Lance Stroll. Hamilton took the win by over seven seconds. Max Verstappen finished in second place, while a late race duel saw Kimi Raikkonen steal third place from Daniel Ricciardo.
---
---
  PRESS CONFERENCE SCHEDULES
The world's media will have the opportunity to talk to the drivers on the Thursday before the race. Appearing in the Drivers' Press Conference for this race weekend will be:
Antonio Giovinazzi (Alfa Romeo)
Romain Grosjean (Haas)
Carlos Sainz (McLaren)
Pierre Gasly (Red Bull)
Nico Hülkenberg (Renault)
The media also be talking to prominent members of Formula 1's teams on Friday. Appearing in the Teams' Press Conference for this race weekend will be:
Frédéric Vasseur (Alfa Romeo)
Laurent Mekies (Ferrari)
Zak Brown (McLaren)
Cyril Abiteboul (Renault)
Claire Williams (Williams)
---
  DRIVER STEWARD
Each weekend a former Formula 1 driver, or a driver from another prominent series of motorsport, joins the stewards to help judge any incidents from a drivers' perspective. The Driver Steward this weekend will be Yannick Dalmas.
---
  WEATHER FORECAST
The weather forecast for the week ahead at the circuit currently looks like this:
[wpc-weather id="4318″/]
---
  FASTEST EVER LAP
1:30.029
The fastest ever lap of the circuit was set by Lewis Hamilton in 2018. Will it be beaten over the race weekend?
---
  TYRE CHOICES
Each weekend, the tyres will be known as Soft (red), Medium (yellow) and Hard (white), but the actual compounds will change each race weekend.
The C2, C3 and C4 compounds will be available for this race weekend. Each driver's selection of tyres can be found below: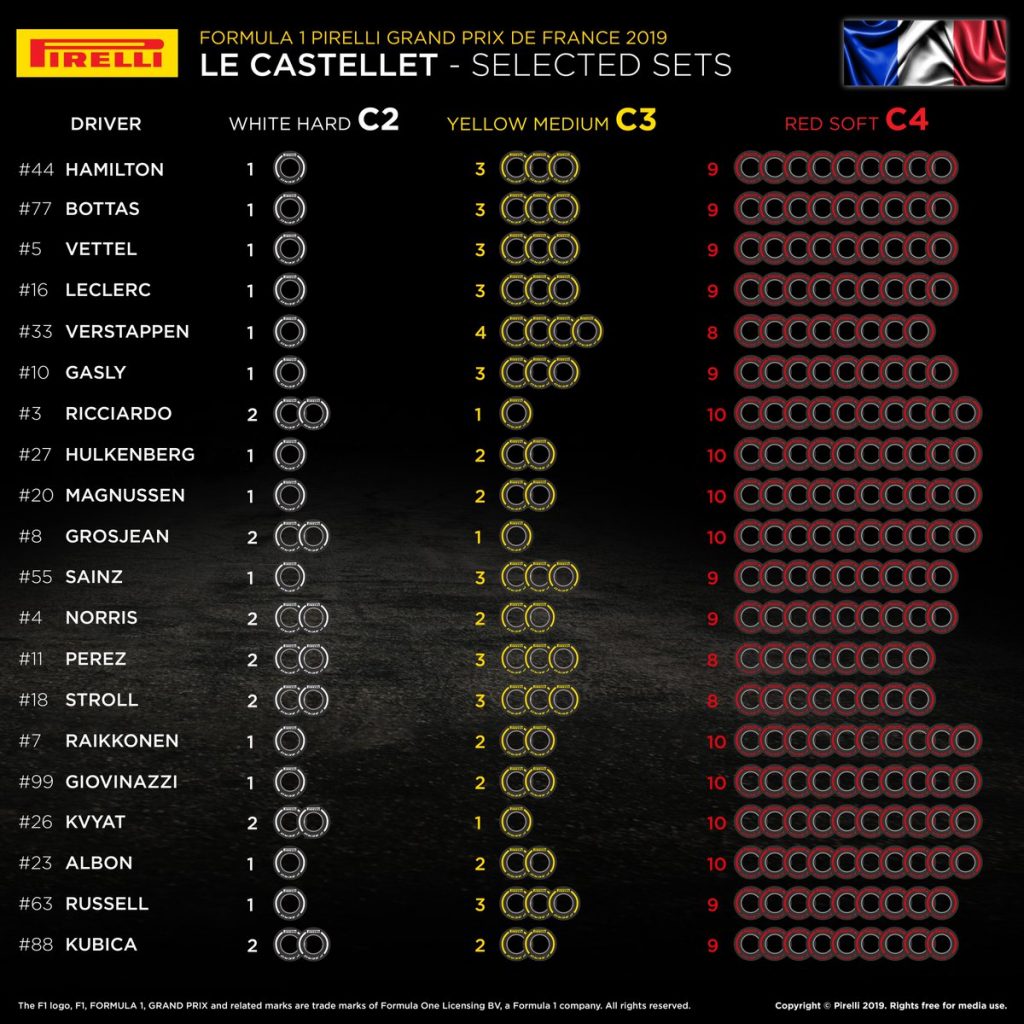 ---
  2018 FASTEST LAP IN EACH SESSION
| | |
| --- | --- |
| Free Practice 1 | 1:32.231 (Lewis Hamilton) |
| Free Practice 2 | 1:32.539 (Lewis Hamilton) |
| Free Practice 3 | 1:33.666 (Valtteri Bottas) |
| Qualifying | 1:30.029 (Lewis Hamilton) |
| Grand Prix | 1:34.225 (Valtteri Bottas) |
---
ON THIS DAY
Five previous F1 races have been held on 23rd June. The 1963, 1968 and 1974 Dutch Grands Prix were held on this date, as was the 1985 Detroit Grand Prix and the 2002 European Grand Prix.
Ferrari are the only team to have taken victory more than once on this date, with victories for Niki Lauda in the 1974 Dutch Grand Prix and for Rubens Barrichello at the 2002 European Grand Prix, held at the Nurburgring circuit. The 1968 Dutch Grand Prix is the only race held on this date in which Ferrari haven't finished on the podium. Lauda's 1974 win is one of only two to have been won from pole on this date, the other being Jim Clark's victory for Lotus in the 1963 Dutch race. Two races on this date have been won from fifth on the grid, with Jackie Stewart taking victory from fifth on the grid at the 1968 Dutch Grand Prix, and Keke Rosberg doing the same at the 1985 Detroit Grand Prix. In each of the last two races held on 23rd June, the polesitter has retired from the race.
---