?? 

THE 2019 BAHRAIN GRAND PRIX

 
ROUND 2. 29TH-31ST MARCH.
999TH F1 GRAND PRIX | 15TH BAHRAIN GRAND PRIX | 15TH GRAND PRIX AT BAHRAIN INTERNATIONAL CIRCUIT
2018 POLESITTER: SEBASTIAN VETTEL | 2018 WINNER: SEBASTIAN VETTEL
---
  WEEKEND SCHEDULE
Friday 29th March

Free Practice 1 (2pm Local Time/ 12pm UK Time)
Free Practice 2 (6pm Local Time/ 4pm UK Time)
Saturday 30th March

Free Practice 3 (3pm Local Time/ 1pm UK Time)
Qualifying (6pm Local Time/ 4pm UK Time)
Sunday 31st March

The 2019 Bahrain Grand Prix (6:10pm Local Time/ 4:10pm UK Time)
---
 WEEKEND NOTES
There will be three DRS zones at the 2019 Bahrain Grand Prix. In addition to last year's activation zones, located on the pit straight and the straight between Turns 10 and 11, there will be an additional activation zone between Turns 3 and 4.
?? WEEKEND MILESTONES AND RECORDS
Sebastian Vettel could extend the record number of wins at the Bahrain Grand Prix to five.
Lewis Hamilton could equal the record number of poles at the track, which is 3, currently held by Sebastian Vettel. Vettel himself will be hoping to extend the record.
Ferrari could equal Mercedes' record number of poles for a team here. Mercedes currently have five, while Ferrari are on four.
If Ferrari lead 3 laps, they'll be the first team to have led 300 laps of the Bahrain Grand Prix, while if Mercedes lead 5 they'll have led 200 laps here. Red Bull would need to lead 54 laps to reach 200 laps led at the Bahrain Grand Prix
You can find more information about the records which could be beaten this weekend in our Milestones and Records to Beat post.
---
ALL THE INFO
Click the links below to see all the stats and circuit history you could need ahead of the 2019 race!
Track Stats (Coming Soon)

Team Form (Coming Soon)

Driver Form (Coming Soon)

Lucky and Unlucky Grid Positions (Coming Soon)
---
2018 RACE RECAP
Sebastian Vettel won from pole position under the floodlights after a tight battle with Valtteri Bottas in the closing stages.
A crash for Max Verstappen in Q1 put him way down the grid, while Lewis Hamilton started down the order due to a gearbox penalty. After the first lap, with Verstappen gaining places and Hamilton losing them, the pair ended up next to each other on track and a wheel-to-wheel battle on the second lap led to Verstappen picking up a puncture. Red Bull's nightmare continued as Daniel Ricciardo's car came to a halt on the same lap. Verstappen retired from the race on the third lap, while Hamilton's fightback continued with a triple overtake into the first turn. A botched pit stop at Ferrari led to Kimi Raikkonen being released early and running over a mechanic, prematurely ending the Finnish driver's race. At the front, Valtteri Bottas had pitted for Medium tyres, while Sebastian Vettel's choice had been more aggressive, with the Ferrari running on the Soft tyres. Bottas' tyres lasted better, leaving Bottas right behind Vettel in the final laps. Despite a valiant effort from the Mercedes driver, Vettel could maintain his lead, to take his second consecutive win of the season. Pierre Gasly had a notable performance at Toro Rosso. Having qualified sixth, he went on to finish fourth in the Grand Prix – Honda's best result since their return to F1.
---
---
  PRESS CONFERENCE SCHEDULES
The world's media will have the opportunity to talk to the drivers on the Thursday before the race. Appearing in the Drivers' Press Conference for this race weekend will be:
Valtteri Bottas
Pierre Gasly
Charles Leclerc
Daniil Kvyat
Lando Norris
The media also be talking to prominent members of Formula 1's teams on Friday. Appearing in the Teams' Press Conference for this race weekend will be:
Zak Brown (McLaren)
Guenther Steiner (Haas)
Franz Tost (Toro Rosso)
Frédéric Vasseur (Alfa Romeo)
---
  DRIVER STEWARD
Each weekend a former Formula 1 driver, or a driver from another prominent series of motorsport, joins the stewards to help judge any incidents from a drivers' perspective. The Driver Steward this weekend will be Emanuele Pirro.
---
  WEATHER FORECAST
The weather forecast for the week ahead at the circuit currently looks like this:
---
  FASTEST EVER LAP
1:27.958
The fastest ever lap of the circuit was set by Sebastian Vettel in 2018. Will it be beaten over the race weekend?
---
  TYRE CHOICES
Each weekend, the tyres will be known as Soft (red), Medium (yellow) and Hard (white), but the actual compounds will change each race weekend.
Pirelli have revealed that the C1, C2 and C3 compounds will be used for the Bahrain Grand Prix weekend. Each driver's selection of tyres can be found below: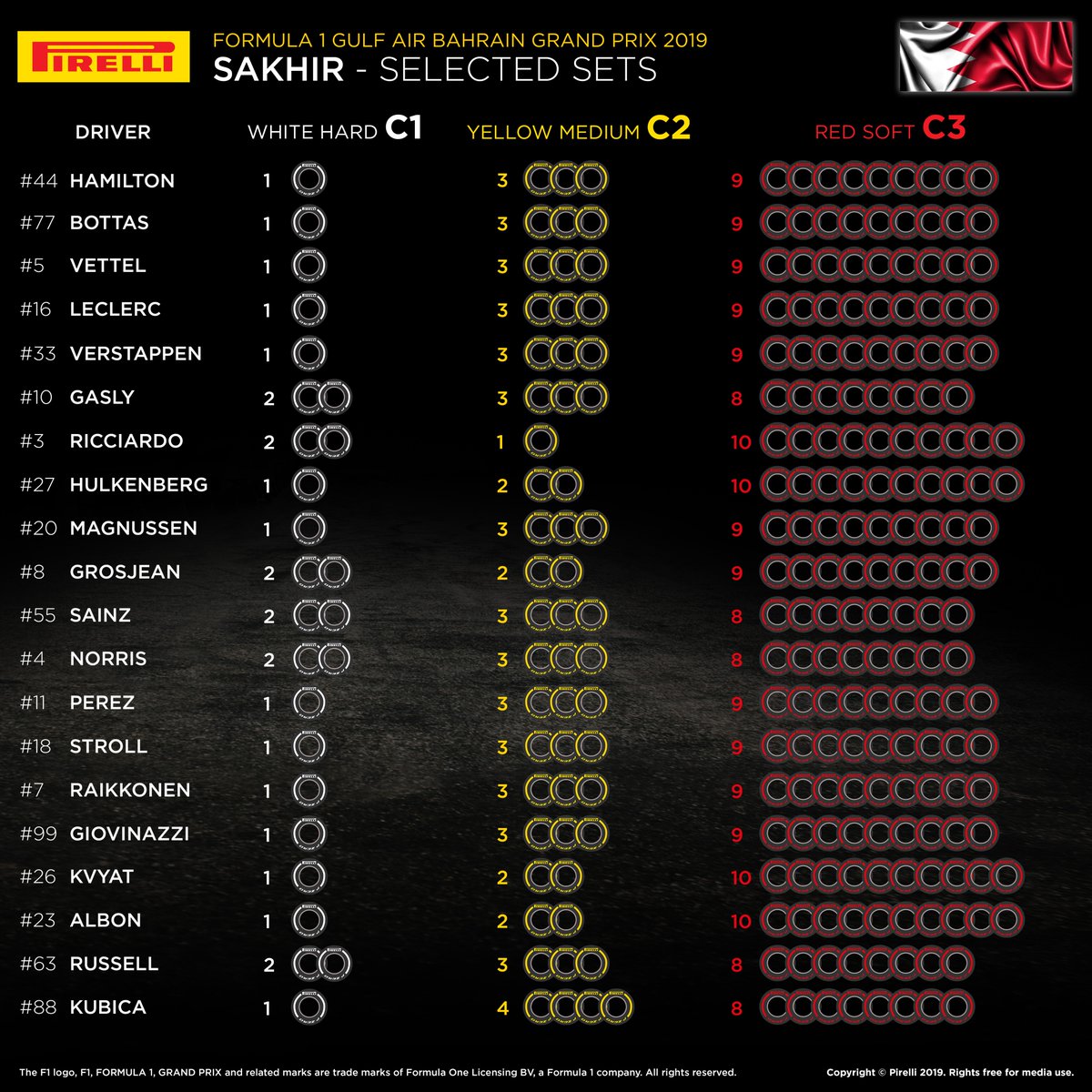 ---
  2018 FASTEST LAP IN EACH SESSION
| | |
| --- | --- |
| Free Practice 1 | 1:31.060 (Daniel Ricciardo) |
| Free Practice 2 | 1:29.817 (Kimi Raikkonen) |
| Free Practice 3 | 1:29.868 (Kimi Raikkonen) |
| Qualifying | 1:27.958 (Sebastian Vettel) |
| Grand Prix | 1:33.740 (Valtteri Bottas) |
---
ON THIS DAY
There have been two previous Grands Prix held on 31st March. Both were the Brazilian Grand Prix, held at Interlagos, and a Williams driver started from pole both times. Damon Hill took pole for the 1996 race, while Juan Pablo Montoya started from the front at Interlagos in 2002. While Damon Hill went on to win the race in 1996, Michael Schumacher won the 2002 event as Montoya finished fifth. Eleven cars finished both races, while Williams led the way in the Constructors' Championship after both Grands Prix.
---