?? 

THE 2019 AZERBAIJAN GRAND PRIX

 
ROUND 4. 26TH-28TH APRIL.
1001ST F1 GRAND PRIX | 3RD AZERBAIJAN GRAND PRIX | 4TH GRAND PRIX AT BAKU CITY CIRCUIT
2018 POLESITTER: SEBASTIAN VETTEL | 2018 WINNER: LEWIS HAMILTON
---
  WEEKEND SCHEDULE
Friday 26th April

Free Practice 1 (1pm Local Time/ 10am UK Time)
Free Practice 2 (5pm Local Time/ 2pm UK Time)
Saturday 27th April

Free Practice 3 (2pm Local Time/ 11am UK Time)
Qualifying (5pm Local Time/ 2pm UK Time)
Sunday 28th April

The 2019 Azerbaijan Grand Prix (4:10pm Local Time/ 1:10pm UK Time)
---
?? 
WEEKEND MILESTONES AND RECORDS
Lewis Hamilton and Daniel Ricciardo have the chance to increase the record of total wins at the Baku City Circuit to two this weekend – no driver has won at this track more than once. Hamilton could become the first back-to-back winner of the Azerbaijan Grand Prix.
If Red Bull win, they can equal Mercedes' tally of victories at the track, while Mercedes could extend the overall record to three wins.
No driver has taken more than one pole at the Azerbaijan Grand Prix yet in its history. Lewis Hamilton and Sebastian Vettel could be the first driver to take multiple pole positions at the track this weekend, while Vettel could be first to take consecutive poles at the Baku City Circuit.
Sergio Perez has more podiums than any other driver at the circuit, with two. He could move the record to three this weekend, or may be joined on the record of two podium finishes by Sebastian Vettel, Daniel Ricciardo, Valtteri Bottas, Lance Stroll, Lewis Hamilton or Kimi Raikkonen.
Mercedes record tally of three podiums at the track could be equalled or bettered by Force India, Ferrari, Red Bull or Williams.
It's likely that Nico Rosberg will cease to be the driver to have led the most laps at this track after this weekend. Rosberg led all 51 laps of the 2016 race here, a tally which Lewis Hamilton, Sebastian Vettel, Daniel Ricciardo or Valtteri Bottas could equal or beat this year.
You can find more information about the records which could be beaten this weekend in our Milestones and Records to Beat post.
---
ALL THE INFO
Click the links below to see all the stats and circuit history you could need ahead of the 2019 race!
Track Stats (Coming Soon)

Team Form (Coming Soon)

Driver Form (Coming Soon)

Lucky and Unlucky Grid Positions (Coming Soon)
---
2018 RACE RECAP
Just as in 2017, Azerbaijan served up a chaotic Sunday afternoon as Lewis Hamilton took an unexpected victory as his team-mate lost the lead in the final laps.
There was a close call in Qualifying as Pierre Gasly caught Brendon Hartley unsighted and narrowly avoided a huge crash between the pair. Kimi Raikkonen almost took pole but made a mistake in the final sector, leaving Sebastian Vettel to take a third consecutive pole. The Finnish driver's weekend went from bad to worse as he collided with Esteban Ocon on the first lap, ending the Frenchman's race. Fernando Alonso was also caught up in first lap dramas and miraculously made it back to the pits with two punctures. The Red Bull drivers battled each other throughout the Grand Prix, ultimately ending in a collision on the main straight. The collision brought out a Safety Car for the second time in the race, closing up the pack with Valtteri Bottas leading from Vettel and Hamilton after an extra round of pit stops. Under the Safety Car, Romain Grosjean crashed into the wall. The Safety Car re-entered the pits with four laps remaining. Vettel attempted an overtake on the Finn into Turn One but locked up, losing two positions. The next time around, Bottas ran over debris, ensuring Hamilton would take the lead and win the race. Sergio Perez finished in third, taking a second podium at the Baku track, while Charles Leclerc scored his first points in Formula One with a sixth place finish.
---
---
  PRESS CONFERENCE SCHEDULES
The world's media will have the opportunity to talk to the drivers on the Thursday before the race. Appearing in the Drivers' Press Conference for this race weekend will be:
Antonio Giovinazzi
Kevin Magnussen
Lance Stroll
Nico Hülkenberg
George Russell
The media also be talking to prominent members of Formula 1's teams on Friday. Appearing in the Teams' Press Conference for this race weekend will be:
Toto Wolff
Otmar Szafnauer
Christian Horner
Cyril Abiteboul
Claire Williams
---
  DRIVER STEWARD
Each weekend a former Formula 1 driver, or a driver from another prominent series of motorsport, joins the stewards to help judge any incidents from a drivers' perspective. The Driver Steward this weekend will be Mika Salo.
---
  WEATHER FORECAST
The weather forecast for the week ahead at the circuit currently looks like this:
[wpc-weather id="4271″/]
---
  FASTEST EVER LAP
1:40.593
The fastest ever lap of the circuit was set by Lewis Hamilton in 2017. Will it be beaten over the race weekend?
---
  TYRE CHOICES
Each weekend, the tyres will be known as Soft (red), Medium (yellow) and Hard (white), but the actual compounds will change each race weekend.
Pirelli have revealed that the C2, C3 and C4 compounds will be used for the Azerbaijan Grand Prix weekend. Each driver's selection of tyres can be found below: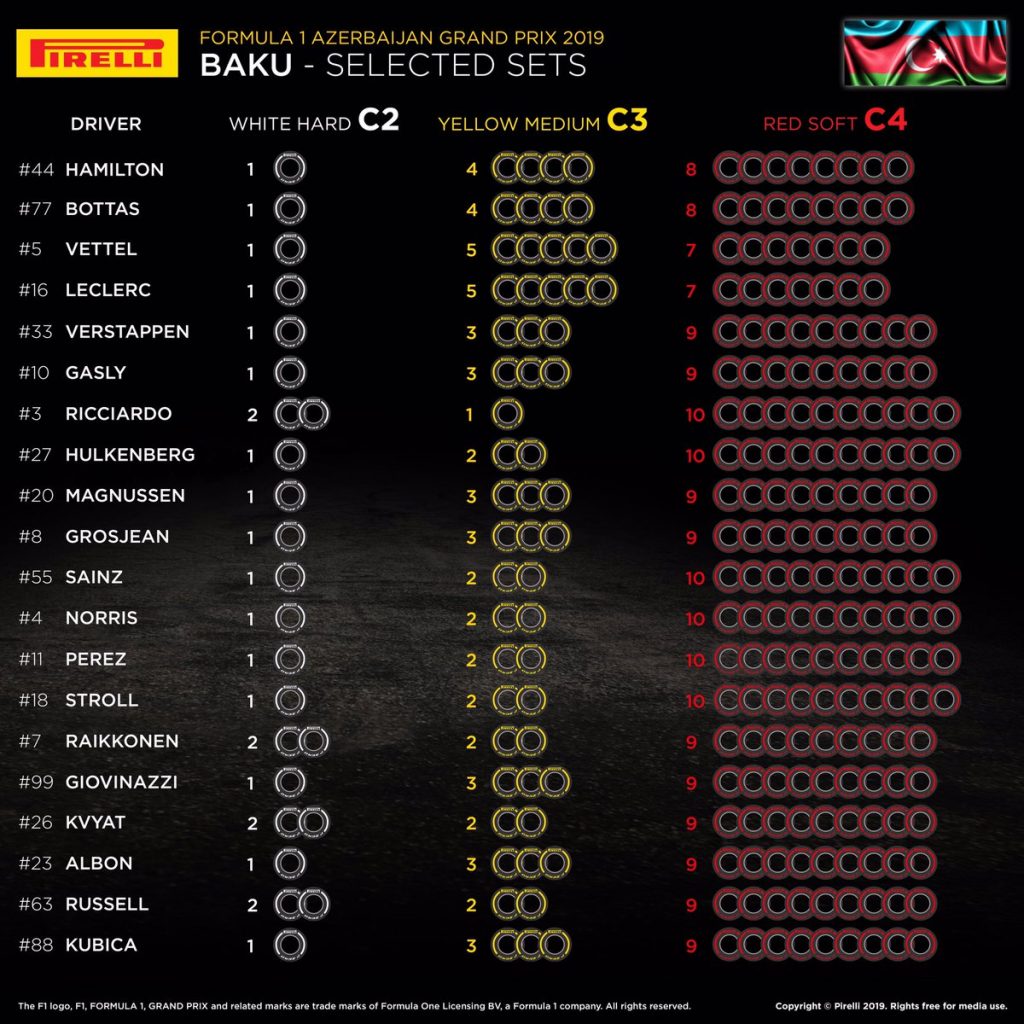 ---
  2018 FASTEST LAP IN EACH SESSION
| | |
| --- | --- |
| Free Practice 1 | 1:44.242 (Valtteri Bottas) |
| Free Practice 2 | 1:42.795 (Daniel Ricciardo) |
| Free Practice 3 | 1:43.091 (Sebastian Vettel) |
| Qualifying | 1:41.498 (Sebastian Vettel) |
| Grand Prix | 1:45.149 (Valtteri Bottas) |
---
ON THIS DAY
The 2019 Azerbaijan Grand Prix will be the fifth Grand Prix to have been held on 28th April. The last time a race was held on this date was the 2002 Spanish Grand Prix, while the 1974 Spanish Grand Prix, 1991 San Marino Grand Prix and the 1996 European Grand Prix were also held on this day. The 1996 European Grand Prix is notable for being Jacques Villeneuve's first F1 victory, while JJ Lehto recorded the only podium finish of his career at the 1991 San Marino Grand Prix. The latter also saw both Gerhard Berger and Alain Prost spinning on the formation lap, with Prost recording the second and final DNS of his career.
Only World Champions (or future World Champions) have started from pole and taken victories on 28th April. Niki Lauda, Ayrton Senna and Michael Schumacher each started from pole and won in 1974, 1996 and 2002 respectively, while Damon Hill started from pole in 1996 and Villeneuve won the race. The 1996 European Grand Prix is the only event held on this day to have not been won from pole, with polesitter Hill finishing in fourth. Both the 1974 Spanish Grand Prix and the 1991 San Marino Grand Prix began in wet conditions. David Coulthard finished in third place in both of the last two races to be held on this day.
---