?? 

THE 2019 AUSTRIAN GRAND PRIX

 
ROUND 9. 28th-30th June.
1006TH F1 GRAND PRIX | 33rd AUSTRIAN GRAND PRIX | 32nd GRAND PRIX AT RED BULL RING
2018 POLESITTER: VALTTERI BOTTAS | 2018 WINNER: MAX VERSTAPPEN
---
  WEEKEND SCHEDULE
Friday 28th June

Free Practice 1 (11am Local Time/ 10am UK Time)
Free Practice 2 (3pm Local Time/ 2pm UK Time)
Saturday 29th June

Free Practice 3 (12pm Local Time/ 11am UK Time)
Qualifying (3pm Local Time/ 2pm UK Time)
Sunday 30th June

The 2019 Austrian Grand Prix (3:10pm Local Time/ 2:10pm UK Time)
---
?? WEEKEND MILESTONES AND RECORDS
This weekend will mark Lance Stroll's 50th Grand Prix appearance.
Haas will equal Copersucar's number of Grand Prix appearances at the 2019 Austrian Grand Prix.
If Valtteri Bottas takes pole for the 2019 Austrian Grand Prix, he'll become only the second driver to have taken pole in three consecutive seasons in Austria. The only other driver to do this is Rene Arnoux, who took pole here in 1979, 1980 and 1981.
If Ferrari win this weekend, they'll equal McLaren's record tally of six Austrian Grand Prix victories.
A pole position for either Lewis Hamilton or Valtteri Bottas will see them equal the record number of three poles at the Austrian Grand Prix, joining Niki Lauda, Rene Arnoux and Nelson Piquet as the fourth driver to take three poles in the country.
If Max Verstappen wins this weekend, he'll become only the fourth driver, after Alain Prost, Michael Schumacher and Nico Rosberg to take consecutive wins at the track.
You can find more information about the records which could be beaten this weekend in our Milestones and Records to Beat post.
---
ALL THE INFO
Click the links below to see all the stats and circuit history you could need ahead of the 2019 race!
Track Stats (Coming Soon)

Team Form (Coming Soon)

Driver Form (Coming Soon)

Lucky and Unlucky Grid Positions (Coming Soon)
---
2018 RACE RECAP
A rare double DNF for Mercedes paved the way for Max Verstappen to take Red Bull's first victory at their home event.
Sebastian Vettel picked up a three-place grid penalty for impeding Carlos Sainz in the second part of Qualifying. The German driver started from sixth, while Valtteri Bottas took his first pole of the season. Bottas was down to third by the first turn though, as both Lewis Hamilton and Kimi Raikkonen passed him. Bottas soon re-took second with an impressive overtake, leaving Raikkonen fighting with Max Verstappen for third place. Bottas' work was in vain though – he retired on the fourteenth lap with a gearbox problem. A Virtual Safety Car period ensued, an opportunity which Verstappen took to pit while leader Hamilton didn't. Verstappen was way ahead of the Mercedes as a result, Hamilton knocked down to fifth after a gutsy overtake from Vettel. James Vowells soon apologised to Hamilton for the strategic error, but it ultimately didn't matter – Hamilton retired with seven laps of the race remaining. Verstappen went on to take his first win of the season, finishing just over a second ahead of Raikkonen. Vettel completed the podium in third and re-took the championship lead as a result.
---
---
  PRESS CONFERENCE SCHEDULES
The world's media will have the opportunity to talk to the drivers on the Thursday before the race. Appearing in the Drivers' Press Conference for this race weekend will be:
Charles Leclerc (Ferrari)
Kevin Magnussen (Haas)
Sergio Pérez (Racing Point)
Max Verstappen (Red Bull)
Alexander Albon (Toro Rosso)
The media also be talking to prominent members of Formula 1's teams on Friday. Appearing in the Teams' Press Conference for this race weekend will be:
Toyoharu Tanabe (Honda)
Mario Isola (Pirelli)
Andreas Seidl (McLaren)
Andrew Green (Racing Point)
Paul Monaghan (Red Bull)
---
  DRIVER STEWARD
Each weekend a former Formula 1 driver, or a driver from another prominent series of motorsport, joins the stewards to help judge any incidents from a drivers' perspective. The Driver Steward this weekend will be Tom Kristensen.
---
  WEATHER FORECAST
The weather forecast for the week ahead at the circuit currently looks like this:
[wpc-weather id="4323″/]
---
  FASTEST EVER LAP
1:03.130
The fastest ever lap of the circuit was set by Valtteri Bottas in 2018. Will it be beaten over the race weekend?
---
  TYRE CHOICES
Each weekend, the tyres will be known as Soft (red), Medium (yellow) and Hard (white), but the actual compounds will change each race weekend.
Pirelli will supply the C2, C3 and C4 compounds for this race weekend. Each driver's selection of tyres can be found below: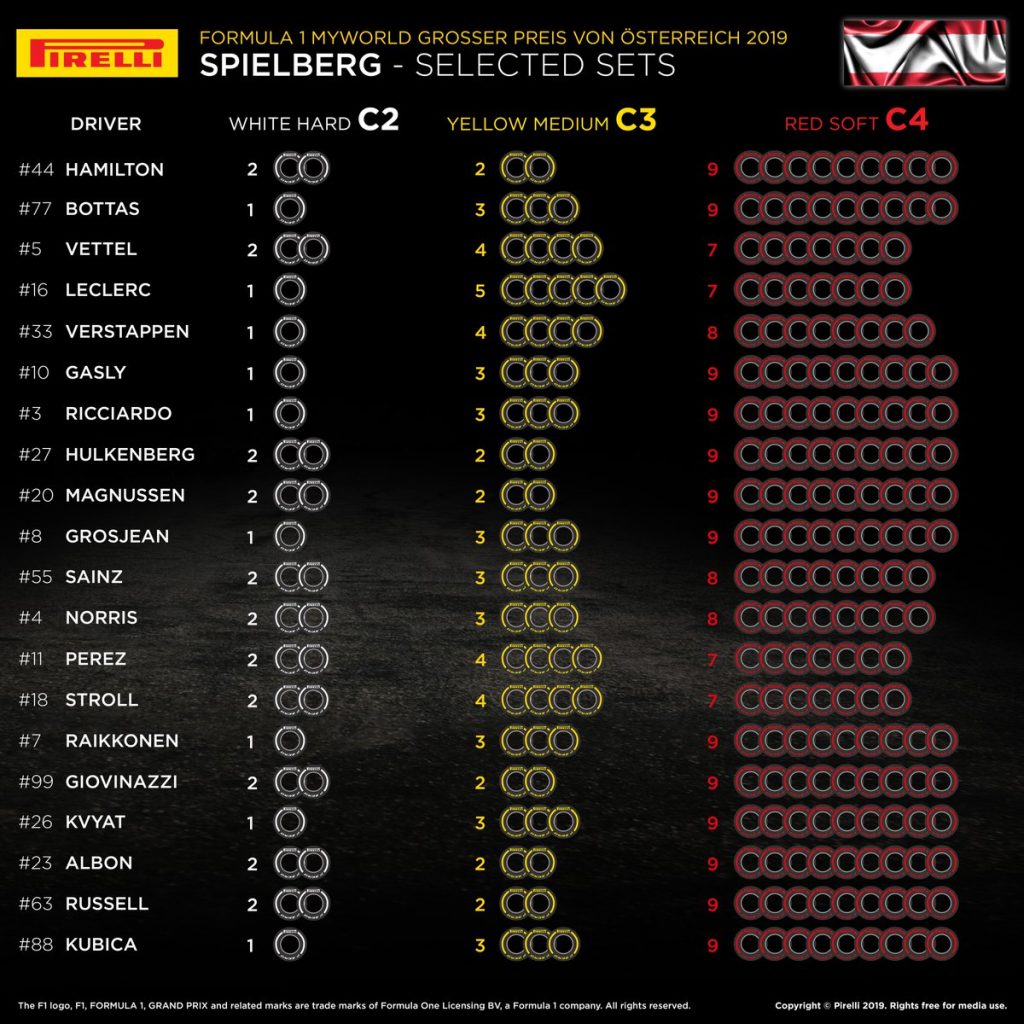 ---
  2018 FASTEST LAP IN EACH SESSION
| | |
| --- | --- |
| Free Practice 1 | 1:04.839 (Lewis Hamilton) |
| Free Practice 2 | 1:04.579 (Lewis Hamilton) |
| Free Practice 3 | 1:04.070 (Sebastian Vettel) |
| Qualifying | 1:03.130 (Valtteri Bottas) |
| Grand Prix | 1:06.957 (Kimi Raikkonen) |
---
ON THIS DAY
Three F1 races have previously been held on 30th June, all at different tracks. The 1963 and 1996 French Grands Prix were held on this date at Reims and Magny Cours respectively, as was the 2013 British Grand Prix, the latter being memorable for a plethora of Pirelli tyre blow-outs. All three races held on this date have been won by drivers who had not yet been crowned World Champion in their careers, but would go on to be champion at some point. Jim Clark won the French Grand Prix in 1963 before being going on to be crowned champion later in the year, as did Damon Hill in 1996. Meanwhile, Nico Rosberg won the 2013 British Grand Prix and would be crowned champion three years later.
Clark's win is the only victory to have come from pole on this day in history, with both Hill and Rosberg winning from second on the grid. The 1996 polesitter, Michael Schumacher, was out of the race before it had even begun, while Lewis Hamilton, who took pole for the 2013 British Grand Prix was the first to see his tyres shred in the race, eventually finishing fourth.
The driver leading the championship after a race to have taken place on this date has never failed to go on and win the title.
---