?? 

THE 2019 AUSTRALIAN GRAND PRIX

 
ROUND 1. 15TH-17TH MARCH.
998TH F1 GRAND PRIX | 84TH AUSTRALIAN GRAND PRIX | 24TH GRAND PRIX AT ALBERT PARK
2018 POLESITTER: LEWIS HAMILTON | 2018 WINNER: SEBASTIAN VETTEL
---
  WEEKEND SCHEDULE
Friday 15th March

Free Practice 1 (12pm Local Time/ 1am UK Time)
Free Practice 2 (4pm Local Time/ 5am UK Time)
Saturday 16th March

Free Practice 3 (2pm Local Time/ 3am UK Time)
Qualifying (5pm Local Time/ 6am UK Time)
Sunday 17th March

The 2019 Australian Grand Prix (4:10pm Local Time/ 5:10am UK Time)
---
WEEKEND NOTES
Just as in 2018, the track will have two DRS detection points and three activation zones. The detection zones are located before turns 11 and 14, while the activation zones are on the main straight, between turns 2 and 3 and between turns 12 and 13.

Following the tragic passing of Charlie Whiting ahead of the Australian Grand Prix weekend, Michael Masi will act as the Race Director, Safety Delegate and Permanent Starter (the three roles performed by Whiting) at the event.

There has been little change to the track between 2018 and 2019. Some kerbs – namely at turns 4, 11 and 12 – have been replaced with concrete kerbs.
---
?? WEEKEND MILESTONES AND RECORDS
Kimi Raikkonen will equal Jenson Button's record of appearances at Albert Park this weekend. 2019 will mark the Finn's 17th Australian Grand Prix.
The Australian Grand Prix will mark the 300th Grand Prix with a Canadian driver present on the grid.
Alexander Albon will be first Thai driver to compete in F1 since Prince Bira at the 1954 Spanish Grand Prix. The 2019 Australian Grand Prix will be only the 20th F1 race which has featured a Thai driver.
Should Hamilton take pole position for the Australian Grand Prix, it would be his eighth at Albert Park, equalling the record for most poles at the same Grand Prix. The record is currently shared between Ayrton Senna and Michael Schumacher, who took eight poles at San Marino and Japan respectively.
There are three drivers in F1 2019 who'll be making their race débuts in Australia. If Lando Norris, Alexander Albon or George Russell score a point at Albert Park, they would become the 76th driver to score points on their maiden Grand Prix appearance.
You can find more information about the records which could be beaten this weekend in our Milestones and Records to Beat post.
---
ALL THE INFO
Click the links below to see all the stats and circuit history you could need ahead of the 2019 race!
---
2018 RACE RECAP
For a second year in succession, Sebastian Vettel took victory for Ferrari at the season-opening Grand Prix after a pit stop blunder for Mercedes.
The weekend got off to a bad start for home favourite Daniel Ricciardo, who received a three-place grid penalty for failing to slow down for a Red Flag during Friday Practice. It was a relatively easy run to pole for Lewis Hamilton, as his Mercedes team-mate Valtteri Bottas crashed out in Q3 and started way down the order as a result. Hamilton maintained his lead at the start, despite a challenge from Kimi Raikkonen. Max Verstappen had a scrappy race and spun after ten laps, losing positions at a critical moment. Haas were having a great afternoon, running in fourth and fifth, until pit stop problems saw both cars retire with wheelnut issues. Their retirements prompted a Virtual Safety Car, which the yet-to-pit Sebastian Vettel used to his advantage and emerged from his pit stop ahead of Hamilton. Despite his best attempts, Hamilton could do nothing to stop Vettel taking the victory. Bottas, after his qualifying crash, could only recover to eighth place in the Grand Prix as fellow Finn Raikkonen completed the podium finishers.
---
---
  PRESS CONFERENCE SCHEDULES
The world's media will have the opportunity to talk to the drivers on the Thursday before the race. Appearing in the Drivers' Press Conference for this race weekend will be:
Lewis Hamilton
Sebastian Vettel
Max Verstappen
Daniel Ricciardo
Robert Kubica
The media also be talking to prominent members of Formula 1's teams on Friday. Appearing in the Teams' Press Conference for this race weekend will be:
Toto Wolff (Mercedes)
Mattia Binotto (Ferrari)
Christian Horner (Red Bull)
Cyril Abiteboul (Renault)
---
  DRIVER STEWARD
Each weekend a former Formula 1 driver, or a driver from another prominent series of motorsport, joins the stewards to help judge any incidents from a drivers' perspective. The Driver Steward this weekend will be Danny Sullivan.
---
  WEATHER FORECAST
The weather forecast for the week ahead at the circuit currently looks like this:
[wpc-weather id="4244″/]
---
  FASTEST EVER LAP
1:21.164
The fastest ever lap of the circuit was set by Lewis Hamilton in 2018. Will it be beaten over the race weekend?
---
  TYRE CHOICES
Each weekend, the tyres will be known as Soft (red), Medium (yellow) and Hard (white), but the actual compounds will change each race weekend.
Pirelli have revealed that the C2, C3 and C4 compounds will be used for the Australian Grand Prix weekend. Here's each driver's selection of tyres: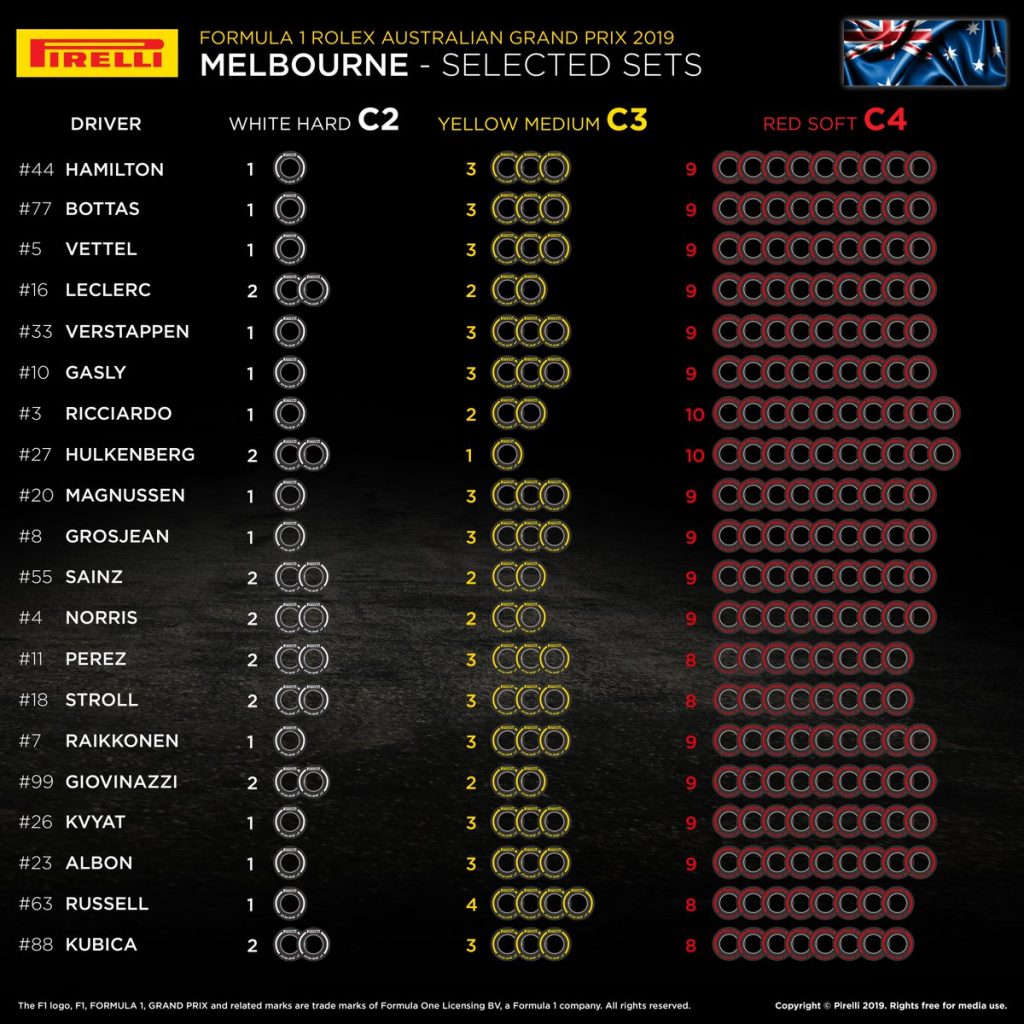 ---
  2018 FASTEST LAP IN EACH SESSION
| | |
| --- | --- |
| Free Practice 1 | 1:24.026 (Lewis Hamilton) |
| Free Practice 2 | 1:23.931 (Lewis Hamilton) |
| Free Practice 3 | 1:26.067 (Sebastian Vettel) |
| Qualifying | 1:21.164 (Lewis Hamilton) |
| Grand Prix | 1:25.945 (Daniel Ricciardo) |
---
ON THIS DAY
Two previous Grands Prix have been held on 17th March – the 2002 Malaysia Grand Prix and the 2013 Australian Grand Prix. Kimi Raikkonen is the only driver to have competed in both of them. He retired from the 2002 Malaysia race and won the 2013 race in Australia. Both races were won from further back than third on the grid. Ralf Schumacher won the Sepang race from fourth on the grid, while Raikkonen won from seventh. In both races, the polesitter finished the Grand Prix in third place. There's yet to be a race on this date which hasn't featured a German driver on the podium; while Ferrari also scored podium finishes on both occasions.
---