McLaren are the latest team to lift the covers on their 2019 car, unveiling their new MCL34 in an event at their Woking base.
---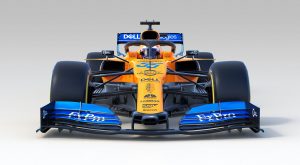 The MCL34 was revealed in a special event at the McLaren Technology Centre in Woking. McLaren retain the papaya orange livery for 2019, with complementary flashes of blue, which the team describe as a "nod to the team's broader racing heritage".
McLaren head into the 2019 season with an all-new driver line-up, with both Fernando Alonso and Stoffel Vandoorne exiting F1 at the end of 2018. Instead, McLaren have their first all-new line up since Alonso joined alongside Lewis Hamilton in 2007. Just like in 2007, a Spaniard joins a British rookie at the team, as Carlos Sainz partners 2018 F2 runner-up Lando Norris. It's the first time McLaren have started a season without a Grand Prix winner in their line-up since 1995.
McLaren take a pragmatic approach to the 2019 season, with Sainz refusing to give any set 'goals' for the year at the launch:
"The factory has become my second home since I moved back to the UK and everyone in the team is moving in the same direction. We know the big task ahead of us and we first need to evaluate where we are after the tests. From there onwards, I can't wait to start racing and keep pushing forward together."
---
Read more about McLaren's F1 history in our Team Profile!