?? 

THE 2019 CANADIAN GRAND PRIX

 
ROUND 7. 7th-9th June.
1004TH F1 GRAND PRIX | 56TH COUNTRY GRAND PRIX | 40TH GRAND PRIX AT CIRCUIT GILLES VILLENEUVE
2018 POLESITTER: SEBASTIAN VETTEL | 2018 WINNER: SEBASTIAN VETTEL
---
  WEEKEND SCHEDULE
Friday 7th June

Free Practice 1 (10am Local Time/ 3pm UK Time)
Free Practice 2 (2pm Local Time/ 7pm UK Time)
Saturday 8th June

Free Practice 3 (11am Local Time/ 4pm UK Time)
Qualifying (2pm Local Time/ 7pm UK Time)
Sunday 9th June

The 2019 Canadian Grand Prix (2:10pm Local Time/ 7:10pm UK Time)
---
??
 WEEKEND MILESTONES AND RECORDS
This weekend, the Circuit Gilles Villeneuve will equal Nurburgring this season as the track to have held fifth-most F1 races.
The Canadian Grand Prix will be the 350th time a driver from the Netherlands has appeared in an F1 race.
If Lewis Hamilton wins this weekend, he'll become only the second driver to have won the same Grand Prix seven times. Michael Schumacher is the only other driver to have won the same race seven times, having won the French Grand Prix on eight occasions, and taking victory at the Canadian and San Marino Grands Prix seven times!
Lewis Hamilton is currently tied with Michael Schumacher for the most pole positions at the Canadian Grand Prix. Should he take another this weekend, it'll be his seventh at the circuit, setting a new record.
Martin Brundle holds the record for the most Grands Prix without a pole with 165. It's a figure which Sergio Perez could equal at this weekend.
You can find more information about the records which could be beaten this weekend in our Milestones and Records to Beat post.
---
ALL THE INFO
Click the links below to see all the stats and circuit history you could need ahead of the 2019 race!
Track Stats (Coming Soon)

Team Form (Coming Soon)

Driver Form (Coming Soon)

Lucky and Unlucky Grid Positions (Coming Soon)
---
2018 RACE RECAP
It was a relatively dull affair in Montreal in 2018 as Sebastian Vettel took his third victory of the season.
Perhaps the most spectacular part of the qualifying hour came as it had just begun, when Romain Grosjean's engine failed before he even had chance to get to the end of the pit-lane. Sebastian Vettel took pole, with Valtteri Bottas starting alongside him on the front row. The order stayed the same at the start, while Lance Stroll and Brendon Hartley collided on the first lap with the latter flying through the air. The race restarted after a Safety Car period, with the order still refusing to change – until Sergio Perez was forced out wide at the first turn by Carlos Sainz. A scrap between Fernando Alonso and Charles Leclerc ended prematurely as the McLaren driver pulled into the pits with car troubles. Daniel Ricciardo passed Lewis Hamilton for fourth as a result of his pit stop, while Vettel remained unchallenged at the front. His day was made easier by the chequered flag being accidentally waved a lap early. Bottas finished third, while Max Verstappen came home ahead of his team-mate in third.
---
---
  PRESS CONFERENCE SCHEDULES
The world's media will have the opportunity to talk to the drivers on the Thursday before the race. Appearing in the Drivers' Press Conference for this race weekend will be:
Kimi Raïkkonen (Alfa Romeo)
Lando Norris (McLaren)
Lewis Hamilton (Mercedes)
Lance Stroll (Racing Point)
Daniil Kvyat (Toro Rosso)
The media also be talking to prominent members of Formula 1's teams on Friday. Appearing in the Teams' Press Conference for this race weekend will be:
Guenther Steiner (Haas)
Toyoharu Tanabe (Honda)
Toto Wolff (Mercedes)
Mario Isola (Pirelli)
Franz Tost (Toro Rosso)
---
  DRIVER STEWARD
Each weekend a former Formula 1 driver, or a driver from another prominent series of motorsport, joins the stewards to help judge any incidents from a drivers' perspective. The Driver Steward this weekend will be Emanuele Pirro.
---
  WEATHER FORECAST
The weather forecast for the week ahead at the circuit currently looks like this:
---
  FASTEST EVER LAP
1:10.764
The fastest ever lap of the circuit was set by Sebastian Vettel in 2018. Will it be beaten over the race weekend?
---
  TYRE CHOICES
Each weekend, the tyres will be known as Soft (red), Medium (yellow) and Hard (white), but the actual compounds will change each race weekend.
Pirelli have revealed that the C3, C4 and C5 compounds will be used for the Canadian Grand Prix weekend. Each driver's selection of tyres can be found below: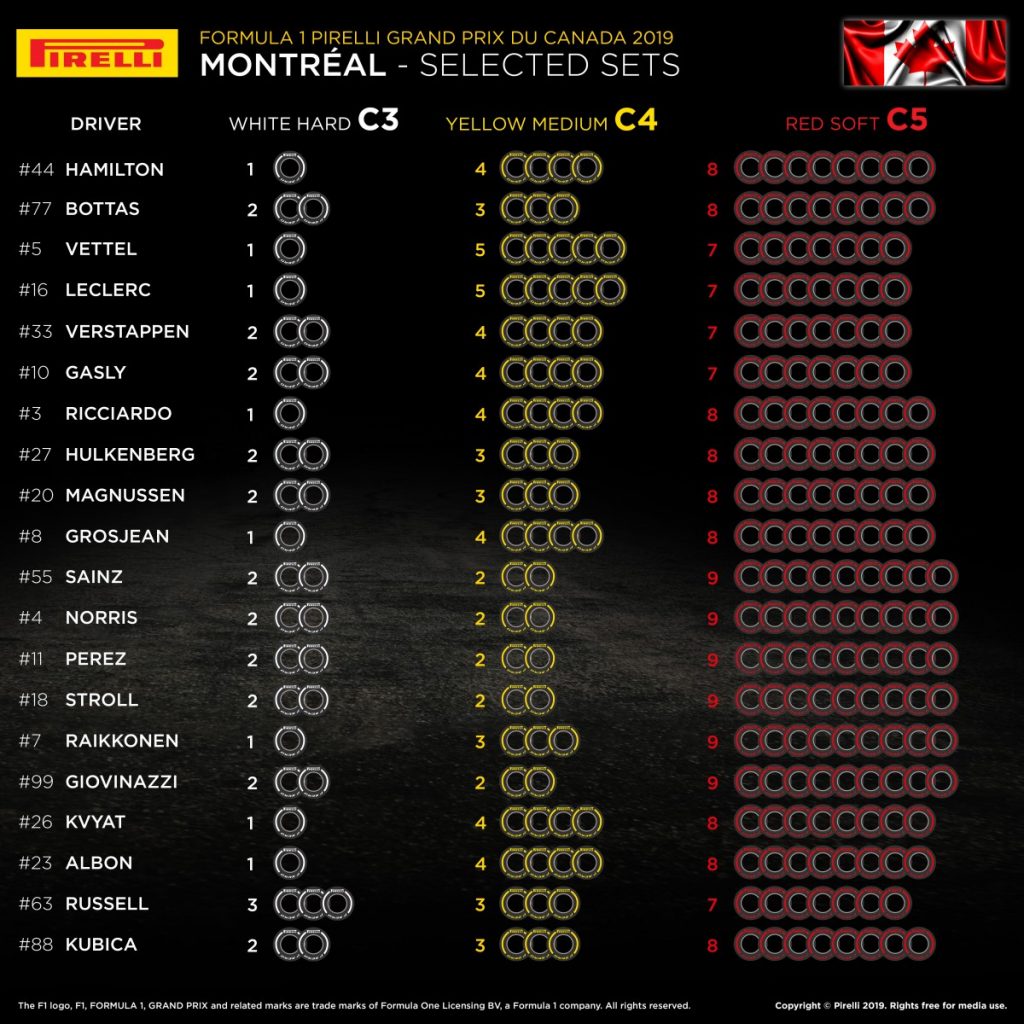 ---
  2018 FASTEST LAP IN EACH SESSION
| | |
| --- | --- |
| Free Practice 1 | 1:13.302 (Max Verstappen) |
| Free Practice 2 | 1:12.198 (Max Verstappen) |
| Free Practice 3 | 1:11.599 (Max Verstappen) |
| Qualifying | 1:10.764 (Sebastian Vettel) |
| Grand Prix | 1:13.864 (Max Verstappen) |
---
ON THIS DAY
Five previous Grands Prix have taken place on 9th June. Both the 1963 and 1968 Belgian Grands Prix at Spa-Francorchamps took place on this date, as did the 1974 Swedish Grand Prix. More recently, the 2002 and 2013 Canadian Grands Prix were held on this day. Five different teams have started from pole in races held on this day in history, and five different teams have taken victory.
Tyrrell are the only team to have taken a 1-2 victory on this date, having done so at the 1974 Swedish Grand Prix. Jody Scheckter took his first F1 win for the team by only 0.38 seconds. Win margins have been vastly variable on this date – Jim Clark won the 1964 Belgian Grand Prix by 474 seconds!
The polesitter has had little luck on this date in history, with Sebastian Vettel's 2013 Canadian Grand Prix win being the first time the polesitter has won a race on 9th June. In fact, Graham Hill in 1963, Chris Amon in 1968 and Juan Pablo Montoya in 2002 all retired from the race having started from pole, while Patrick Depailler finished as runner-up to his Tyrrell team-mate in 1974. There's yet to be a race held on this date where more than seven drivers complete every lap of the Grand Prix.
---