Lewis Hamilton cannot clinch the 2020 Drivers' Championship at the Emilia Romagna Grand Prix, but Mercedes could become seven-time Constructors' Champions. Here are the title permutations as F1 heads to Imola.
---
Updated title permutations for the 2020 Turkish Grand Prix can be found here.
DRIVERS' CHAMPIONSHIP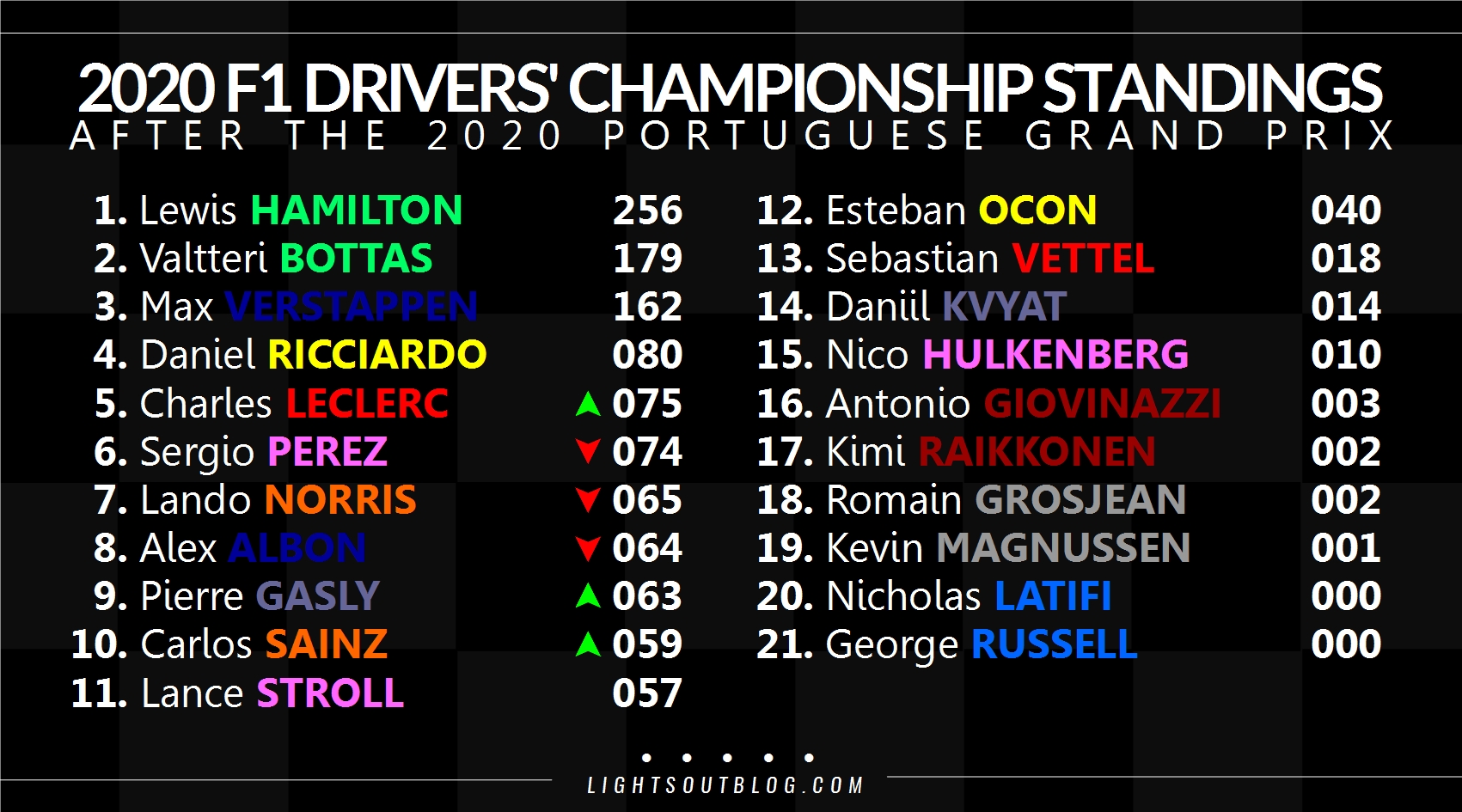 After the Portuguese Grand Prix, only Lewis Hamilton, Valtteri Bottas and Max Verstappen have a mathematical chance of becoming the 2020 Formula 1 World Champion. Hamilton currently leads the title race by 77 points. Bottas has 179 points, with Verstappen a further seventeen points back. There are a maximum of 130 points still on offer in the final five rounds of the 2020 season.
Hamilton can get to within touching distance of securing his seventh title at the Emilia Romagna Grand Prix. If he wins and sets the fastest lap and team-mate Bottas fails to score, Hamilton would be just a single point short of adding another title to his collection. That would make it a near certainty that Hamilton would claim his seventh title at the Turkish Grand Prix. If Hamilton wins at Imola and Bottas finishes as runner-up, another victory for Hamilton in Turkey would ensure he would become champion again.
While Hamilton cannot win the title at the Emilia Romagna Grand Prix, Verstappen could be eliminated from the title hunt. If Hamilton out-scores the Red Bull driver by ten points, Verstappen will no longer have a mathematical chance of claiming his first title this year. 2020 is Verstappen's last opportunity to become Formula 1's youngest ever World Champion.
CONSTRUCTORS' CHAMPIONSHIP
In the Constructors' Championship, Mercedes hold a 209 point lead over Red Bull. That's the seventeenth largest lead ever held by a team in the title race. Turning that around would require a miraculous effort from Red Bull, and plenty of bad luck for Mercedes, in the final five races.
No team has ever won seven consecutive titles, but Mercedes could become the first to do so at the Emilia Romagna Grand Prix. All the team needs to do is score eleven points. Even if Red Bull record a 1-2 finish and secure the fastest lap, Mercedes will claim a seventh title if Hamilton and Bottas score eleven points between them. That scenario would give Mercedes 446 points and Red Bull 270 points. Red Bull could then equal Mercedes' total in the final four races if they scored a perfect 44 points each weekend with Mercedes failing to score, but Mercedes would still be crowned champions as they would have more wins than Red Bull.
The Constructors' Championship has been decided only once previously at Imola. That was in the first F1 race at the circuit, the 1980 Italian Grand Prix, in which Williams won their first title.
Here are the permutations – Mercedes will win the Constructors' Championship at the 2020 Emilia Romagna Grand Prix UNLESS:
Red Bull record a 1-2 finish and record the fastest lap, with Mercedes scoring less than 11 points

Red Bull record a 1-2 finish, with Mercedes scoring less than 10 points

Red Bull record a 1-3 finish and record the fastest lap, with Mercedes scoring less than 8 points

Red Bull record a 1-3 finish, with Mercedes scoring less than 7 points

Red Bull record a 1-4 finish and record the fastest lap, with Mercedes scoring less than 5 points

Red Bull record a 1-4 finish, with Mercedes scoring less than 4 points

Red Bull record a 1-5 finish and record the fastest lap, with Mercedes scoring less than 3 points

Red Bull record a 1-5 finish, with Mercedes scoring less than 2 points

Red Bull record a 1-6 finish and record the fastest lap, with Mercedes failing to score

Red Bull record a 2-3 finish and record the fastest lap, with Mercedes failing to score