So close, but so far. In Formula 1 history, there have been five drivers who have finished on the podium on ten or more occasions but have never won a Grand Prix – including one current member of the grid. We take a look at the drivers who recorded the most Formula 1 podiums without a win.
13 – Nick Heidfeld
Topping the list of most Formula 1 podiums without a win is Nick Heidfeld. "Quick Nick" recorded 13 top three finishes over his 12 seasons at the pinnacle of motorsport, but none of them were victories.
Heidfeld finished as runner-up on no fewer than eight occasions. His smallest gap to the winner was at the 2007 Canadian Grand Prix, when he finished four seconds behind Lewis Hamilton, who secured his maiden win in a race which had multiple Safety Car periods.
13 – Lando Norris
Lando Norris is the only driver on the current Formula 1 grid to have taken 10 or more podiums without recording a win. Norris recorded the first podium finish of his career back at the 2020 Austrian Grand Prix and has since taken another 12 top three finishes with his McLaren team.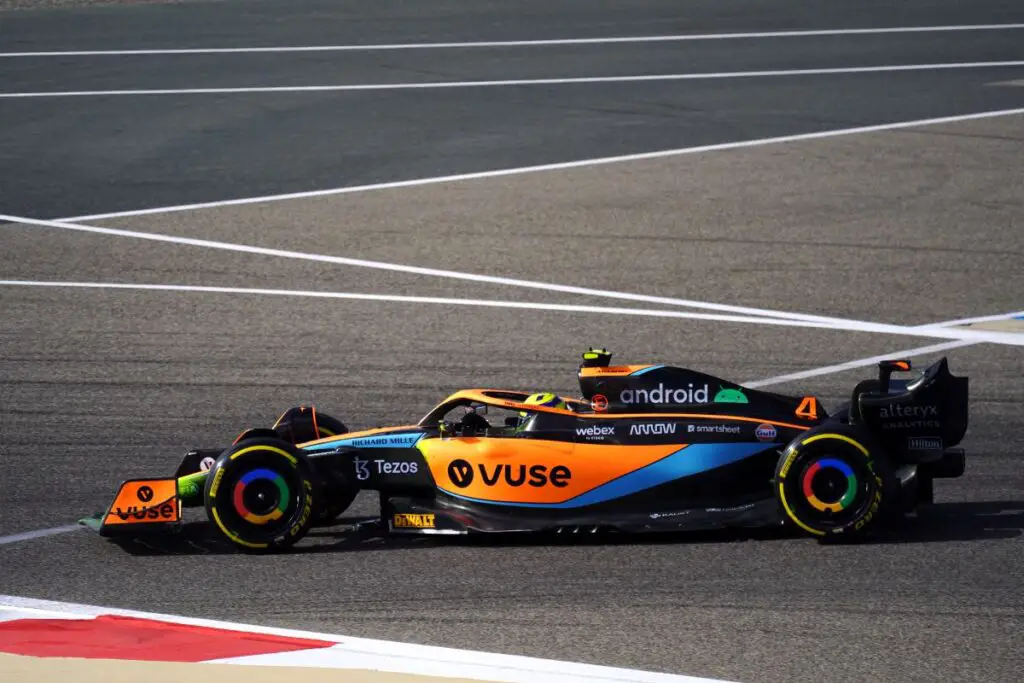 Norris recorded four podium finishes during the 2021 season before claiming his only top three result of 2022 at the Emilia Romagna Grand Prix. Though he had to wait until the 2023 British Grand Prix for another top three result, the McLaren driver has since taken seven podiums in the space of 11 races; setting a new personal best for most podiums in a single season.
With the 13th podium finish of his career at the 2023 Sao Paulo Grand Prix, Norris equalled Nick Heidfeld at the top of the list of most Formula 1 podiums without a win. How many more podiums will Norris score before taking his elusive first victory?
12 – Stefan Johansson
Swedish racer Stefan Johansson recorded 12 podium finishes between 1985 and 1989. He recorded six top three results with Ferrari, five with McLaren and a single top three finish with Onyx at the 1989 Portuguese Grand Prix. The latter was Onyx's only podium finish as well as Johansson's final top three appearance.
Johansson finished as runner-up on four occasions, finishing closest to the winner at the 1985 Canadian Grand Prix, when he crossed the line 1.957 seconds behind Michele Alboreto.
11 – Chris Amon
Chris Amon finished on the podium without winning 11 times in his career between 1967 and 1972. He took his first six top three finishes with Ferrari, before recording three more in 1970 with March and two third place results with Matra in the following two seasons.
From his 11 podium finishes, Amon finished as runner-up three times, at the 1968 British Grand Prix, 1970 French Grand Prix and the 1970 Belgian Grand Prix. He finished closest to the winner at the latter, where he crossed the line just 1.1 seconds after Pedro Rodriguez.
10 – Romain Grosjean
Romain Grosjean took ten top three finishes during his Formula 1 career but failed to ever win a race. Grosjean took all ten podium finishes with the Enstone team, under its Lotus guise. Of his ten podiums, two were second place results. He finished 2.513 seconds behind race winner Lewis Hamilton at the 2012 Canadian Grand Prix and 6.284 seconds behind Sebastian Vettel at the 2013 United States Grand Prix.
Most F1 podiums before a win
The list above does not include drivers who took ten or more podiums before claiming their first win, of which there are 12. Patrick Depailler, Jean Alesi, Mika Hakkinen and Eddie Irvine all share the record for most F1 podiums before their first win, finally standing on the top step on their 16th podium appearance.
Behind them, Richie Ginther and Jenson Button won for the first time on their 14th rostrum appearance, while Rubens Barrichello took his first win at the 2000 German Grand Prix with his 13th top three result.
Two drivers on the current grid made more than ten podium appearances before their first win: Valtteri Bottas (11) and Carlos Sainz (11), while Sergio Perez won for the first time on his tenth podium appearance. Ralf Schumacher and Giancarlo Fisichella are the only other drivers to have won their first Grand Prix on their tenth podium appearance.
Most podiums without a win on the 2023 Formula 1 grid
There are four drivers on the 2023 Formula 1 grid who have finished on the podium without yet taking a win. Lando Norris has the most, with 13 podiums without a win. Lance Stroll has taken three top three finishes but has never won, Alex Albon has two podiums without a win, while Kevin Magnussen scored his only podium finish to date on debut at the 2014 Australian Grand Prix and rookie Oscar Piastri recorded his first podium result at the 2023 Japanese Grand Prix.
This article was originally published in June 2022 and has since been updated.