The 2019 season has come to an end. Records have been broken, milestones have been celebrated and champions have been crowned. Here are all the facts, statistics and records from the 2019 Formula 1 season!
---
The 2019 season saw 20 drivers and 10 teams contest over 1,206 racing laps, taking a total time of 1 day, 8 hours, 10 minutes and 47.158 seconds. There were a total of 1,220 overtakes, 74 Safety Car laps and 653 pit stops and the teams covered a total combined distance of 119,198.816km during races this year.
Lewis Hamilton had the best average finishing position in 2019, while Robert Kubica had the worst. The list below was calculated by finding the average of all 21 races, with all DNFs and DSQs awarded a value of 20.
Average finishing position in 2019:
2.38 Lewis Hamilton
4.33 Valtteri Bottas
5.10 Max Verstappen
5.81 Charles Leclerc
6.67 Sebastian Vettel
9.38 Alexander Albon
9.76 Pierre Gasly
10.14 Carlos Sainz
10.86 Sergio Perez
11.76 Kimi Raikkonen
11.95 Lando Norris
12.00 Daniil Kvyat
12.14 Nico Hulkenberg
12.43 Daniel Ricciardo
12.86 Lance Stroll
13.95 Kevin Magnussen
14.24 Antonio Giovinazzi
15.29 Romain Grosjean
15.95 George Russell
17.24 Robert Kubica
---
A record year for Lewis Hamilton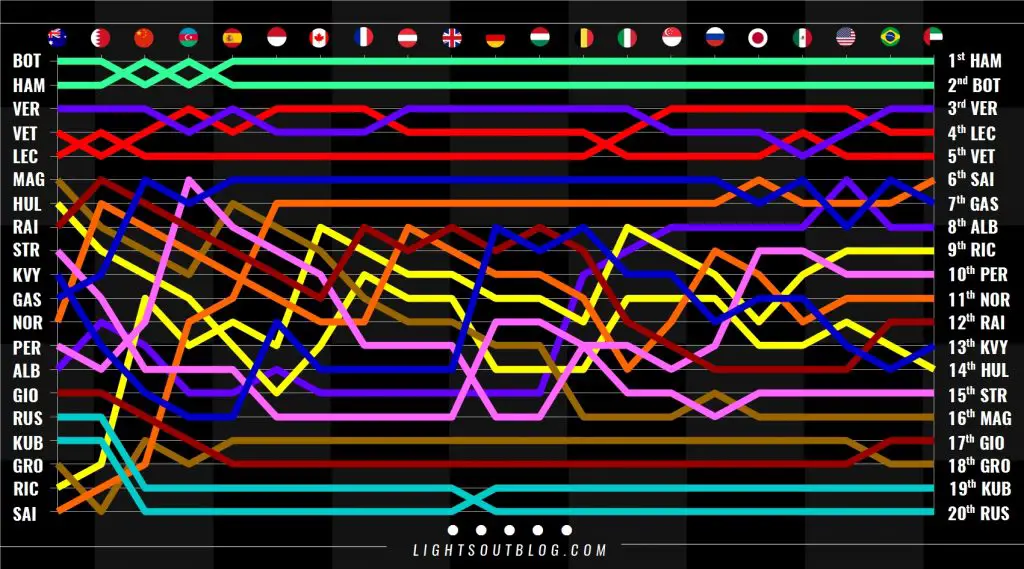 Lewis Hamilton won his sixth World Championship in 2019, and achieved a number of accolades during the season. In the year that culminated in his 250th appearance and saw him become the second driver to in win six titles, Hamilton has also become: the first driver to win two milestone F1 races (900th and 1000th); the second driver to take 100 podiums for a single constructor; the driver to have led the most F1 races in history; the second driver to reach 150 podiums; the third driver to score points at 200 races; the first driver to finish 33 consecutive races twice, the first driver to finish every race of a season twice, the second driver to complete every lap of a season; the third driver to score points at 200 races; the driver to have the equal-most home wins; the first driver to start every race in a decade; the second driver to lead 4,000 Grand Prix laps; the driver to have recorded the most second place qualifications; the driver with the most poles with a single constructor and the driver to have scored the most points in a single season (beating his own previous record).
2019 was the third time in his career that Hamilton has scored eleven wins during a season, having previously done so in 2014 and 2018. Hamilton became only the second driver to have won in thirteen consecutive seasons, he needs to win a race in both 2020 and 2021 to equal Michael Schumacher's record of fifteen consecutive years featuring a win.
---
RACE WINNERS
This was the third consecutive season – and the 25th season overall – that has had five Grand Prix winners. Lewis Hamilton recorded eleven victories, Valtteri Bottas scored four wins, Max Verstappen won three times, Charles Leclerc took two consecutive wins and Sebastian Vettel took his only win of the 2019 season in Singapore.
At the Belgian Grand Prix, Charles Leclerc became Formula 1's 108th race winner, and the first driver from Monaco to win a race.
Lewis Hamilton and Charles Leclerc are the only drivers who recorded consecutive wins this year. While Leclerc became the first driver to take their maiden two victories in consecutive events since Hamilton in 2007, Hamilton himself took the most successive wins this year, winning four in a row between the Spanish and French rounds.
Mercedes recorded fifteen victories over the course of the year, four more than they won last season. This was the eighth consecutive season that the team have won a race; only Ferrari, McLaren, Lotus and Williams can boast longer win streaks. The other six victories this year were distributed evenly between Red Bull and Ferrari. Red Bull won in Austria, Germany and Brazil, while Ferrari took three successive victories in Belgium, Italy and Singapore.
Two races were won by less than a second this season – both being races won by Charles Leclerc. The closest margin came in Italy, when he crossed the line just 0.835 seconds ahead of Valtteri Bottas. Thirteen of this year's races were won by a margin of less than five seconds, with just six being won by over ten seconds. The largest win margin was at the British Grand Prix, where Lewis Hamilton took a record-equalling sixth home win by 24.928 seconds. The average win margin in 2019 was 7.786 seconds.
---
ON THE PODIUM
A total of eight drivers finished on the podium in 2019. Lewis Hamilton equalled the record of most podium finishes in a season, with seventeen, Valtteri Bottas appeared in the top three fifteen times, Charles Leclerc had ten podium finishes and Sebastian Vettel and Max Verstappen each finished in the top three nine times. There were three podium finishes away from the top three teams: Carlos Sainz recorded McLaren's first podium in five years with third place at the Brazilian Grand Prix, and Toro Rosso reached the podium twice. Daniil Kvyat finished third in Germany, and Pierre Gasly finished as runner-up in Brazil.
Five different teams finished on the podium this season: Mercedes (32), Ferrari (19), Red Bull (9), Toro Rosso (2) and McLaren (1).
At the 2019 Bahrain Grand Prix, Charles Leclerc became the first Monegasque driver to finish on the podium since Louis Chiron finished third at the 1950 Monaco Grand Prix.
---
POLESITTERS
Just like in 2018, there were five different polesitters in 2019. Charles Leclerc started from pole more times than any other driver this season, with seven starts from the front. Lewis Hamilton took five poles, and endured his longest pole drought since joining Mercedes, failing to take pole at nine consecutive races in the second half of the year. His team-mate Valtteri Bottas also took pole five times, including a run of three consecutive starts from the front in China, Azerbaijan and Spain. Max Verstappen was this year's other polesitter, starting at the front in Hungary and Brazil. Those were the first pole positions of his career, as he became F1's 100th and fourth-youngest polesitter at the Hungaroring.
This was the first season since 2012 that a driver has failed to take more than seven pole positions during the course of a year.
In 2019, Lewis Hamilton equalled Michael Schumacher's record of having taken pole positions in thirteen consecutive seasons.
Mercedes took eleven of this year's 21 poles, becoming the fifth team to have started from pole position at least once in eight consecutive years. Ferrari took nine poles and Red Bull took two – though the latter team also set the fastest time in Mexico, before Charles Leclerc was awarded pole following a grid drop for Max Verstappen.
Pole position was decided by less than a tenth of a second at six rounds this season. The closest margin was at the British Grand Prix when Valtteri Bottas out-qualified his team-mate by just 0.006 seconds, in the second closest qualifying session of the decade. Meanwhile, the largest margin came at the Spanish Grand Prix, when Bottas took pole by a huge 0.634 seconds. The average pole margin this season was 0.226 seconds.
The track record was broken at fourteen venues during qualifying this season. See the full list here.
---
Qualifying
In qualifying this year, Lewis Hamilton and Valtteri Bottas were the only drivers to reach Q3 at every race of the season, while the Williams pairing racked up the most Q1 exits. You can find more qualifying stats from the 2019 season here and more information about the team-mate battles in 2019 here.
Two teams joined different clubs this year: Mercedes made this the seventh time that a team have reached Q3 with both cars at every round of a season, while Williams became the sixth team to have exited in Q1 with both cars at every round of a season.
[one_half]
Teams to reach Q3 with both cars at every race:
2007: McLaren, BMW Sauber
2010: Red Bull
2011: Ferrari
2015: Mercedes
2018: Ferrari
2019: Mercedes
[/one_half][one_half_last]
Teams to exit in Q1 with both cars at every race:
2006: Super Aguri
2007: Spyker
2010: HRT
2011: HRT, Virgin
2012: HRT, Marussia
2015: Manor
2019: Williams
[/one_half_last]
Lewis Hamilton had both the best average qualifying position and the best average grid position in 2019. All pit-lane starts were given a value of 20 in the grid position calculation.
[one_half]
Average qualifying position in 2019:
2.28 Lewis Hamilton
3.00 Vatteri Bottas
4.05 Charles Leclerc
4.38 Sebastian Vettel
4.57 Max Verstappen
9.57 Lando Norris
9.67 Pierre Gasly
10.00 Daniel Ricciardo
10.24 Carlos Sainz
11.05 Alex Albon
11.14 Nico Hulkenberg
11.76 Kevin Magnussen
11.86 Kimi Raikkonen
12.10 Romain Grosjean
13.38 Sergio Perez
13.38 Antonio Giovinazzi
13.67 Daniil Kvyat
15.81 Lance Stroll
18.43 George Russell
19.67 Robert Kubica
[/one_half][one_half_last]
Average grid position in 2019:
2.33 Lewis Hamilton
3.67 Valtteri Bottas
4.24 Sebastian Vettel
4.29 Charles Leclerc
4.71 Max Verstappen
9.33 Lando Norris
10.00 Pierre Gasly
10.29 Carlos Sainz
10.62 Daniel Ricciardo
11.14 Alexander Albon
11.38 Nico Hulkenberg
11.57 Romain Grosjean
11.90 Kevin Magnussen
12.43 Kimi Raikkonen
13.19 Sergio Perez
13.38 Daniil Kvyat
13.81 Antonio Giovinazzi
15.29 Lance Stroll
17.71 George Russell
18.81 Robert Kubica
[/one_half_last]
---
SUNDAY STATS
For a second year in a row, the German Grand Prix was the only race of the season to be affected by rain.
Of the 420 entries into this year's races, 363 made the chequered flag, giving an overall finish rate of 86.43%. The German Grand Prix had the least finishers, with thirteen, while the Austrian Grand Prix was the only race of the season to not have any retirements.
Five of the races in 2019 were led from lights to flag by a single driver. These were China, Spain, Monaco, France and Abu Dhabi – all led from start to finish by Lewis Hamilton. The Singapore Grand Prix had the most lap leaders, with four drivers crossing the line in first place at some point in the race.
The Lap Record was broken at nine venues during Grands Prix over the course of the 2019 season.
[one_half]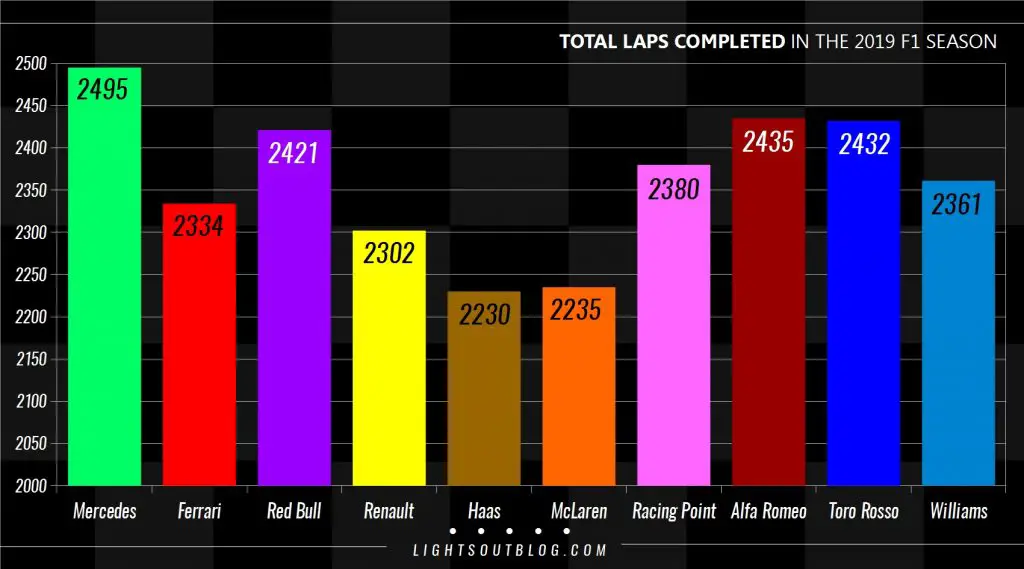 [/one_half][one_half_last]
[/one_half_last]
Lewis Hamilton led 40.49% of this year's 1,262 laps. The Australian and Italian Grands Prix were the only 2019 races which he did not lead a lap of. That's a new record for most races led during a season, but it isn't the highest percentage (Jackie Stewart led at least one lap of every race in 1969). Hamilton became the second driver to finish every lap of a season, covering a total distance of 6,383.872km.
This year marked only the seventh time in F1 history that a team have led at least one lap in every race of a year. Mercedes' drivers led laps in all 21 races, a new record for most races led in a single year.
Mercedes were the team who completed the most laps in the 2019 season, with Valtteri Bottas failing to complete just 29 of the total possible laps. Haas completed the least racing laps of any team, and Romain Grosjean, with seven DNFs, covered the least distance of any driver.
While Lewis Hamilton set a new record of most points scored by a driver in a single season (413, beating his previous record from 2018 by five points), Mercedes just fell short of their previous best. They reached a final tally of 739 points this year, down 26 points on their 2016 effort.
---
LUCKY AND UNLUCKY GRID SLOTS
While the polesitter won only eight times from the 21 races this year, they never failed to score points, with a worst finish of ninth for Lewis Hamilton in Germany. No wins came from outside of the top three on the grid during the 2019 season. Only four races failed to be won from the front row.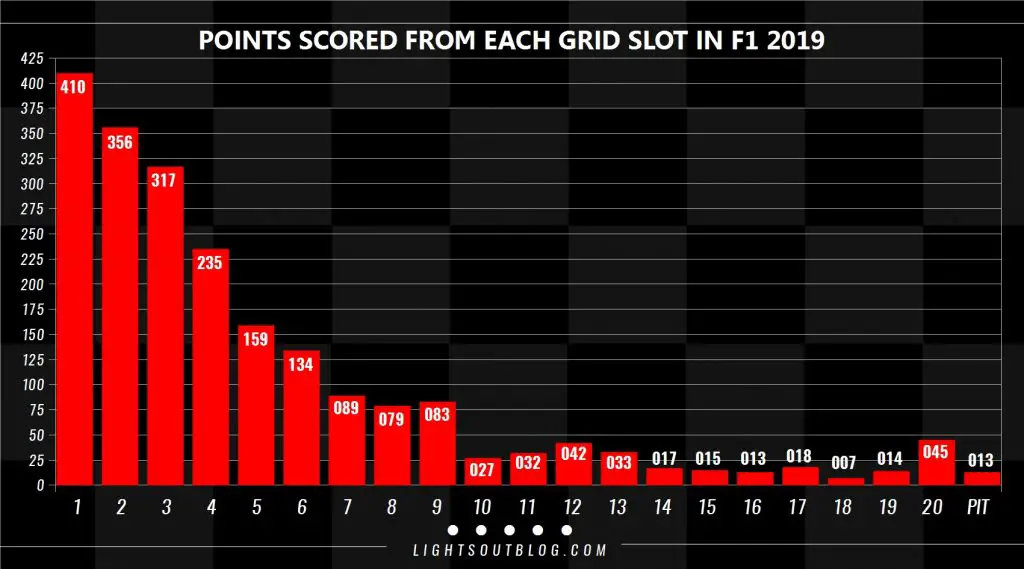 Twentieth was perhaps one of luckiest grid slots in 2019. Drivers starting here scored 45 points overall, thanks to three big results – second place for Sebastian Vettel at the German Grand Prix, third place for Carlos Sainz at the Brazilian Grand Prix and fourth place for Valtteri Bottas at the Abu Dhabi Grand Prix.
The driver starting from eleventh on the grid endured a 13-race streak of point-less races starting at the Bahrain Grand Prix. Pierre Gasly finally ended that curse with an eighth place finish from eleventh on the grid in Singapore.
Twelve starts came from the pit-lane this season, including three at the Chinese Grand Prix. Those twelve starts resulted in four points finishes, with a best result of fifth for Alex Albon, who started from the pit lane at the Russian Grand Prix.
Every grid slot scored points at least twice throughout the year. Eighteenth scored the least points, with Robert Kubica's tenth place in Germany and Sergio Perez's seventh place in Italy being the only top ten finishes for the eighteenth grid position.
16 of this year's 63 podium finishes came from outside the top three on the grid. Azerbaijan, France and Abu Dhabi were the only races in which the top three finished in the same order as they started.
Four grid slots (8th, 10th, 11th and 12th) recorded five DNFs over the course of the year.
---
There will be plenty more 2019 statistics in our team and driver season reviews over the next few weeks!