McLaren have revealed their car for the 2018 F1 season – the MCL33.
---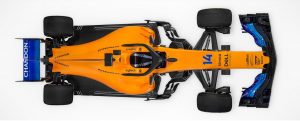 The car was revealed in an online launch on Friday morning. The MCL33 features a renewed livery, reminiscent of the one used by Fernando Alonso in the 2017 Indy 500. The papaya orange – officially titled 'Papaya Spark' – is a nod to McLaren's heritage, and marks the start of a new chapter as the team switch from Honda to Renault power ahead of the new season.
Executive Director of the McLaren Technology Group, Zak Brown spoke of how he wants to improve McLaren's on and off track respect:

"The McLaren team was created by a brave pioneer, and has had bravery at its core ever since. Whether it's been with brave drivers, brave leaders or brave fortune, this team has always fought back. And we definitely view 2018 as the year when McLaren will move closer to the front, fighting teams and drivers as we improve our fortunes. We have an excellent team, a new engine partner in Renault and a host of fantastic new partnerships: Airgain, CNBC, Dell Technologies, Kimoa and Petrobras have all been welcomed to the McLaren family. Our return to a papaya orange livery for this year wasn't simply an emotional decision; it demonstrates that we are listening to our fans, building deeper engagement with them and the Formula 1 community as a whole. We want McLaren to earn respect on and off the track, and this felt like a good starting point. We want to show everyone what makes this team special, whether that's our fans or our partners – there's room for more on our journey."
McLaren maintain their driver line-up of Fernando Alonso and Stoffel Vandoorne for the 2018 season. Alonso will also be racing in the World Endurance Championship alongside his F1 duties this year.
McLaren finished a disappointing ninth in the 2017 Constructors' Championship, but expect to be battling within the top four this season following their switch to Renault power. Pre-season testing begins on Monday.